MicroStrategy has been downgraded by Citi analyst Tyler Radke to sell from neutral with a price target of $250, higher than it's previous target of $200.
That's while MSTR currently trades at $300, a doubling since last month following an announcement by the company they bought 21,454 bitcoin for $250 million in August, now worth more than $400 million.
The company further announced recently a private offering of $400 million in convertible notes to fund further bitcoin buying after they themselves bought some $40 million worth of more bitcoin.
All this may detract from MicroStrategy's company focus, according to Radke, who claims MicroStrategy's CEO, Michael Saylor, has a disproportionate focus on bitcoin.
The analyst further claims there has been "significant and broad based" insider selling recently, with data showing an uptick in November and to a lesser extent in December: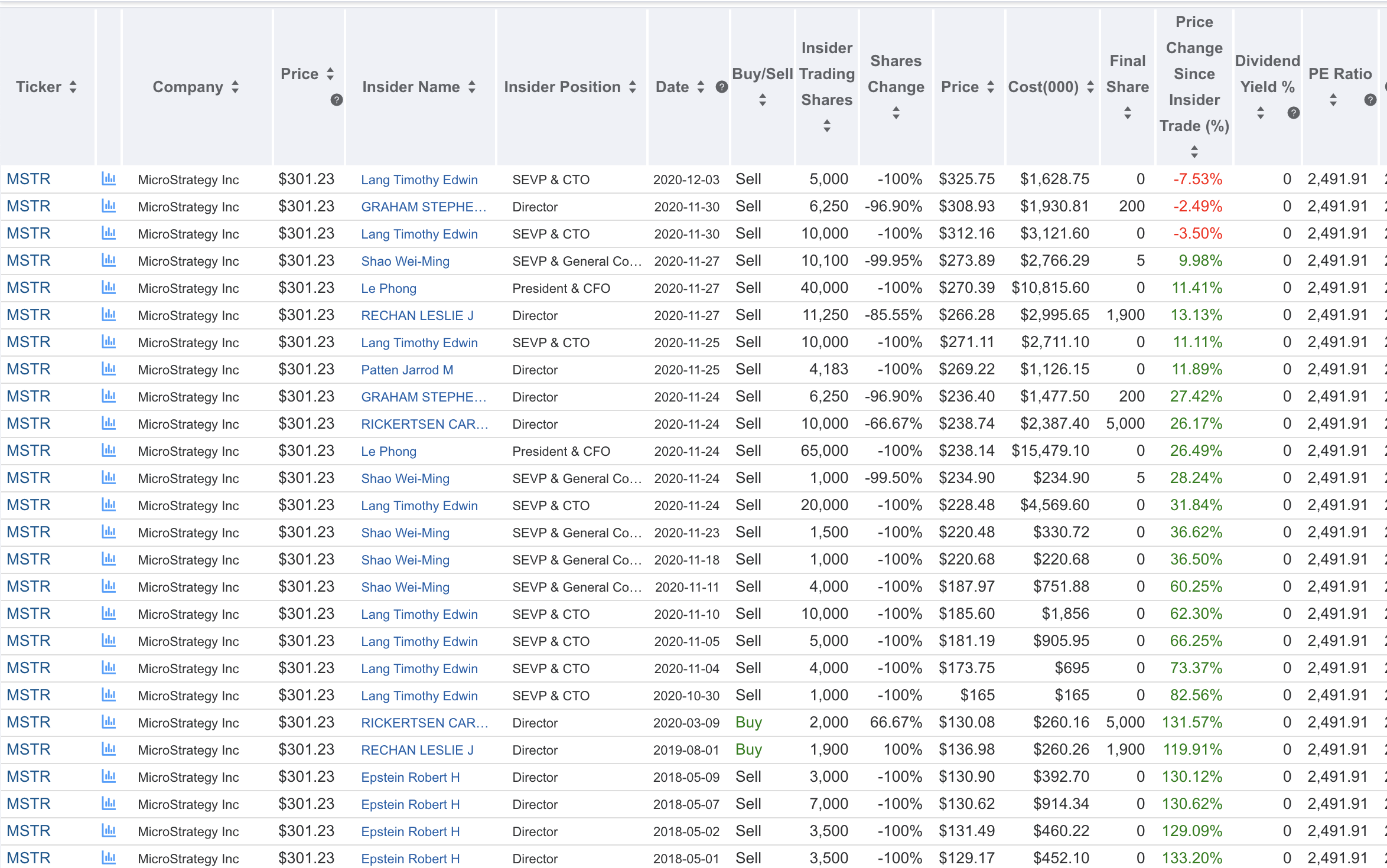 "MSTR's bitcoin investment has returned $250M (or worth $26/share or +20% towards stock) since August '20. While impressive, it pales in comparison to the 172% return in the stock.
At the current stock price, our analysis suggests that the market is pricing in much more optimistic valuation scenarios for the core business and Bitcoin," Radke says.
Citibank recently stated bitcoin might be worth more than $300,000, citing the current mass printing environment as well as a growing perception that bitcoin is the new digital gold.
However Radke says he sees "incremental risks to the story" as MicroStrategy dives deeper into bitcoin with this new $400 million private offering.
MSRT's stock fell by about 10% after this report as the company faces the first public questioning of its strategy which has brought it from a no name stock to an indirect way of playing bitcoin's price movements through the stock market according to Citron Research which said there is "no better way to play bitcoin in the stock market today" than MSTR stocks.
Article updated with public insider trades.