Exchange Traded Products (ETPs) catering to bitcoin and ethereum have ballooned this month according to Digital Asset Research.
The oldest of them, XBT Provider, has some $1.5 billion in assets under management, a significant increase from $1 billion earlier this year.
Just their bitcoin euro tracker now has $800 million, with their Swedish Krona (SEK) bitcoin stock product holding $460 million.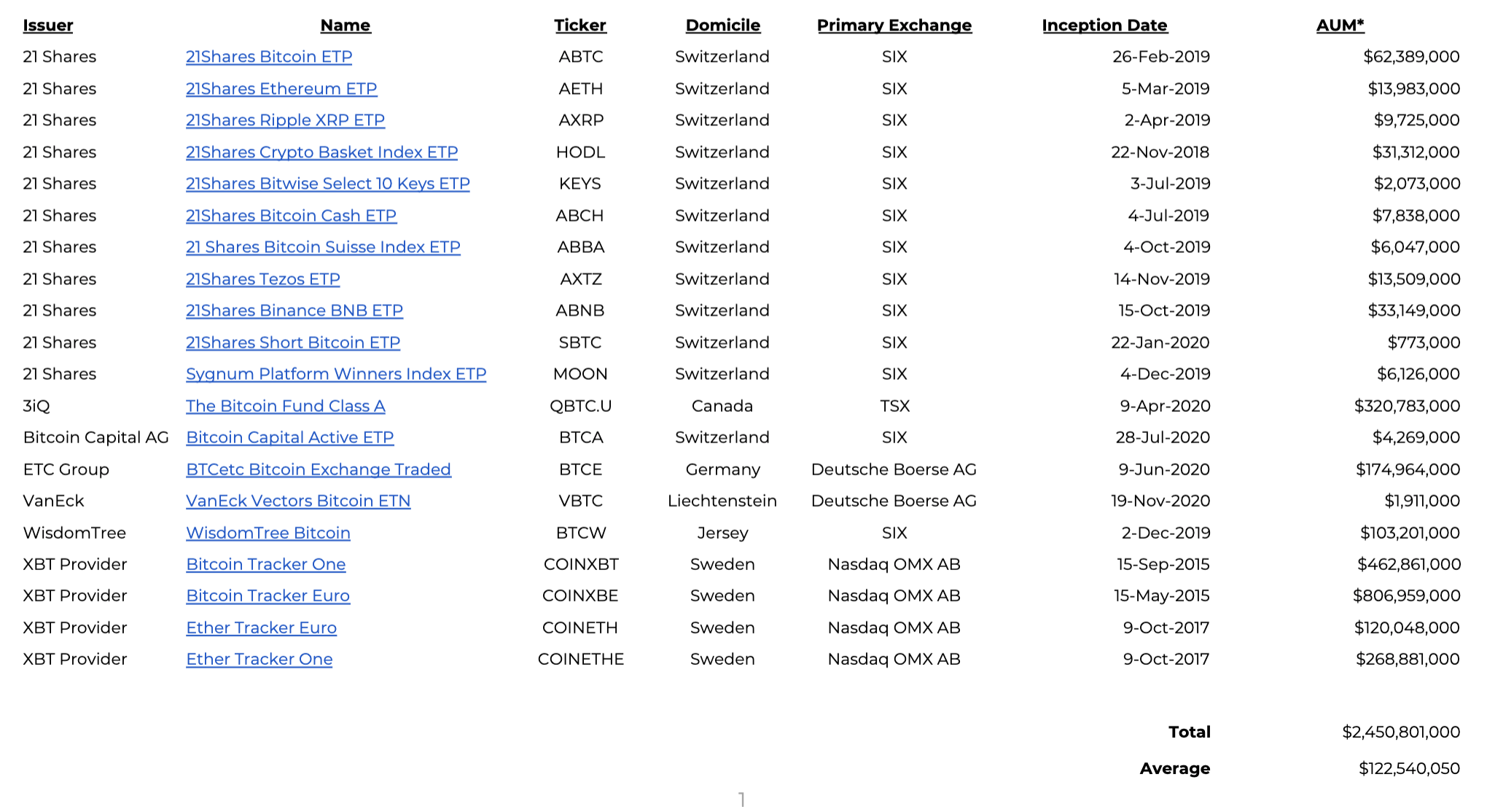 For ethereum their euro and SEK tracker has now risen to nearly $400 million, a doubling from earlier this year.
That makes XBT one of the biggest entrance to bitcoin and eth in Europe primarily because it was the first to launch an ETP for the two cryptos.
The second biggest is 3iQ's QBTCU, handling some $320 million just months after launching on the Toronto Stock Exchange as an exchange traded bitcoin fund.
That makes it a very fast rise, with QETH.U to go live tomorrow having raised $75 million already.
Third biggest is BTCE which also launched just this summer on Germany's biggest stock exchange, Deutsche Boerse.
They now hold $175 million worth of bitcoin, with these ETPs usually fully backed by the underlying crypto.
The slightly older Wisdom Tree is fourth with $107 million, leaving the 21Share products as fifth.
Just last year the above table would have been quite empty with just XBT Provider, but numerous products have launched this year to cater to stock investors, so increasing their assets under management to $2.5 billion.
In America there's still just GrayScale, which has nonetheless risen to $12 billion in assets under management, mostly in bitcoin at $10.2 billion and some $1.6 billion in ethereum.
Making it a combined $15 billion in bitcoin and ethereum stocks, or just 3% the current crypto market cap of $540 billion.
Suggesting there's a lot more to go for institutional investors where this space is concerned, with a JP Morgan analyst saying they've only begun.