Brazilians have bought and sold $6.3 billion bitcoin according to their Inland Revenue Service (IRS).
They say since August 2019 trading providers were required to provide details to the Federal Revenue of Brazil (RFB).
That data has now been compiled into a public report from RFB which details the volumes by cryptocurrency per month.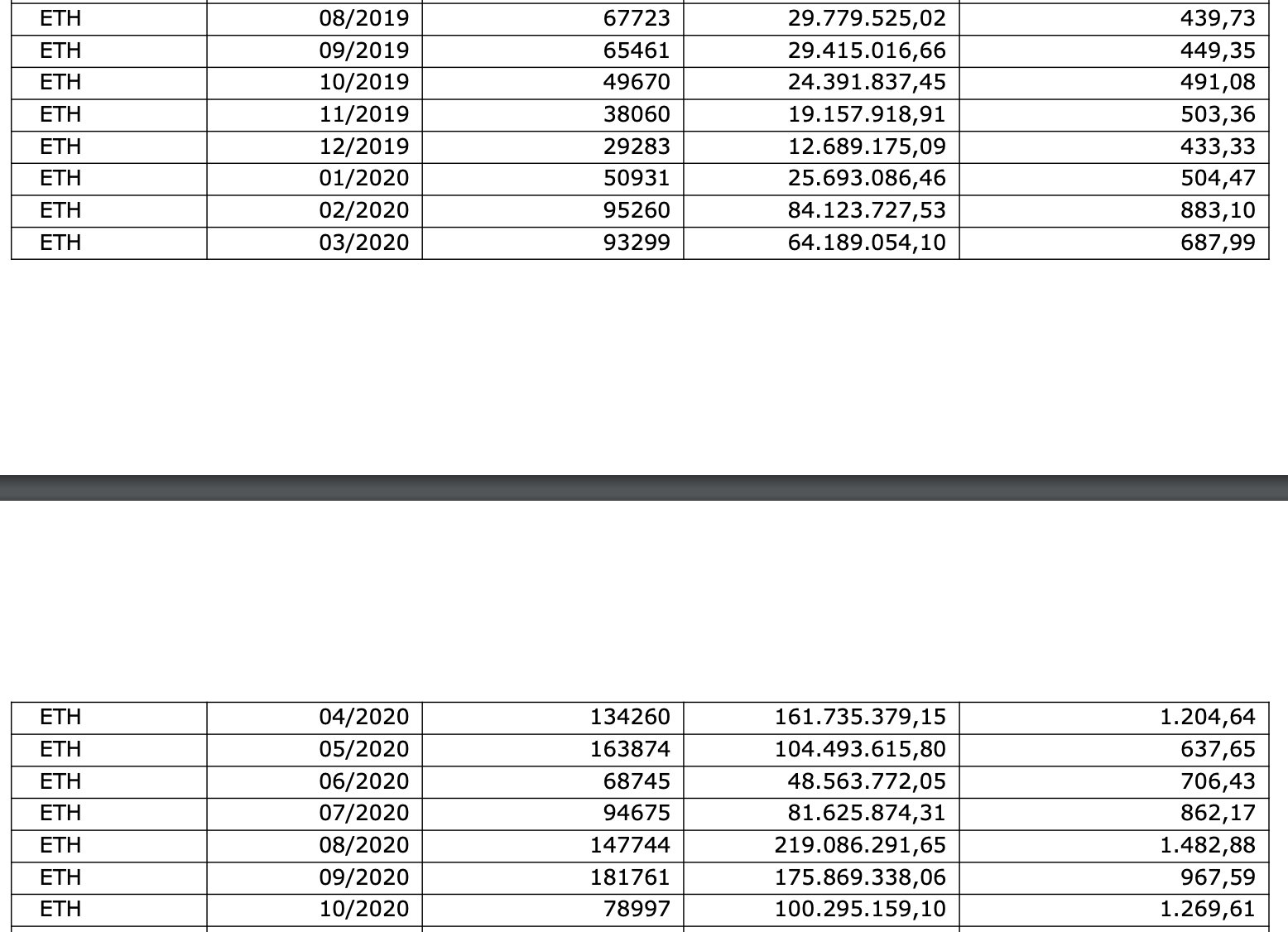 In total 33 billion Brazilian Real, worth some $6.3 billion, was traded from January to September 2020.
The majority of it is in bitcoin and eth, but the Brazilian revenue service details trades in dai and doge as well:

The first column is the crypto, then the month, then the number of actions/transactions, then the sum, and then the average sum.
This includes data from Over the Counter (OTC) trading desks with Brazil having nine large ones: Transfero, Foxbit, Novadax, Escher, Nox, Red River, BitBlue, BitPreço, and OWS.
"They are investors seeking diversification, often leaving the traditional market, finishing with financial investments in traditional banks and brokers, and coming to acquire their first bitcoin. This customer profile prefers OTC," Foxbit CEO João Canhada says.
The crypto exchange Foxbit revealed OTC trading accounts for 40% of their revenue, with Brazil overall rising as a hot spot for bitcoin trading.
They're the world's ninth largest economy with a GDP of $1.8 trillion. They have some inflation at 4.3%, and more importantly the country stands next to hyperinflating Venezuela and Argentina where inflation is galloping.
Bitcoin in particular also serves them for trade outside of official channels, especially with China as the currency can move in seconds, cutting down processing times for shipping trades.
The country further has a long history with capital controls, something that could put barriers for small businesses.
Their government however has generally come across as friendly towards this space, with their state bank trying to tokenize real in 2018.