Ethereum has taken $670, rising by about $100 from $580 since yesterday with the currency trailing bitcoin.
It's about halfway to the all time high of $1,420 now, even as bitcoin has surpassed it by about 20%.
For eth however we might be nearing its biggest resistance until all time high, taking which would clear the way: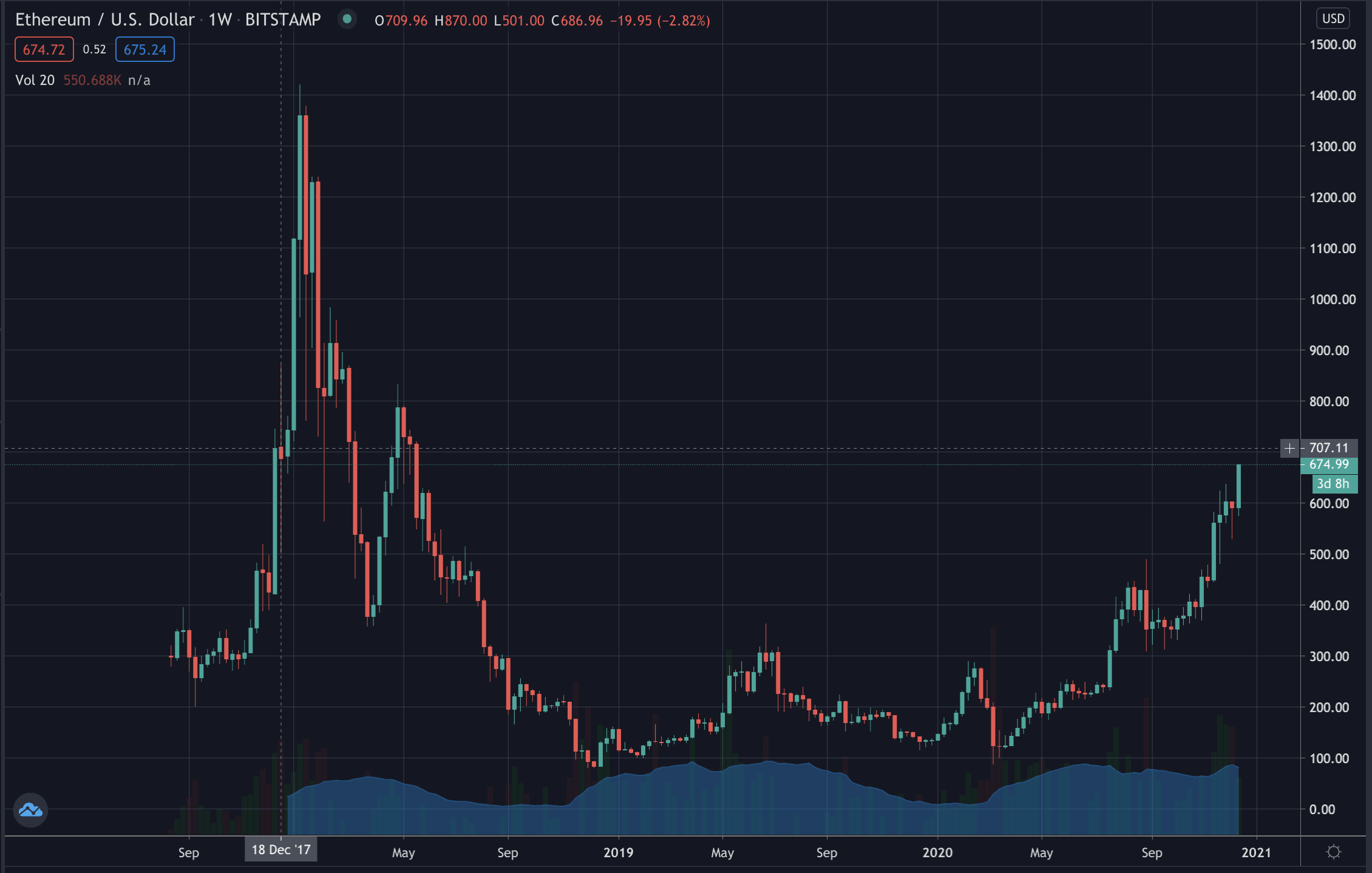 Last time around here was the biggest fun because eth shot up all the way to $900, crashed to $494, then surged to $1,200.
If it does that again, first there would be a crazy eth party on its way to $900, where we get to form a very nice cup.
Then the rollercoaster down gives a nice handle, after which it's party like '99 to reking the bears if it plays by the book.
Stakers are doing their part with more than $1 billion deposited to ethereum 2.0 where the sum only increases for the next two years.
Also Lubin finally made it, with CME announcing ethereum futures to go live in two months with the period length presumably chosen to indicate they know our memes.
Then eth's position as the second biggest crypto is making it benefit a lot from the infrastructure bitcoin has paved.
ETPs are mainly bitcoin and eth. GrayScale is buying a lot of eth. Some of these diversifying funds go both into bitcoin and eth.
So the bitcoin dominance should maybe be replaced with biteth which gets it to 75% and if we exclude tether, to about 80%.
The latter is generally in line with what bitcoin's dominance used to be prior to the scalability debate, so for many it makes sense to look at bitcoin and eth as a class of their own and then all the rest.
The two are different however because bitcoin is ahead, and quite a bit so, leading some to speculate eth may well follow its trajectory.
In particular, bitcoin rose to $20,000 while its inflation rate was 4%. Eth's inflation rate is currently 4% so some hope it would go there.
The difference is of course that bitcoin's supply is a lot smaller, but eth reached $1,420 on an inflationary rate of some 8%, same as bitcoin's $1k back in 2013.
That all time high however was on the back of eth almost flippening, which doesn't appear that realistic now as eth hasn't cracked scalability, but it came up with defi.
Therefore, all time high is the target for now, after which the entire crypto space goes into unknown territory where all bets are off.