Ethereum has been struggling against bitcoin as it fails to pass that key resistance line of $700.
While bitcoin is up 25% this week, ethereum is up only 14%, with that underperformance against bitcoin continuing since September (pictured above) when ethereum's ratio was 0.04 BTC.
Now it is at 0.027, a significant support line that can best be seen in the long term bitcoin price of eth: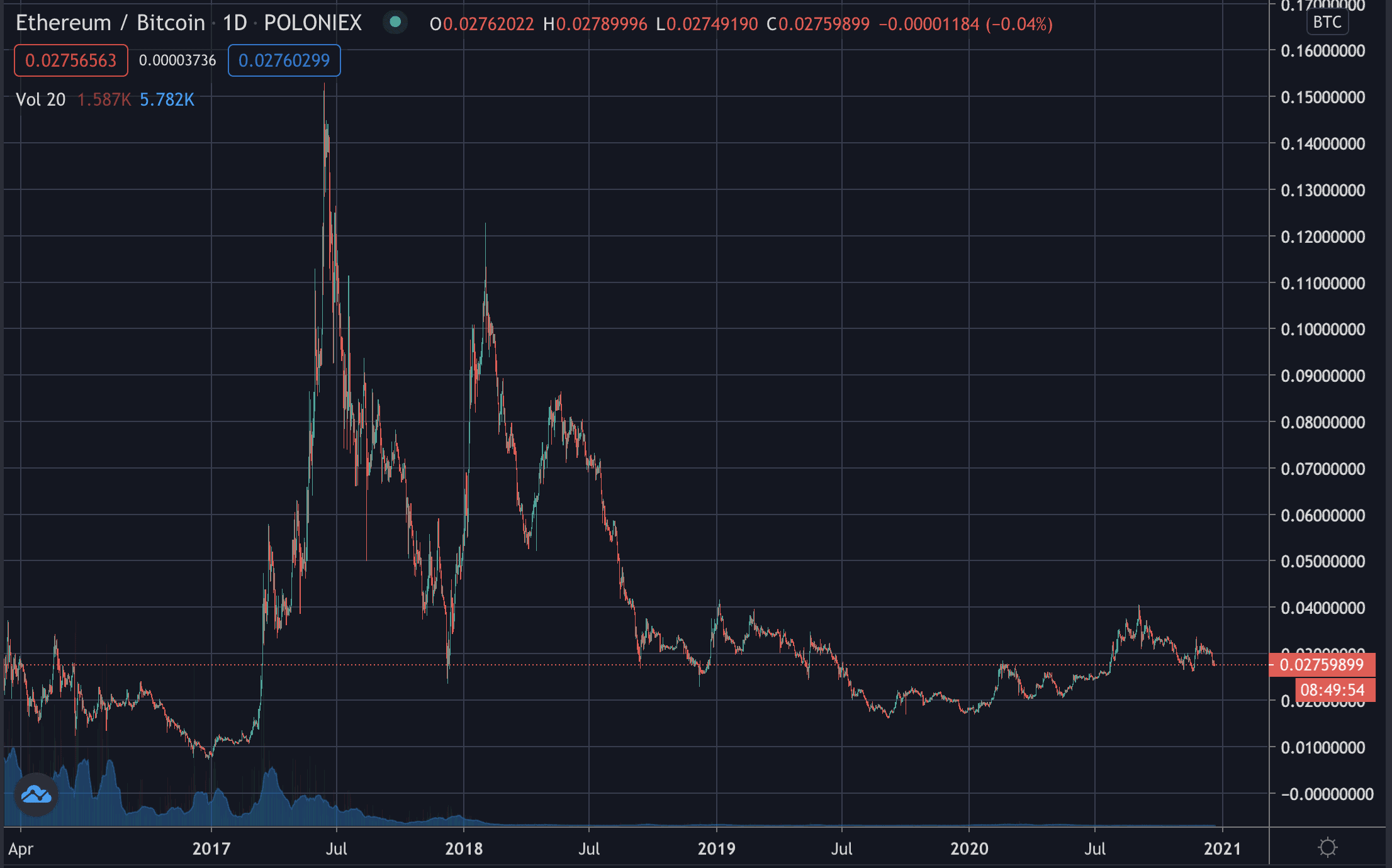 Bitcoin has gained significantly against eth since 2017 as can be seen above, with eth trying to come out of it, but it couldn't overtake resistance in September.
Now support is being tested again, with eth's value falling against bitcoin since November despite the ethereum 2.0 launch.
Ethereum's value has been rising against the dollar, but bitcoin has been leading that charge as it grabs the attention of traditional fund managers who are beginning to diversify into the digital gold.
The latest being Jefferies which has allocated 5% of a very conservative fund to bitcoin.
That and other news mainly related to bitcoin have put the oldest crypto into the spotlight, with it leading the show.
As long as it does, it will probably outperform eth, but the latter has some tricks up its sleeves too and sooner or later will probably catch up.
That may well lead an altcoin season, with dogecoin up today on Musk's pump, usually a sign that the little ones are getting excited.
Whether eth can leanly move, however, remains to be seen. Bitcoin is kind of waiting for it, while slowly gaining on the ratio, as eth tries and tries to take that $670 but without being able to do so this far.
If bitcoin continues to drag it up above that line, then the path is clear for eth perhaps to its all time high. But if eth keeps struggling, bitcoin might go off on its own as it has done before.
Making this a testing time for eth at the doors of support with eth bulls and bears to soon battle.