An investment bank with $3 billion in yearly revenue and some $50 billion in assets under management now holds bitcoin in its long only portfolio for pension funds.
Christopher Wood, the Global Head of Equity Strategy at Jefferies said in a note to investors that:
"This is the year bitcoin has become investible for institutions with custodian arrangements available and with prominent investors and indeed institutional investors declaring that they have bought it.
Bitcoin has now become part of the system with opportunities also for retail investors to buy into it via quoted vehicles."
The investment strategist was impressed by MicroStrategy putting its treasury holdings into bitcoin.
Jefferies acted as the sole manager on the $650 million convertible offering by MicroStrategy, with Wood so hearing of this bitcoin investment through a friend he said.
This marks a watershed moment, Wood said, as both the auditors and the SEC approved of MicroStrategy putting bitcoin on its balance sheet.
Apparently Wood was persuaded by Michael Saylor, MicroStrategy's CEO, arguing that bitcoin is "destroying gold's value proposition" because bitcoin has "dematerialized gold."
Wood says he has to admit that "this argument has some real merit." And therefore he is doing what no investment manager has publicly done so far in recommending long only pension funds buy bitcoin.
This very conservative portfolio had 70% allocated to gold or gold stocks, and 30% to Asian equities minus Japan. Now it is 45% for physical gold, 20% for gold stocks, 30% equities and 5% bitcoin.
So it is a fairly small investment percentage, but by a strategist who doesn't have a Linkedin or a twitter account. Although he does have an email and we'll update if he clarifies just how much this 5% amounts to in bitcoin or in dollars.
After publishing Wood did respond to say: "The fund is a recommended fund to institutional investors such as pensions funds. It is not an actual fund as I work on the sell side, not the buy side."
Thus this is a recommendation to pension funds, which globally hold trillions in investments. That 5% therefore is a pretty big amount if others follow Wood.
We managed to get our hands on this letter, so its bitcoin part follows in full: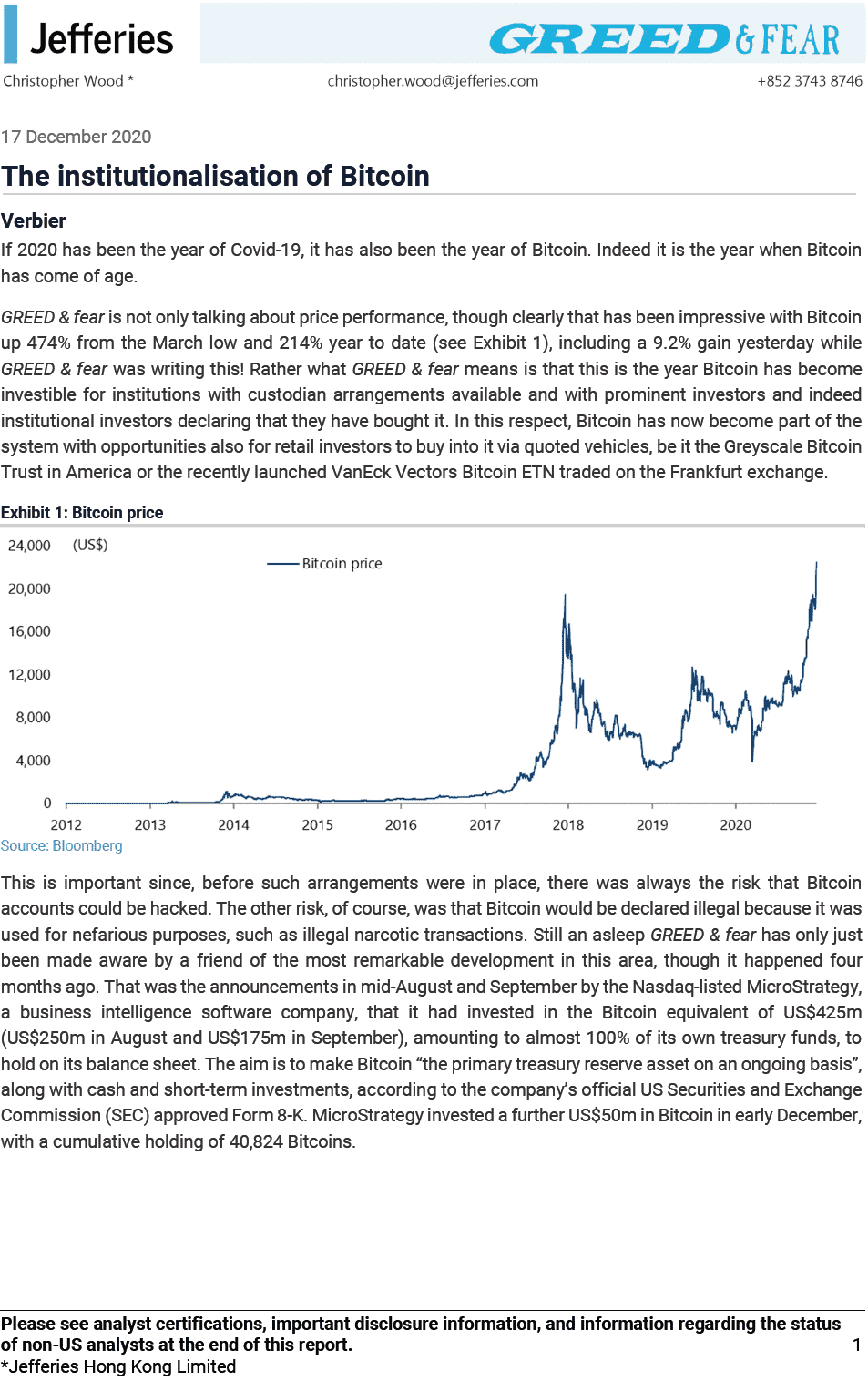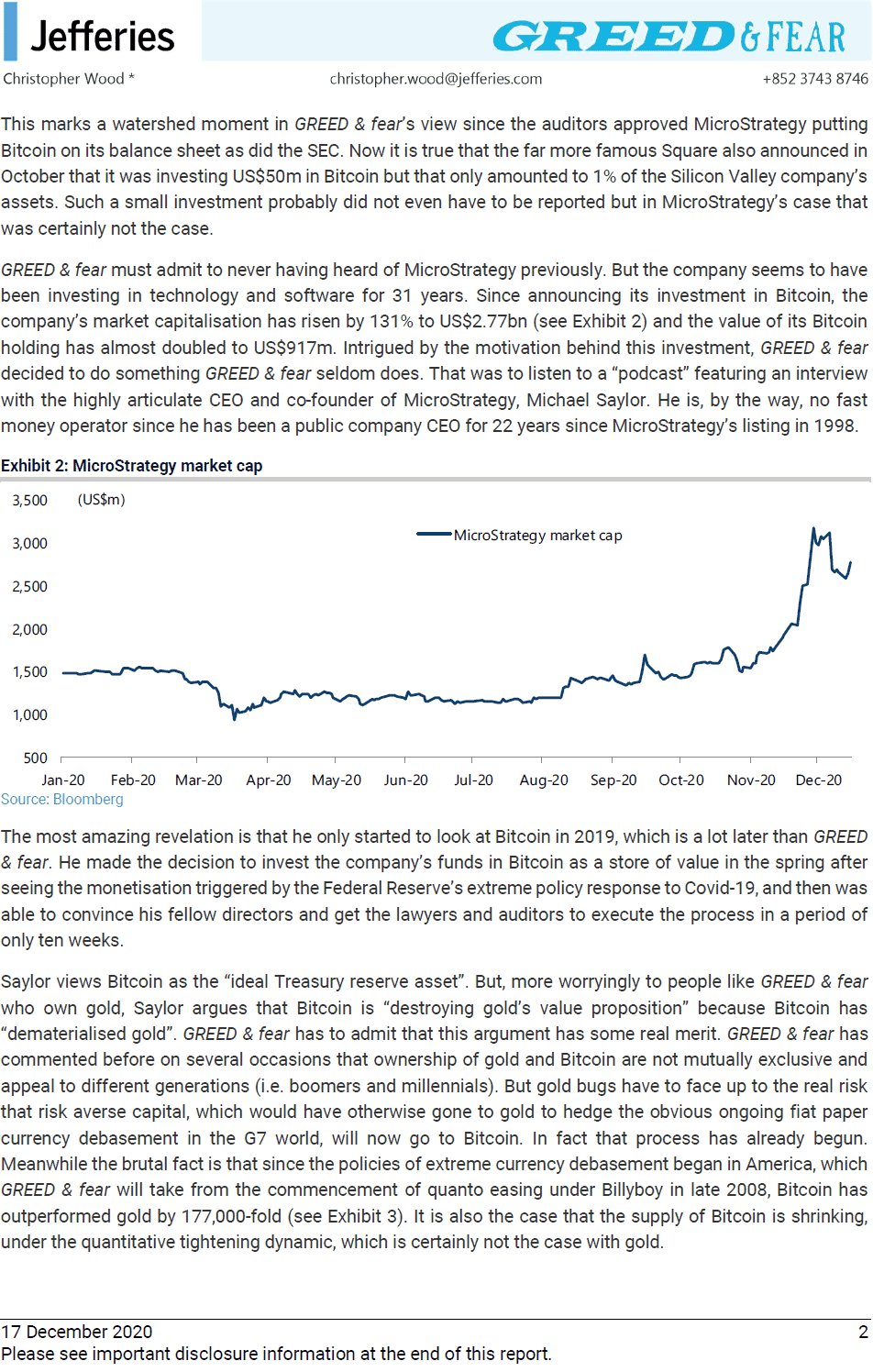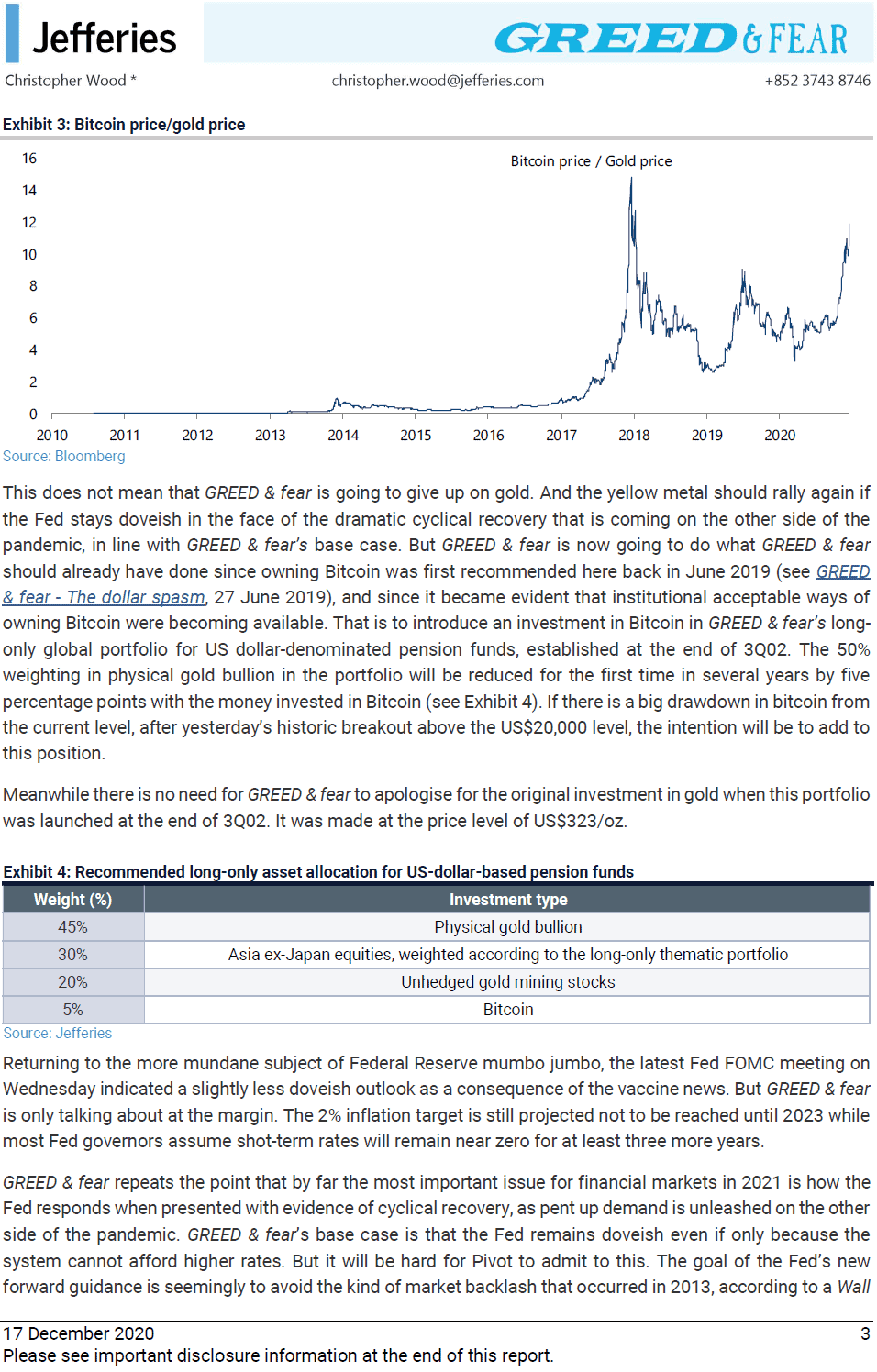 Article updated with comments by Wood