Decentralized finance (defi) has now become one of the biggest asset manager in the world with $22 billion in the custody of ethereum financial smart contracts.
MakerDAO alone holds more value than almost all cryptos, besides bitcoin and eth, at some $4.28 billion.
While flashloaning and collateralized lending Aave has risen to second place, automatically managing $2.9 billion.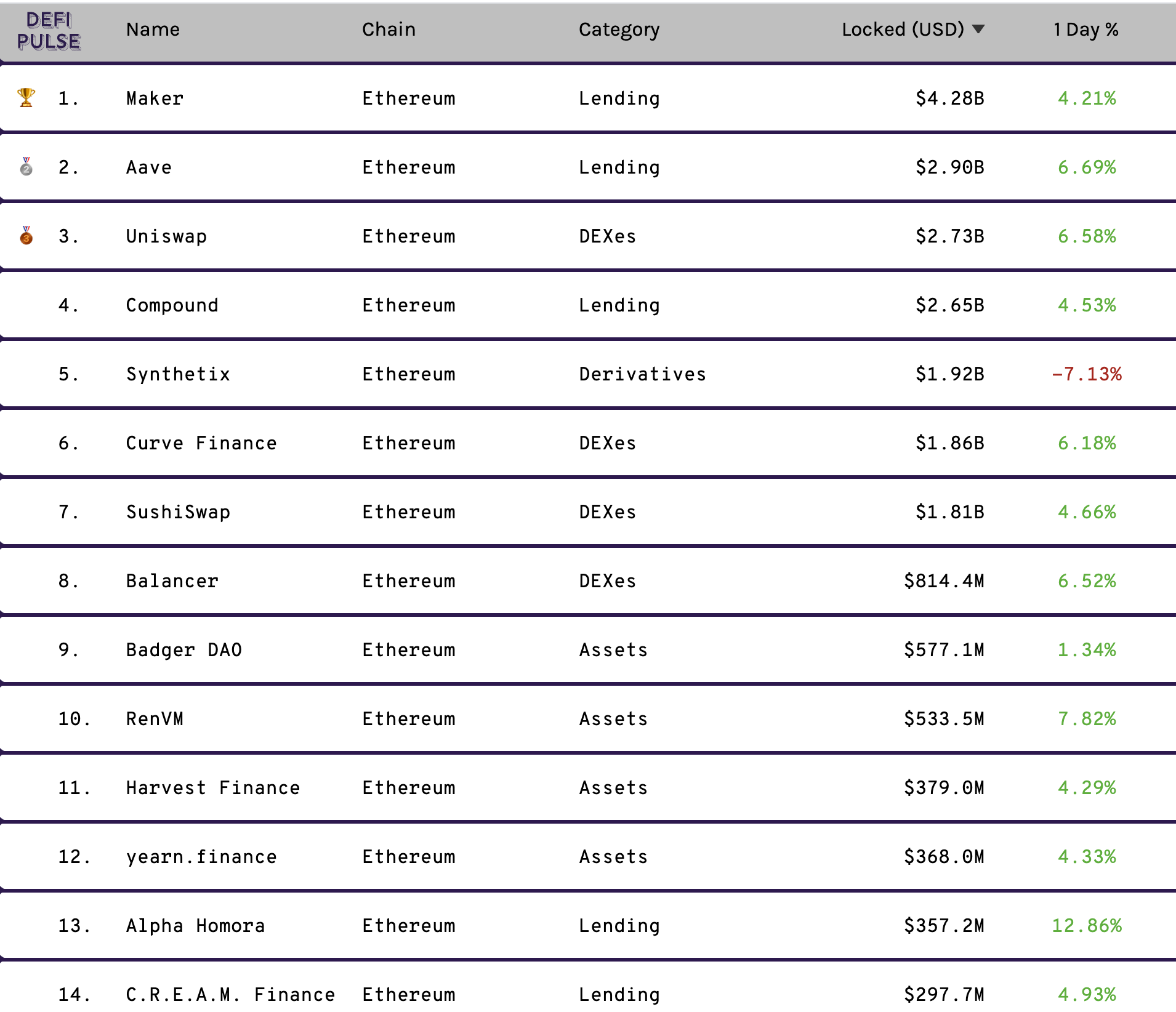 Uniswap is now one of the biggest exchange in the world with close to $3 billion in assets traded across an incredible 28,000 pairs that generate close to $1 billion in trading volumes.
Its copy clone fork, SushiSwap, is not far behind with circa $2 billion in assets as defiers provide liquidity to get more sushis.
Balancer, which is somewhat similar except its liquidity pools are bigger, and thus strategizing is more complex, is now close to $1 billion.
The stock market exchange Synthetix is close to double its size, while Compound has risen to $2.7 billion, quite a bit more than Curve's $1.9 billion.
Badger is a new one, but it claims its Setts automatically execute yield producing strategies for tokenized bitcoin, like wbtc or renbtc, to optimize returns and reduce costs.
Then this has the more complex digg, "an elastic supply cryptocurrency that's pegged to the price of Bitcoin. Through its vault strategies Badger is attempting to stabilize the price of DIGG to be closer to its target BTC price daily."
Then there's Alpha Homora, which "will borrow ETH to yield farm or provide liquidity on leverage for you when taking on leveraged positions."
So… the bots are here, and now they're available to your MetaMask with just one click functions to order them to work for you in the wilderness of defi fields with their snakes and bears and bulls and tigers, also whales.
Be careful what you press and expect losses before any gains because there are many traps, known like impermanent loss and unknown because we don't play too much there.
But if you have time and a little bit spare like $100 (cough) for fees, then you can see today what the bot economy will look like probably by the end of the decade with financial automation now opening to the public.