Decentralized finance (defi) keeps making new highs rising recently even as bitcoin consolidates in what looks like a triangle.
The defi market cap has now reached $45 billion, its highest level ever, making it nearly 30% of ethereum's $150 billion market cap.
Eth seems to have benefited from this bullishness, gaining considerably over bitcoin recently, while Aave and Uniswap cross $3 billion in market cap.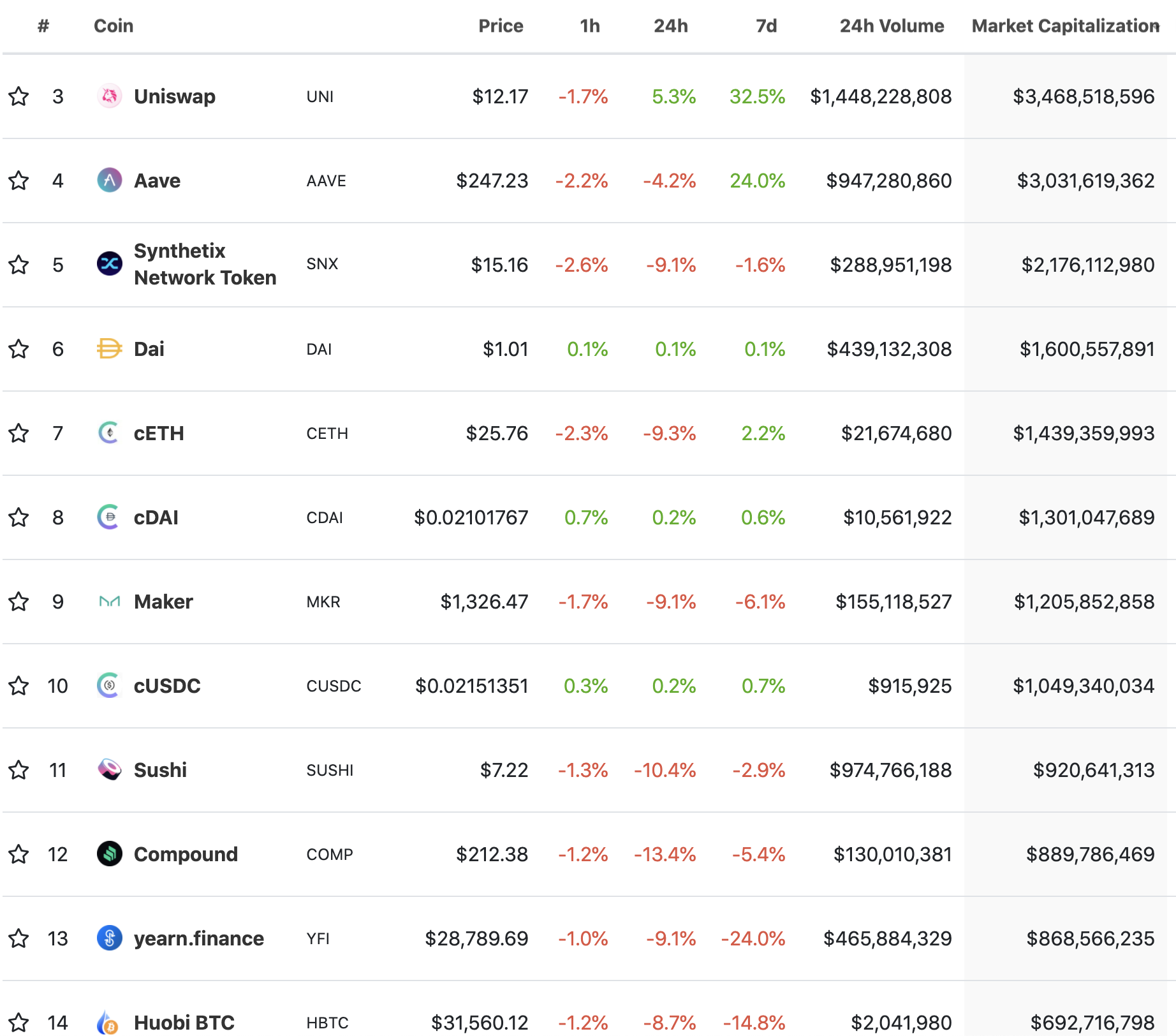 Defi tokens seem to be taking a bit of a break today from their bull run, but sushi is now up to $7 while Uniswap is far above its all time high.
Interestingly we have all these cETH and cDAI tokens up there now, c standing for curve which has further tokenized the assets to perform functions within its own dapp.
Then there's all these Yearn strategies which are more backend. A new one "farms LDO and CRV tokens by staking stETH and ETH at Curve. It sells the rewards and compound," according to Sam Priestley who came up with this strategy.
LDO is a new token presumably for the DAO of a staking platform that gives you stETH for your staked eth, in effect tokenizing staking.
Rather than just leaving it there, Priestley has now taken this tokenized staked eth and is staking that in turn on Curve to get free CRVs and Lido tokens.
Then there's Alpha Finance which automates leverage to yield farming with the VC backed project seemingly just doing for you the borrowing of an asset that is then itself used for collateral to borrow more.
A lot more interesting may be a zero detail announcement by Cream regarding zero-collateral lending for whitelisted protocols.
We tried to find out more, but were told to stay tuned with our assumption being they'll just take into account the collateral within a dapp and therefore won't ask that specific dapp for further collateral, but what they actually plan is to be seen.
Making these just some of the many developments going on in defi where projects are integrating more and more, creating a backend infrastructure for financial services.