Companies are sitting on a pile of cash with their treasury reserves increasing during last year according to the latest data.
US publicly traded companies are holding $2.506 trillion according to S&P Global which says "the total cash positions of the top 1% of companies increased by more than $80 billion, to $1.06 trillion" with BBB-rated issuers rising to $542 billion.
This is just the biggest American companies with it unclear what all of them, including privately held businesses, hold in cash reserves.
Yet their holdings have been rising since 2008, and are considerably more than their European counterparts.

According to Allianz, EU non-financial corporates, i.e. cash from operating activities, have doubled to over €700 billion during the first half of 2020.
A Mood's 2019 estimate adds the Middle East and Africa to state they hold €1.1 trillion together with European publicly traded companies.
That's about as much as just the United Kingdom where private non-financial corporations have accumulated £900 billion in cash, a new record.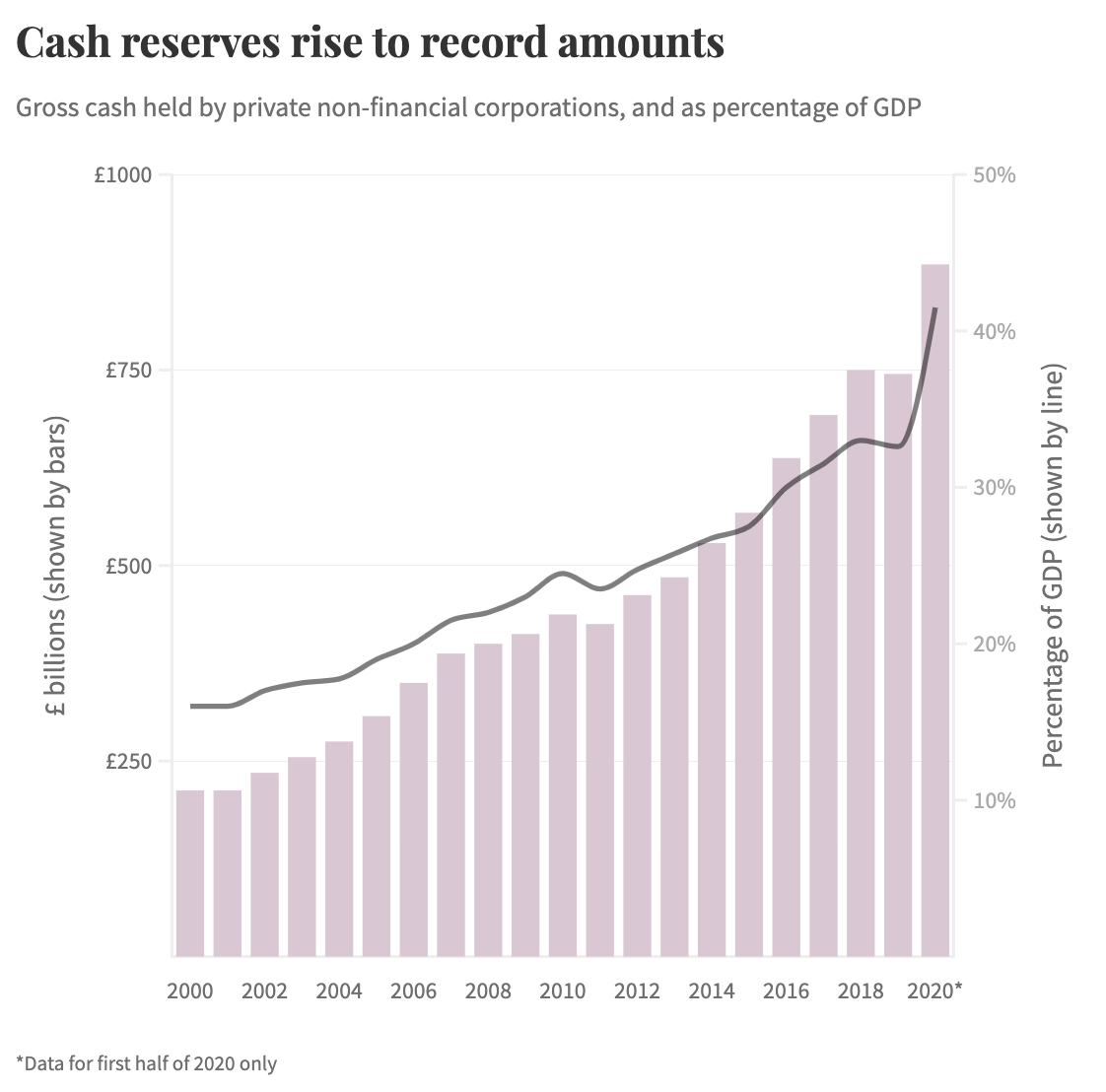 That's still proportionally below Japan where their companies hold an incredible $5.1 trillion in cash according to Bloomberg data reported in the Japan Times.
In combination the biggest companies are holding some $10 trillion in cash without even including places like Brazil, Turkey or Indonesia.
Cash is falling in value however especially against assets, so many of these companies are probably thinking of diversifying with Tesla leading the way following a $1.5 billion purchase of bitcoin.
Some studies now suggest about 10% should be allocated to bitcoin to diversify holdings and as a hedge with the digital gold replacing actual gold last year in its usual function of a safe haven to park funds.
If just these companies allocate 10% to bitcoin, then that would be a $1 trillion inflow which would increase bitcoin's price by magnitudes.
Citibank has suggested it could reach $300,000 based on their analysis, something that would be close to a 10x from the current price.
Yet whether companies will diversify at scale remains to be seen, but a trickle has now began with Microstrategy and Tesla rolling the ball.