The pandemic is ending and with it sooner or later the emergency measures will be eased both where it concerns economic restrictions and economic support.
That's still some months away but the dollar is already strengthening, rising from 89 to 92 this month.
That's presumably because the market does not expect any further devaluation than what is already known and perhaps even expects some monetary tightening in the months ahead.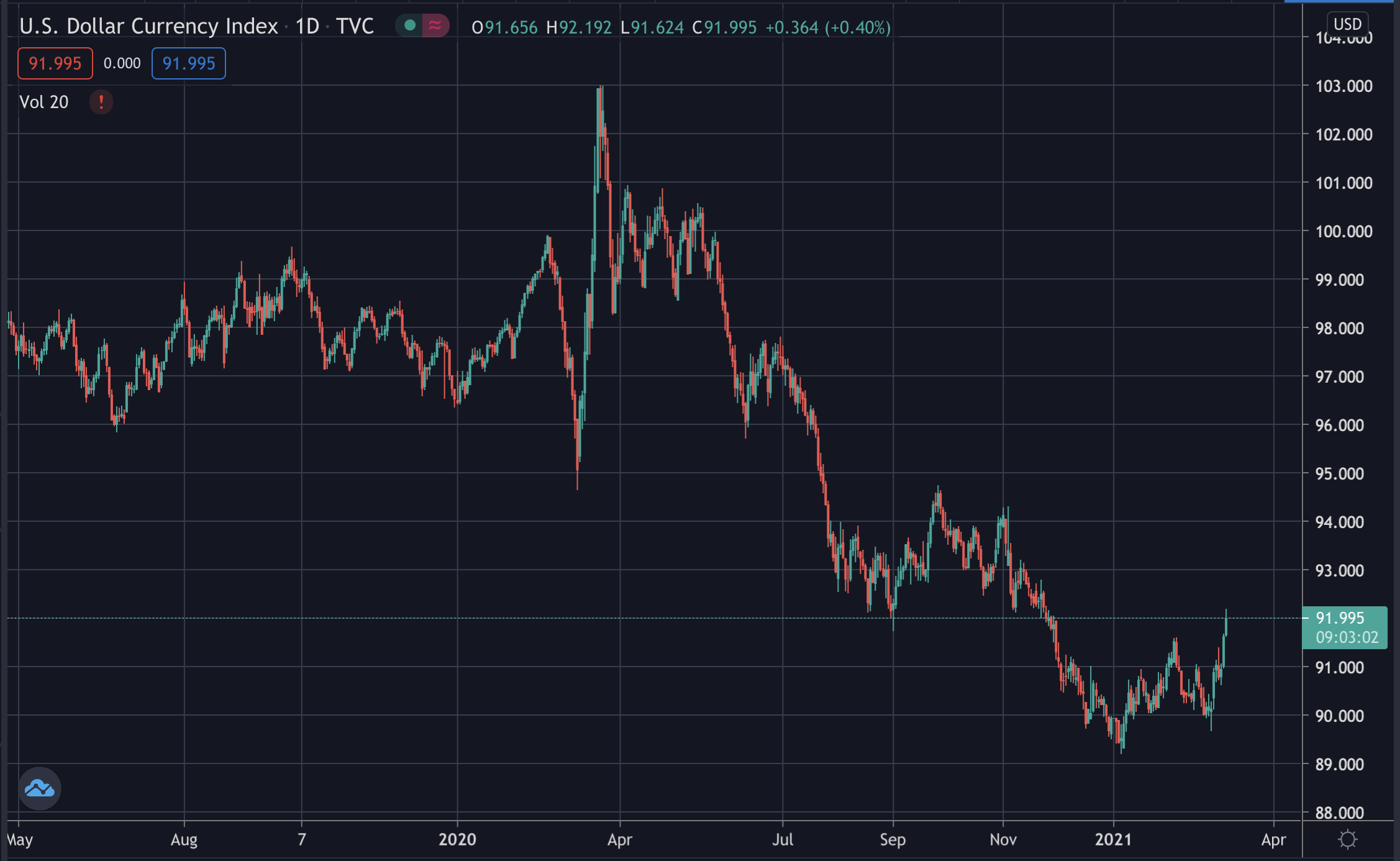 A strengthening dollar means a devaluing yuan and China has been somewhat more bullish on bitcoin than USA for the past few days.
Bitcoin's global nature therefore may cushion it from country specific factors, but the narrative for much of last year was that bitcoin is a hedge against a devaluing dollar.
Now that the dollar is strengthening, that narrative might not be as strong, however inflation is expected as once there is a full opening up, there might be pent up demand due to people spending some of what they saved during last year.
Due to its fixed supply, bitcoin protects against inflation, and it should benefit from an economic recovery because people will have more to spend, with some of that spending presumably going to bitcoin.
In addition some see bitcoin as a risky asset and if there is economic optimism, risky assets should increase in price.
Meaning the turbulences we have recently seen may be just temporary due to a change in outlook as we move out from a pandemic economy to normal growth.
Throughout that the monetary easing should continue well into the recovery which should appreciate assets.
Therefore bitcoin may continue moving upwards after cooling down as part of its rise may well be due to its drastic cut in supply which means it has to engage in price discovery to find a new balance between supply and demand.
But for now it looks like markets are re-adjusting from a pandemic economy to a normal one, and like other assets bitcoin is going through that same process with its fall from $57,000 coinciding with the news that the vaccination was going well where ending the pandemic is concerned.
We may thus now have speculation on whether bitcoin will behave differently during a normal economy or otherwise, but as a bearer asset there isn't much you can price-in here, and therefore there's still the $1.9 trillion stimulus to look forward to as well as the beginning of bitcoin's adoption as a portfolio diversifier.