More than 12,000 bitcoins, worth about $500 million, have been withdrawn from Coinbase according to data by CryptoQuant and our analysis.
This follows a withdrawal of 30,000 bitcoin in the past two days, bringing total reserves on exchanges to a new low of 2.3 million bitcoin.
More than 14,000 bitcoin was withdrawn in total from tracked exchanges, including about 1,000 BTC withdrawn from Binance and Bitfinex.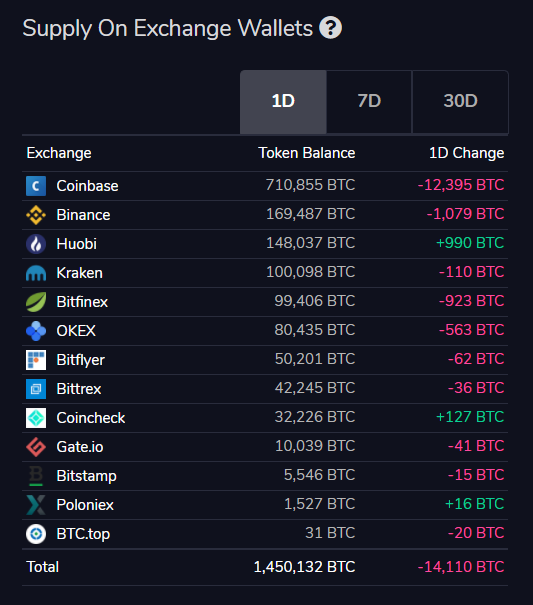 The 12,000 transaction in question came from a wallet first funded in March 2018 with an initial 2,000 bitcoins deposit.

Thereon, it receives occasional topping ups, with the whole sum now withdrawn.

Tracking the funding of that March 2018 address is a bit difficult as it goes through some obfuscation, but we managed to end up at the 1MMdVU address.

This is clearly an exchange's address, and there's confirmation it is Coinbase's presumably hot wallet.

So we've got a fairly confident picture here of Coinbase's hot wallet funding that March 2018 cold wallet with little reason to doubt the above.
Also we obviously know this cold wallet has moved, but beyond that we don't know much else.
It could well be that Coinbase has itself moved it, for whatever reason, but in that case you'd expect some systemic movement of coins.
Coinbase has a sophisticated cold wallet set up however of which we know little, so they may just move 'packets' instead of their entire holdings.
Yet there's reason to think it is an actual withdrawal primarily because it is a very nice round number of $500 million and of 12,000 bitcoins.
Considering that there was a dip as well, it does look likely, though not certain, that someone bought this dip to the tune of half a billion.
Coinbase has previously revealed they serve thousands of institutional investors and has executed numerous single trades of $1 billion.
So holistically it looks probable this 12,000 bitcoin transaction is one such purchase.