StorJ has seen a huge increase in price from 70 cent last week to $3.50 currently per coin.
Its volumes have ballooned too, rising to above $4 billion in the past 24 hours, giving it a market cap of just $870 million.
Another project to see big gains is Filecoin. This began March at $30s, it now goes for $132.
Filecoin's fully diluted market cap has now crossed ethereum at $251 billion compared to eth's $195 billion.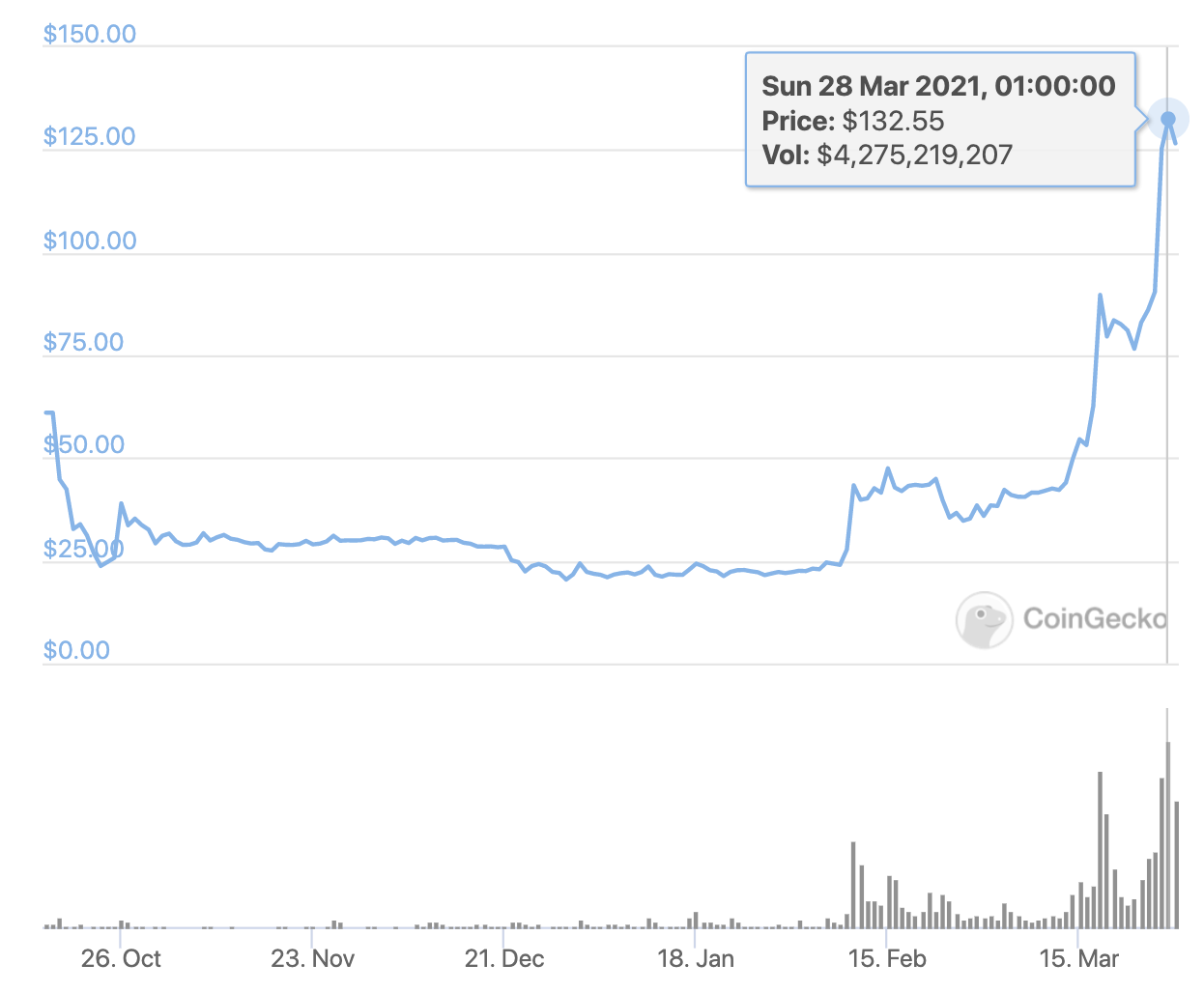 This sudden rise coincides with the towering of NFTs which has led to a PNG of an NYT column selling for half a million dollars.
NFTs as you might know are a cryptographic stamping of digital media to prove their originality.
The whole art world is looking at them in wonder whether this is their salvation, or just a silly fad.
Those betting on the latter are not playing. Those that have decided this is the only thing we have as there is no other alternative, thus may as well play the part and see how far it might go, are now clearly looking at the shovels technical finesse.
For an NFT to have any real value objectively speaking, the graphics that are linked to the token through a hash have to be stored in a way that ensures both the permanence and the immutability of the graphics.
That's what StoreJ promises. "Node Operators host data from users all over the world, enabling a truly private, totally secure, and completely decentralized cloud solution," they say.
Filecoin is a somewhat bigger competitor, described as "an open-source, public cryptocurrency and digital payment system intended to be a blockchain-based cooperative digital storage and data retrieval method. It is made by Protocol Labs and builds on top of the InterPlanetary File System, allowing users to rent unused hard drive space."
Basically just like bitcoin nodes hold all these transactions, StorJ or Filecoin holds all the graphics. That consumes a lot of space as you can imagine, so they have cryptographic methods to hash and dash all these jpegs, chopping them up in different computers or even servers around the world.
So a bit like BitTorrent but legal, certainly where NFTs are concerned, and they have coins which here have a real use case because you pay the storers with those coins.
You presumably could pay them in eth as well, or bitcoin, with the token itself not playing any consensus role as far as we are aware, so if we are to be very pedantic the coin here is probably more for funding than utility.
Regardless, the more NFTs boom, the more these should boom because they're a crucial piece of the puzzle without which there is effectively no NFT.
We may therefore see a lot more competition in the decentralized, hence immutable, storage space as if NFTs have shovels or miners, then it is decentralized storage.