Work has began on the next ethereum upgrade which burns fees to target a base fee sufficient for the availability of 50% capacity, known as EIP1559 or the fee market upgrade.
A devnet is already out according to Tim Beiko, the coordinator of eth1, with the live launch expected in just months.
Following a devs call, Beiko said "we're looking at mid-July for London, and the fork will contain EIPs 1559, 3198 (BASEFEE opcode), 3238 (Ice Age pushback)."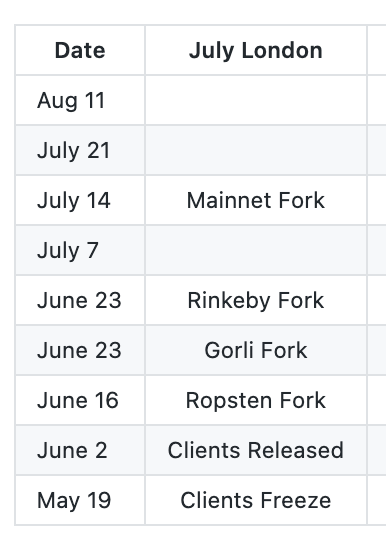 He further provided a fairly detailed roadmap with the next step being a clients freeze.

It's not until June that the testnet goes out, with devs seemingly giving just one month for the full-network like testnet environment.

The upgrade then is estimated to go live sometime in mid July, or about three months from now.

In addition to the fee burning EIP1559 which also tangentially changes ethereum's crypto-economics, the devs also proposed a speed up of the difficulty increase to December rather than the previously planned Q2 2022.

"Given that we want to either ship Shanghai and/or the Merge this year, we agreed we should make the bomb go off sooner as a forcing function. Everyone on the call agreed on aiming for December," Beiko said.
Devs are already working on prototypes for the merger, that is ethereum's full transition to Proof of Stake (PoS), removing Proof of Work (PoW) miners from consensus.
For this to be ready by December, however, you'd think a full on testnet would be needed by September to give plenty of time for testing.
Devs are perhaps thinking they could achieve it since they are proposing this pullback of the difficulty bomb which increases mining difficulty to the point eventually one can't PoW mine eth anymore.
This mechanism was implemented five years ago as a guarantee for the full PoS transition, so they'll be making use of it for the merger.
Meaning for the next couple of months, ethereans can look forward to the upgrade that burns about 15,000 eth a day, worth $40 million, so taking them out of the total supply.
And after that, they can look forward to an 80% reduction in block rewards as miners no longer receive theirs once the merger to PoS occurs perhaps later this year or in early 2022.
Something that will make ethereum a lot more scarce than it has been and until the next bitcoin halvening, it will have lower inflation once the merger goes through while practically having negative inflation if you account for the burned fees.