The rich are going bitcoin with half of respondents to a family offices survey stating they are interested in crypto investments.
150 responded across the globe with 22% of them managing more than $5 billion while 44% manage between $1 billion and 4.9 billion.
15% have already bought bitcoin, while 45% say they have not yet, but are interested in doing so.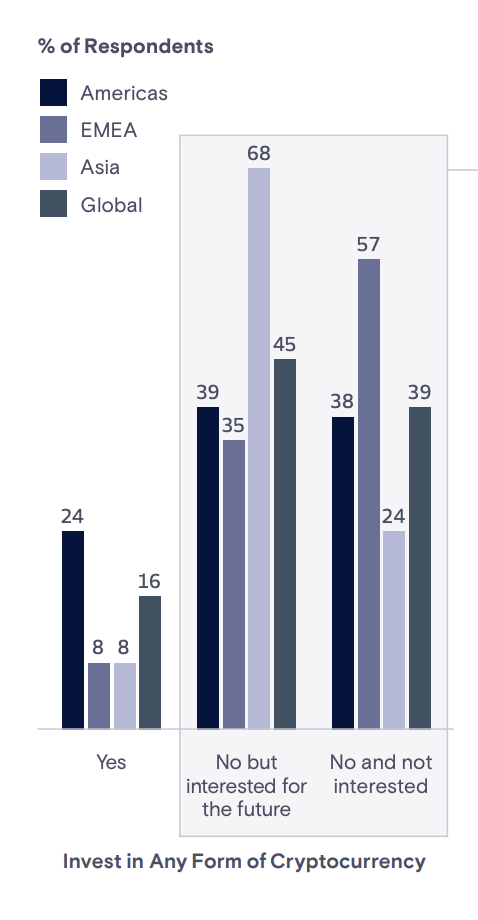 Of the 39% who are not interested, 38% say it's because they are not familiar with crypto or not comfortable with current infrastructure, while 32% says it's because cryptos are not currently part of the family offices mandate.

For the rest, crypto is part of protecting from inflation, currency debasement, or from an environment with low interest rates which in Europe includes negative interest rates as well.

"Some family offices are considering cryptocurrencies as a way to position for higher inflation, prolonged low rates, and other macroeconomic developments following a year of unprecedented global monetary and fiscal stimulus," the report says, adding:

"Of the approximately two-thirds of family offices that are actively thinking about an increase in inflation, digital assets emerged as one portfolio solution. Currency debasement has also been top of mind for about 40% of global respondents, with more than 40% of this subset indicating they would consider investing in digital assets."

In America, 24% of family offices have bought, while Europe, the Middle East and Africa (EMEA) are below the 10% threshold with no breakdown given for just Europe.

The reason may be because America is slight ahead of Europe in terms of bitcoin awareness, with primarily American hedge funds and institutional investors diving into crypto this year.
Europe may follow with the level of interest suggested here, 68% for Asia, indicating that crypto is on its way to becoming a mainstream part of investment portfolios at least where the rich are concerned which generally manage their wealth through family offices.