Bitcoin tipping through the Lightning Network (LN) is coming to Twitter according to Kayvon Beykpour, Twitter's Product Lead, who said soon Twitter will facilitate the ability to receive tips in bitcoin.
This would be the first roll out of bitcoin tipping at a corporate level by a global social media platform.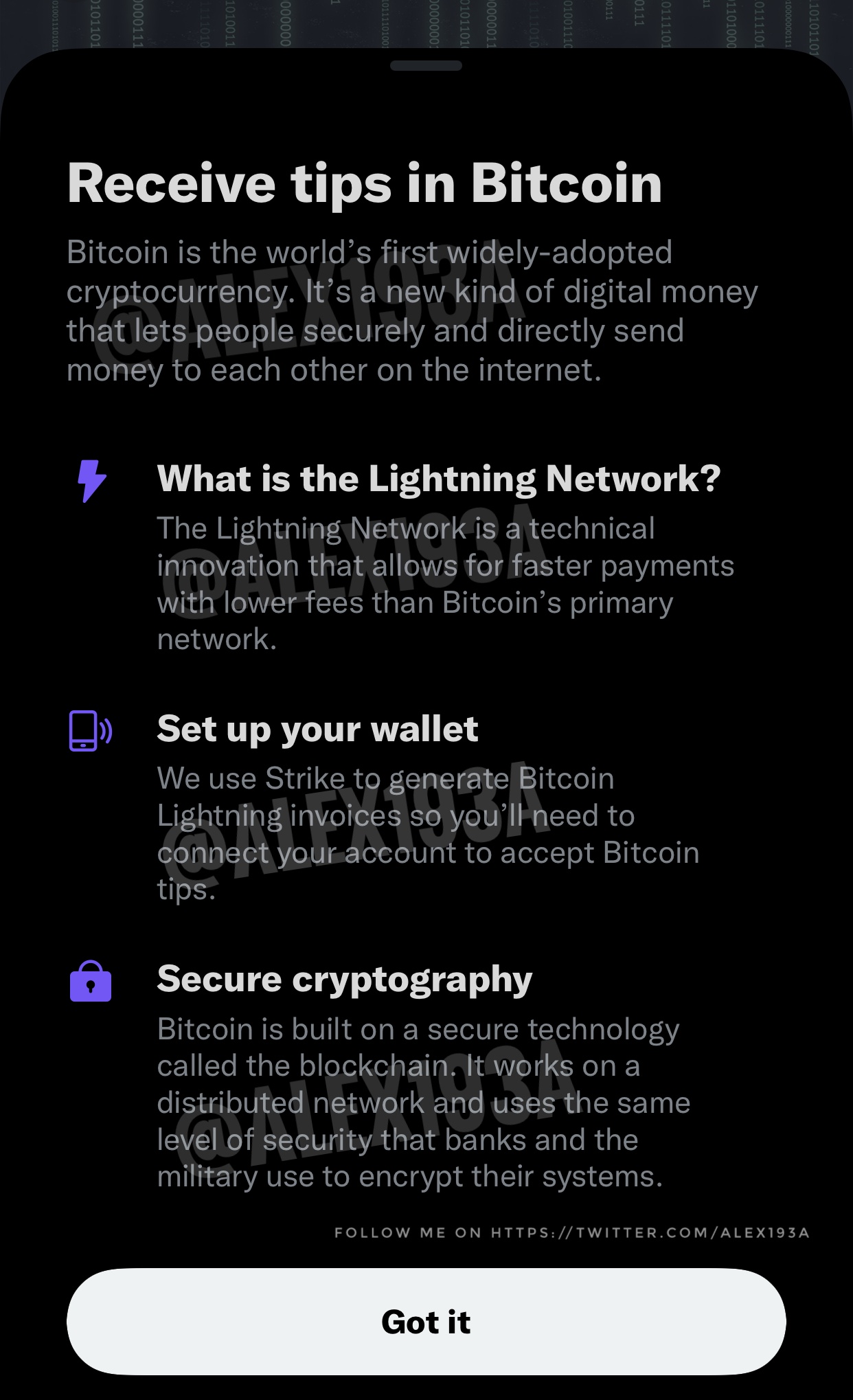 Details are sparse but a screenshot has been leaked where bitcoin and the Lightning Network is introduced to Twitter users interested in tipping.
That suggests some of the circa 200 million daily active users of Twitter will be introduced to bitcoin which is described as using the same level of security as banks and the military.
In addition individuals may be introduced to crypto by others tipping them with Peter Schiff for example potentially softening his stance if he sees his sats grow in value as bitcoin heads to the moon.
That's in fact how some discovered bitcoin when back in March 2013 someone was tipping on Reddit as much as $20,000 worth of bitcoin in a flush of money after bitcoin had come back from the dead to rise from $2 to $260.
Quite aptly the currency crashed to $50 just as what then was mostly students were discovering it, to then by the end of that same year shoot up to $1,000.
That Reddit tip was a grassroots feature however, rather than run by Reddit. While here it is Twitter itself launching the tip bot through Strike.
Strike as it happens is limited to USA (excluding New York) and El Salvador, so Europe is left out. In addition, it is a custodian wallet with AML and KYC requirements depending on usage to the point they may even ask for your SSN.
So not quite the permissionless global bitcoin that whizzes by the block, but a more limited layer that nonetheless is a start of online social platforms experimenting with new digital money.