Reverse repos have broken yet another record, crossing $1.6 trillion on Thursday, up another $200 billion from the day before.
92 entities took part, a new recent high, with this ballooning since May when just $200 billion were in reverse repos.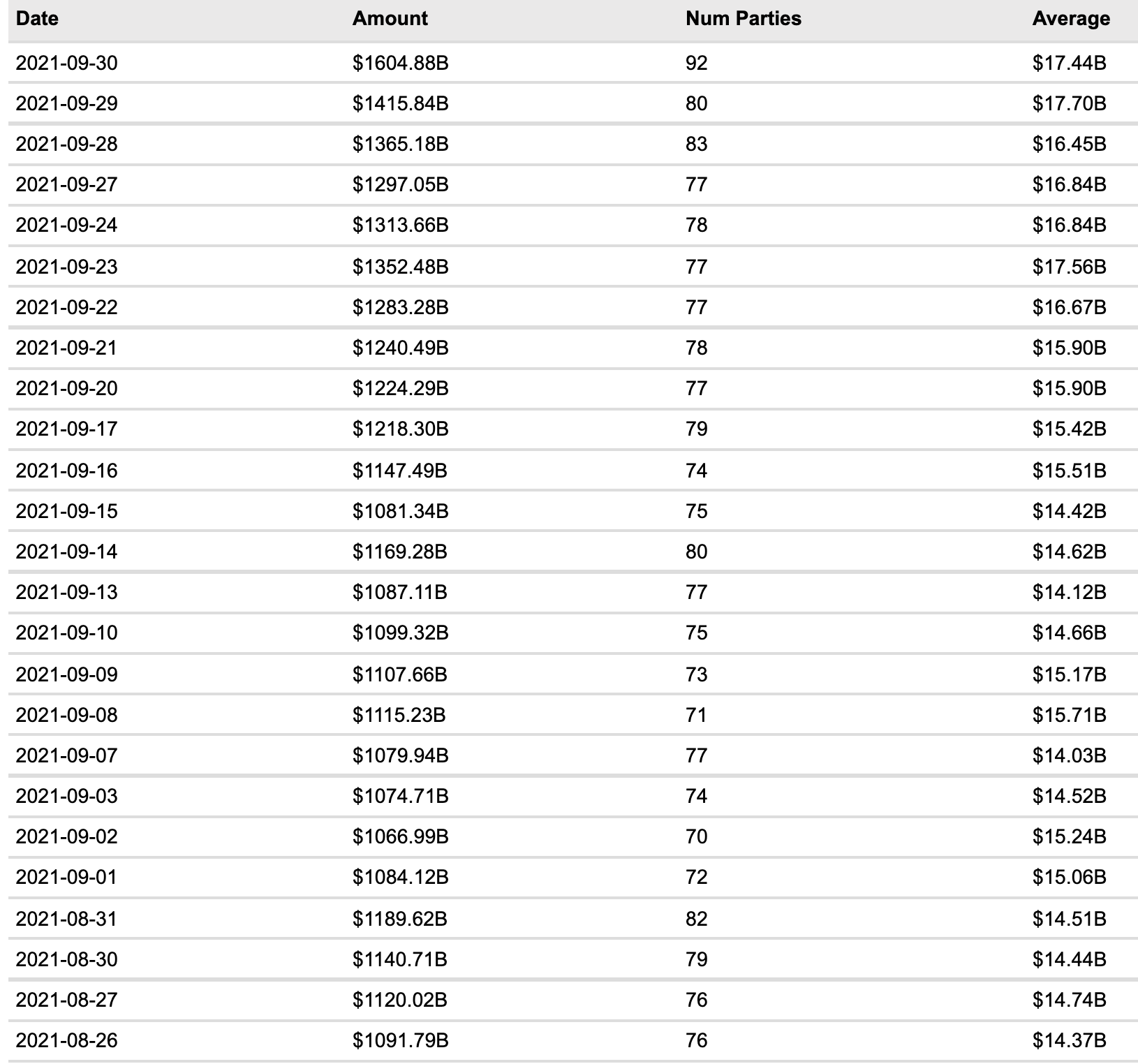 Reverse repos are a bit like staking USD, but unlike the high yield in defi, here you get minuscule sums.
That's thus raising questions as to why it is being used so much. Some suggest there's just too much cash floating in the system. Maybe because people are sitting on cash.
Dow fell another 1.6% on Thursday with futures suggesting there's more down, about 0.3% for this Friday.
One reason may be because gas prices are rising and so that should increase business costs, meaning it will lower profits. Then there's supply chain issues, chip shortage, a bit of inflation, and a shortage in the labor market.
That's making investors a bit cautious, so they sitting on trillions of cash, while some are perhaps going to more scarce assets.
Bitcoin has jumped to $47,000 from $41,000. Some say it's due to speculation a futures based bitcoin ETF may be approved. Jerome Powell, arguably the best FED chair in living memory considering his calm steering of markets during 2020, has made it very clear Fed has no plans to ban bitcoin China style.
Then there's Chinese investors who appear to be buying bitcoin during Shanghai morning. This NY morning, Americans bought too.
So there are obviously bitcoin specific factors, but bitcoin's decoupling from stocks in the past couple of days may also indicate it has started, probably temporarily, to act as a safe haven of sorts.
The simplicity of bitcoin makes it complex in as far as it is both a commodity and a currency, it is a safe haven asset and a risky asset or growth asset.
So it changes its behavior, which is why it doesn't correlate with any asset for long. Currently it may be benefiting from these growing pains out of the pandemic, but looked holistically, the economy is facing a good problem.
All these shortages or gas price rises are just a sign the economy is bouncing back strongly and the engine is waking up to move at full swing.
It is obviously a complex machine, so we get this production re-adjustment, but that will be sorted out you'd think and so the economy will keep swinging.
Once it adjusts, bitcoin will probably benefit from a growing economy and some of this cash sitting on repos will make its way to more productive assets, but until then some investors are seemingly taking a wait and see approach while presumably buying bitcoin since it rose.