Bitcoin has made a new recent high and is close to overtaking all time high as the bitcoin ETF opens for trading at the world's biggest financial market.
The currency jumped to $63,300 with it currently seeing some volatility as some joke the crypto invasion of the stock market has began.
BITO is already showing on IBKR and is available for trading, with our presumption being it is available on any and all stock brokers that have access to the US market.
Shortly after the ETF began trading, NYSE's website shows it quickly jumped, up by more than 5% at some point.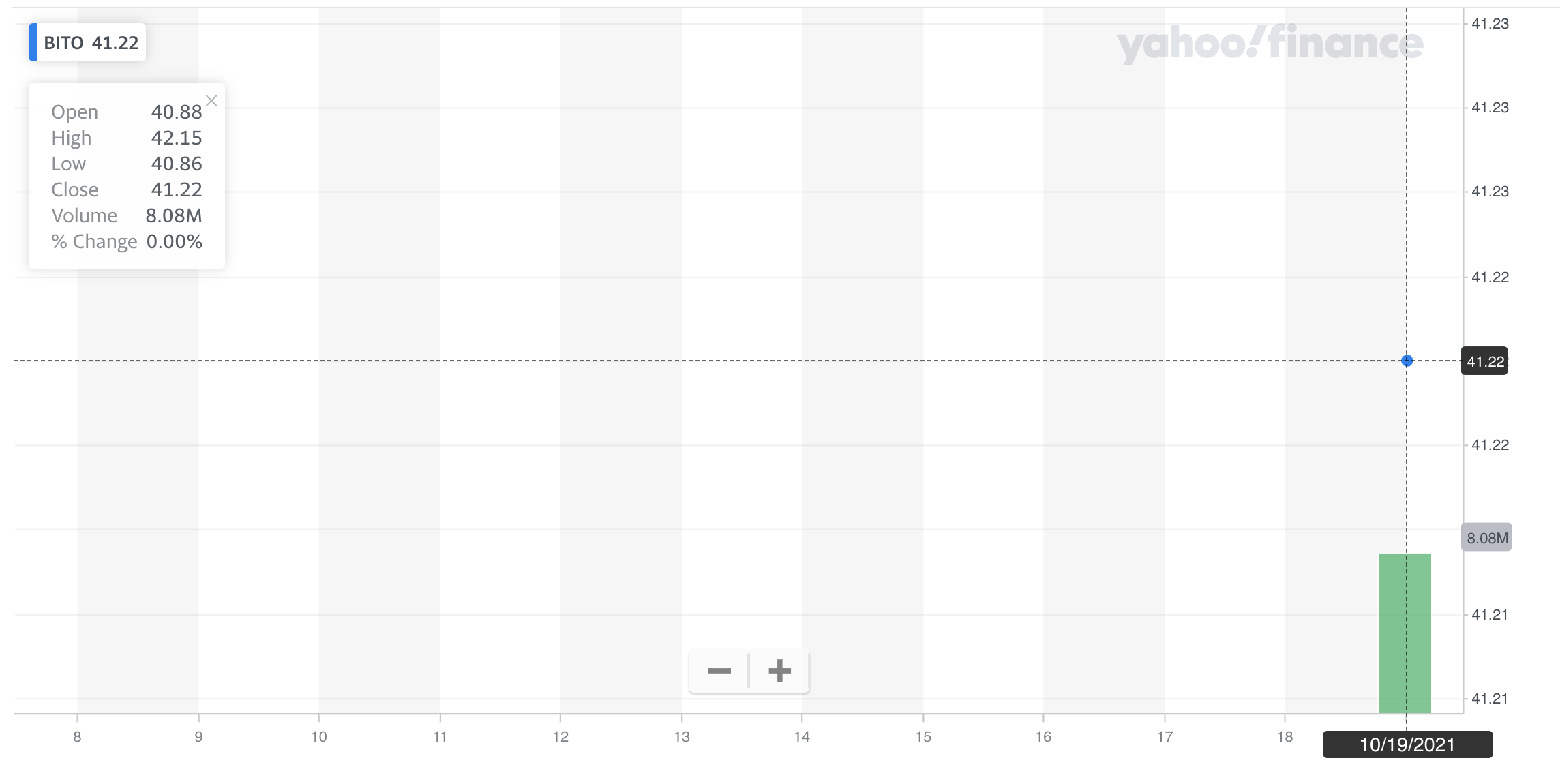 Already some $320 million worth of more than 8 million shares have exchanged hands in what is clearly an indication of high demand for the ETF.
Not least because the ETF rose by more than 5%, while bitcoin rose by 3%, suggesting the ETF opened at a premium.
The calculation for the equivalence of a share appears to be complex and ever changing, especially as their site keeps crashing presumably due to very high demand. The prospectus however says:
"The NAV per share of the Fund is computed by dividing the value of the net assets of the Fund (i.e., the value of its total assets less total liabilities) by its total number of shares outstanding."
They currently have 64 CME bitcoin futures contracts. One such contract is the equivalent of 5 bitcoins, so you have to do 320 x current futures price at CME. In addition you have to add 42 micro futures, the equivalent of 0.1 bitcoin, making it a total of 324.2 x current futures price.
Then you have to get shares outstanding with that number not easily available, so we divide their holdings of $20,000,549.33 by their stated net asset value of $40, giving us 500,014 shares.
So 324.2 x 62,170 / 500,014 is 40.30 while the ETF is trading at 40.39. Meaning we have a premium.
If we do this at the highest to remove any movements, 324.2 x 63,300 / 500,014 gives us 41.04 while the fund went to 42.15. That's a premium of 2.7%.