It's gone get hot, Paris Hilton said in a statement as she revealed her custom avatar called Genies (pictured above) for the biggest crypto party on the blockchain, ever.
Genies by Dapper Labs will make their first debut on Decentraland starting this Thursday all the way until Sunday.
We haven't seen one in 'real' life yet, but apparently they can move and speak using the celebrity's voice, and in this case it clearly looks like Hilton as well.
She is to DJ at the festival while showing off her fashionable dresses and accessories or wearables as they called in the metaverse.
These are growing in adoption because they look cool – well, the ones that do. We were gifted one on Decentraland in one of the giveaways and on Opensea in 2d, it looks a bit 'why anyone wants this?' On Decentraland however, to us anyway it feels like the crown is something to wear/reveal only for a special occasion because it makes you feel a bit like a king.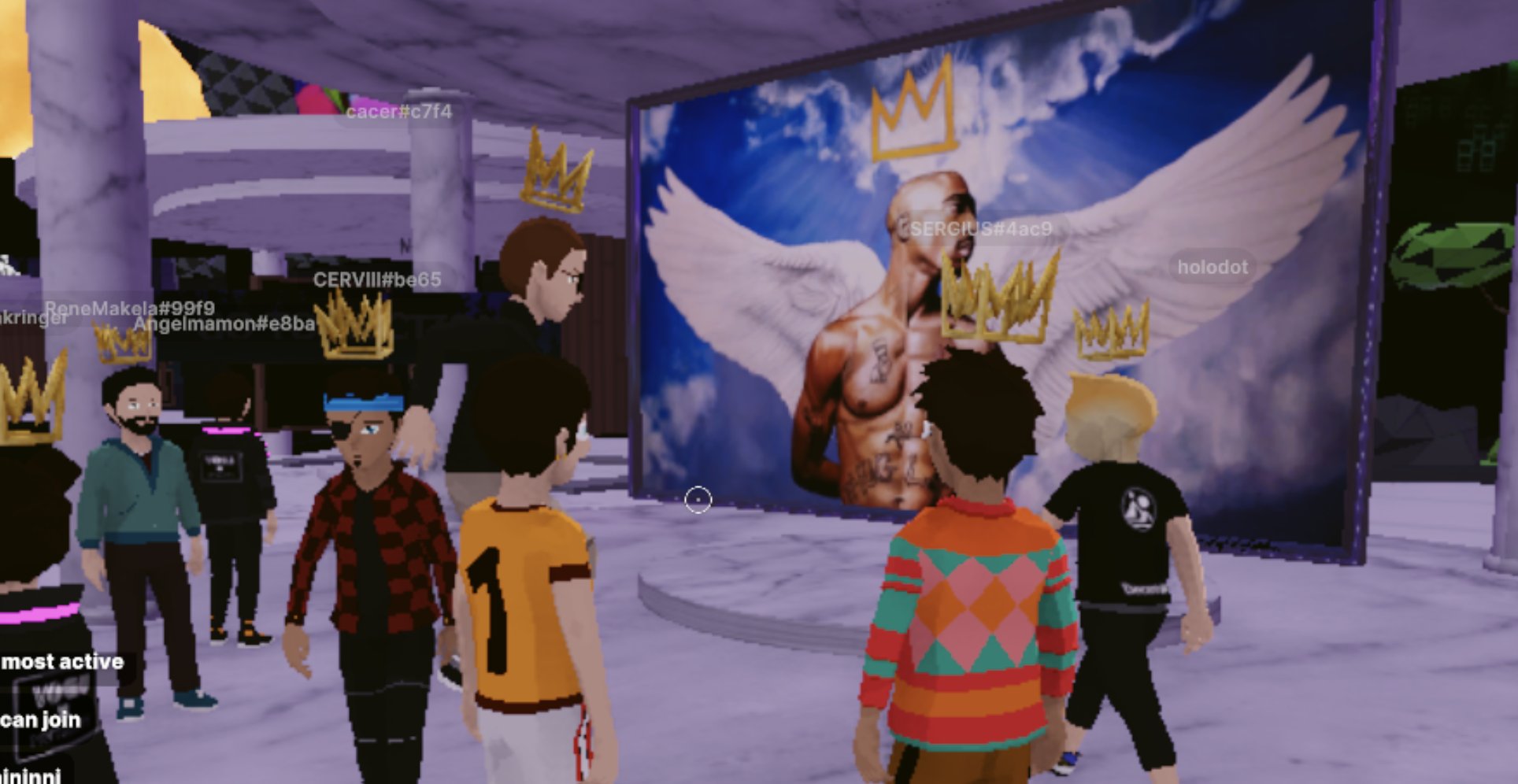 These are the 'normies' where dress is concerned and it's mostly the 'default' wear that any Metamask account can have. But more and more you see cool trainers, tees, hats, and other virtual stuff that people do buy because they want to stand out and feel cool.
Hilton has a custom everything and she's going to change her wearables – NFTs you can buy and sell or wear – during the performance. In addition she says she's bringing a special guest.
"I wish I could tell you about my special guest and what surprises we have in store for you but I can promise it's going to be hot."
We don't know who it is, but if we had to guess we'd say maybe Ashton Kutcher, the: 'dude, where's muh Poap?'
He been eth-ing since 2017, so having him there would be cool but, whoever it is will probably be cool.
It probably won't be Jack Dorsey, the bitcoin maxi, although bitcoin maximalism where eth is concerned kind of died in 2018 because eth has the same coding ethos as bitcoin and can facilitate things that bitcoin can't, like this party of all parties.
The stage is huge and there are some four of them with a long walk pathway to get between them. In addition there are many floors. On the Worldstage, you can go up to four floors, giving you a different view of the festival.
There's a funfair on the side and many other things to ensure there's little chance you'll get anywhere near bored with all of it fairly impressive.
"We're excited to see what the talented Genies team brings to Decentraland and the Metaverse Festival," said Sam Hamilton, head of community and events for the Decentraland Foundation, adding:
"The involvement of Paris Hilton is a real scoop and a fantastic addition to an already incredible line-up of musical artists. And this is just the start of a series of new advancements and consumer activations from the Genies team, so the community is in for some major treats."
All of the performances are live and exclusive for Decentraland, making this an actual festival in the virtual realm.
Decentraland is decentralized however, so don't expect the very best UI unless you have a GPU. Otherwise you might have sound hiccups or the visuals might feel a bit heavy, but the experience of being there is still pretty cool.
They might put up more servers, or nodes as they called in bitcoin, for this event, but depending on how many show up, then older software – we're talking 2017 high end laptops – might need a bit of patience.
In this case, they've spread it so widely that it should be able to smoothly handle 10,000 attendants or more, especially as each stage has four or more levels up.
From our experience, the load is heaviest where there are most people. This wide setup therefore should allow even older laptops to still have a decent experience if they can find a nice but less populated spot.
There's just one day left now until all this begins, with the metaverse seemingly starting to become something as the Decentraland team – after some tough years during 2018 and 2019 – appears to have somewhat exceeded expectations with the blockchain metaverse they now debut.