The European Commission has announced a fine of €344 million against UBS, Barclays, RBS, HSBC and Credit Suisse for participating in a Foreign Exchange "spot trading cartel."
"Foreign exchange spot trading activities are one of the largest financial markets in the world. The collusive behaviour of the five banks undermined the integrity of the financial sector at the expense of the European economy and consumers," said Executive Vice-President Margrethe Vestager, in charge of competition policy.
Traders from the five banks exchanged sensitive information and trading plans on a chatroom called Sterling Lads about companies exchanging large amounts of different currencies which often happens through these banks. The European Commission said:
"These information exchanges enabled the traders to make informed market decisions on whether and when to sell or buy the currencies they had in their portfolios…
Occasionally, these information exchanges also allowed the traders to identify opportunities for coordination, for example through a practice called 'standing down', whereby some of them would temporarily refrain from trading to avoid interfering with another trader."
It took a decade for this decision by the European Commission to be reached with the fine based on their estimate of the damage it caused to the economy rather than on the amount of profit they made from manipulating the Euro, British Pound, Japanese Yen, Swiss Franc, US, Canadian, New Zealand and Australian Dollars, and Danish, Swedish and Norwegian Crowns.
Defi to the Rescue?
There are now about half a billion tokenized euros on the ethereum blockchain, with this being the second biggest stablecoin after the dollar.
The Yearn and Curve dapp in particular are pioneering what eventually might develop into a full on forex market in a tokenized form with it containing numerous currencies, including pretty much all of the ones mentioned above.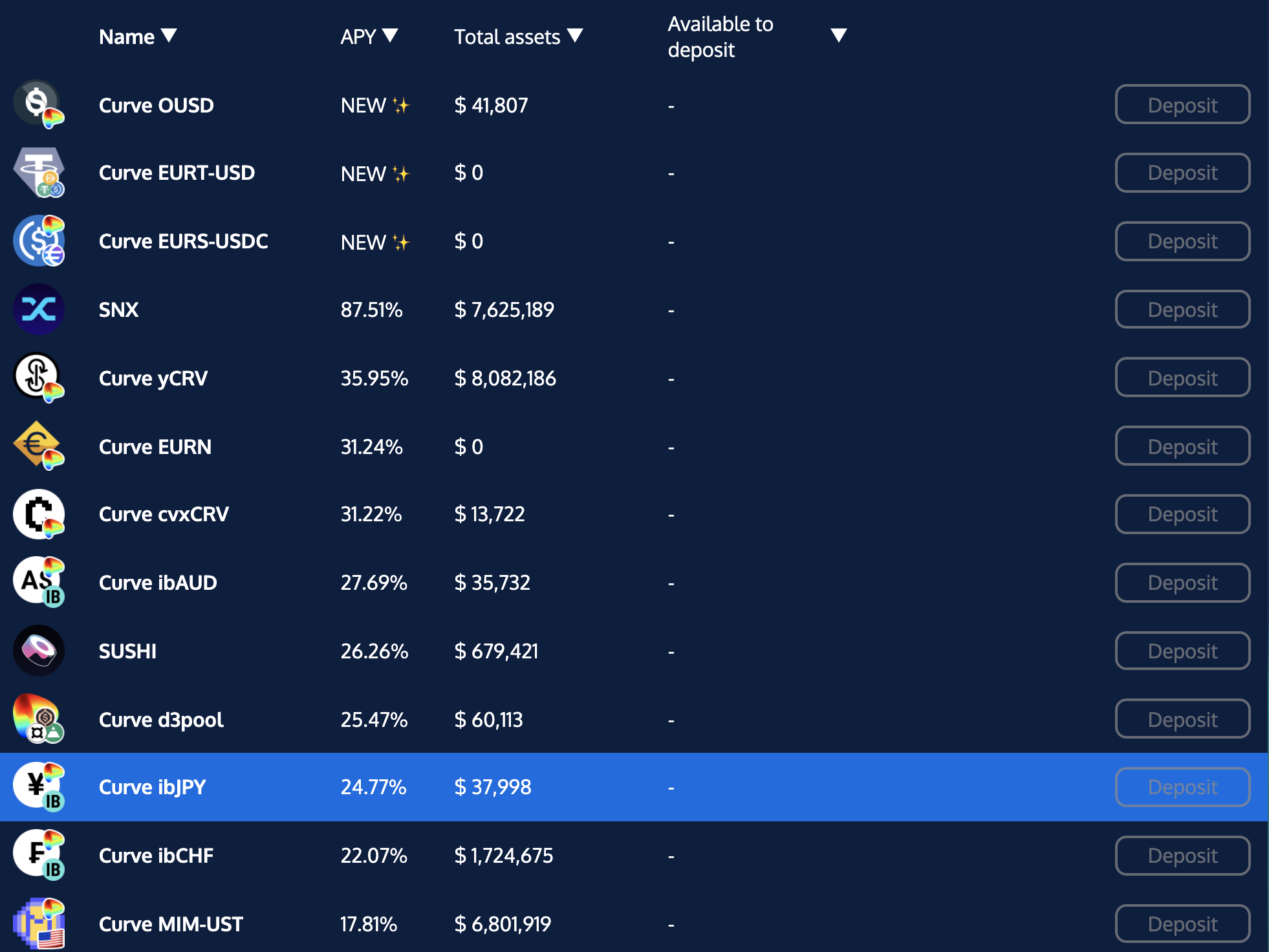 The above dapp performs the same function as these fined banks in exchanging currencies, but without an intermediary custodian, without a bank.
Curve or Yearn therefore wouldn't be able to do much about people meeting in a room to talk to each other, but it can address the disbalance of information.
That disbalance is created here by the fact you first have to tell the bank what you want, and then the bank is the one that actually performs your order. In addition the bank knows who you are exactly, when you want the action to be performed, and in what amount.
This is an incredible amount of information in private databases viewable by these chatroom traders. Since each bank has their own private database, they've clearly thought it useful to share their databases effectively, and now they know what is going on exactly in the entire market.
So rather than a cartel, this is more playing against the casino with your poker cards open, while you can't see theirs. You can't win, and since this knowledge is so lucrative, this fine probably will not do anything with it unclear whether even prison can address it.
Defi can however because it does not give one group an information advantage, an advantage that can be dangerous to even the nation state itself where it concerns foreign exchange.
That's because in defi there isn't another person that has to perform the trade on your behalf or a private database that sees all the present and future trades.
Instead the blockchain is the custodian or the bank, and all trades are available to see for all. That has its own potential problems with bot frontrunnings, but it's a level playing field. Create a better bot yourself or a counterbot etc.
With the poker analogy, it's either like all playing with open cards or no one can see the cards. Making it a proper market without the ability of an intermediary to manipulate it that can best be seen in the higher savings rate provided in defi platforms due to lacking banks in the middle to skim interest rates.