Europe is booming, at least in tech startup investments which are close to matching the United States for the first time.
European startups account for 33% of all capital invested globally in rounds of up to $5M, compared to 35% for the United States according to data by Dealbook as presented by The State of Tech in Europe 2021.
They show a 5x increase in startup funding over 2017 and a circa 3x increase over 2020 as European tech sees its best year yet.
"The EU tech ecosystem is on fire," says John Collison, Stripe's co-founder. "5 years ago, you could fit all of the continent's unicorns in a dining room and decry Europe's missing tech giants. Today, you'd need an auditorium with 321 seats and you'd hear a completely different story."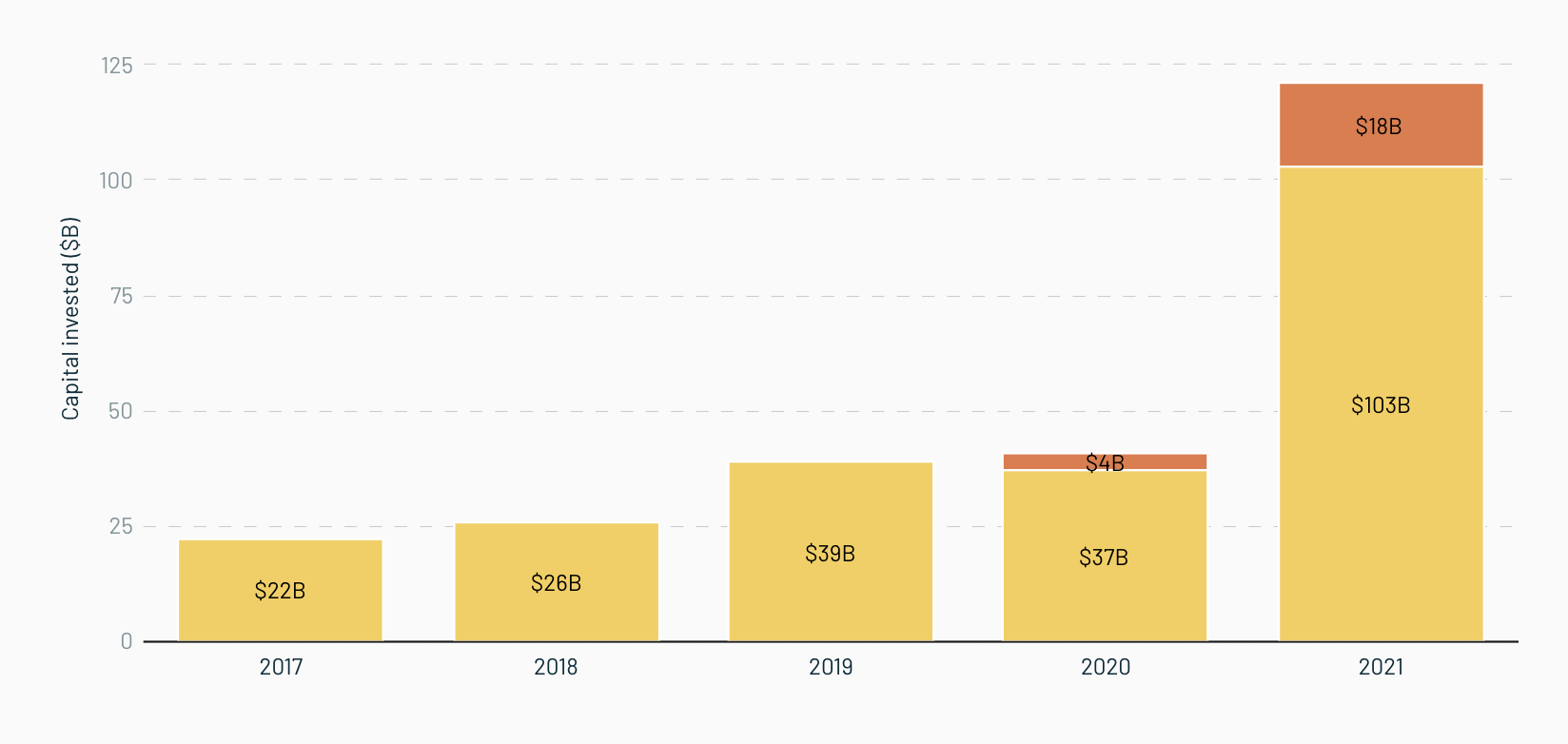 Munich is crowned this year as the unicorn capital of Europe with London following according to a measure that counts the number of tech unicorns as a proportion of the population. Berlin, Dublin, Paris and then Vienna are the other main tech centers.
The United Kingdom as a whole however leads by the number of tech unicorns, with Germany a fairly distant second, followed by France.
Interestingly Sweden and Netherland, fourth and fifth, dominate the rest. Including far bigger countries like Italy and to a lesser extent, Spain.
So seemingly creating a cluster of sorts around Germany and its surrounding areas, including France, with UK then in a league of its own, although perhaps no longer where London itself is concerned.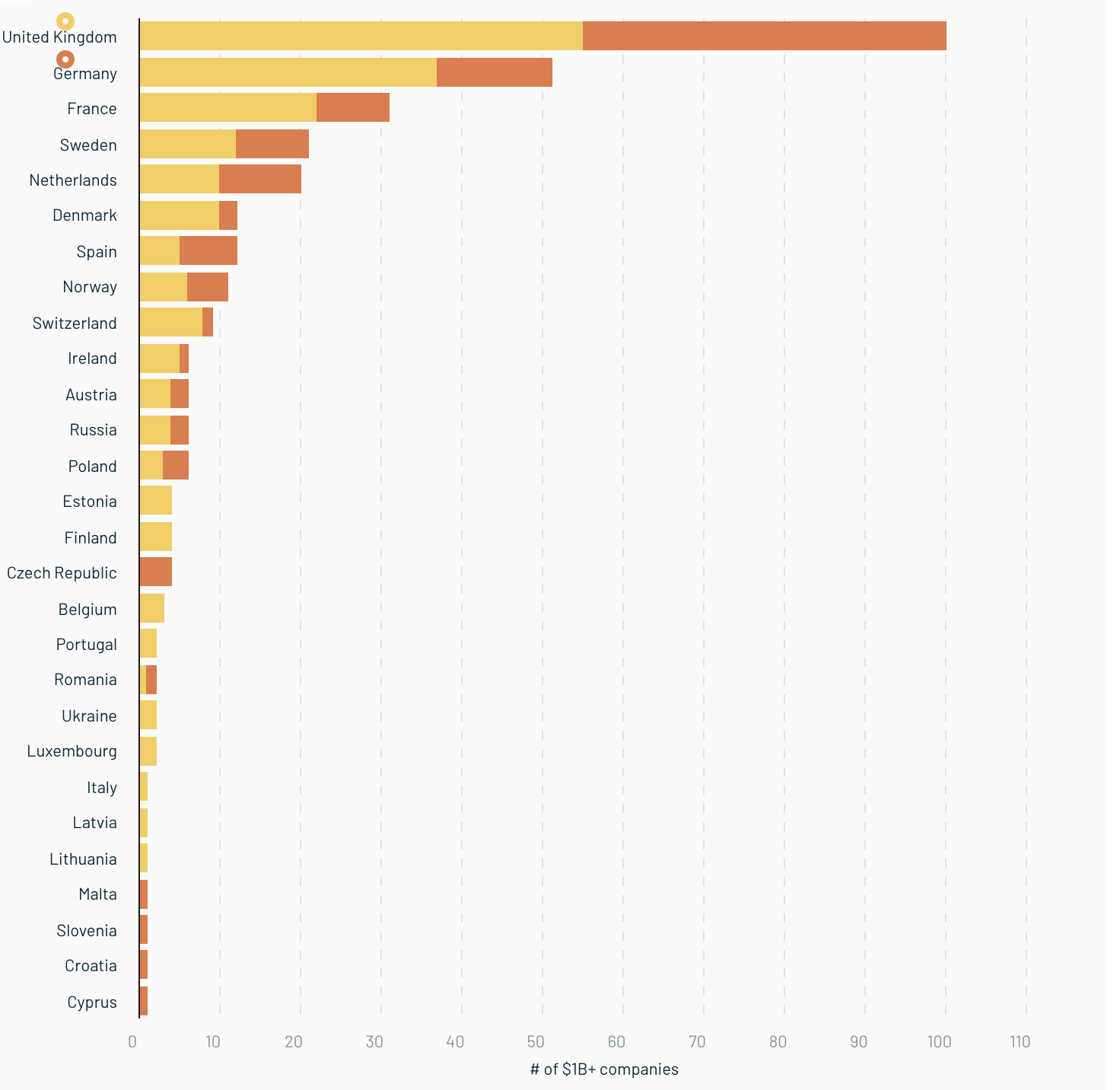 Overall the sentiment has changed towards optimism. "The continent is attracting more capital, more talent and there are more ambitious entrepreneurs than ever trying to follow in the footsteps of success stories," says Nicolas Julia, the co-founder of Sorare.
Crypto startups in Europe have seen a circa 7x increase over last year to $2.8 billion for 2021 in startup investments so far, in contrast to circa $450 million for 2020 as pictured in the featured image above by quarter.
Something that may show just how small cryptos are compared to the overall tech scene, and just how fast they're growing.
Cryptos may have also been a catalyst for the overall change in sentiment because in contrast to USA, Europe decided to take a liberalized approach to capital fundraising in 2018.
That was in the context of crypto tokens, but the base principles in regards to investment prohibitions or liberalization apply more widely.
Ambitious young men and women therefore, who prior to 2018 may have overlooked the continent, began turning to Europe both as a shield and as a land of opportunities.
Capital follows talent, not the other way around. And so we're now seeing the results of the decisions by some fairly brave European politicians, like the French Finance Minister Bruno Le Maire – presumably under the orders of Macron – who waved the crypto flag on Europe's behalf just when it was needed in 2018 under the assault of USA.
Bar any political earthquake ala Brexit, this rise of Europe where raw economic matters are concerned should thus continue, as this fight to swing the pendulum from investment prohibitions to liberalization should reap some structural economic benefits that in some years may well be unparalleled.