The ethereum network has taken out of circulation close to 1.9 million eth, worth more than $5.1 billion, in just six months.
Since the burning began in August, just the NFTs market place OpenSea has burned 230,000 eth, worth more than $600 million.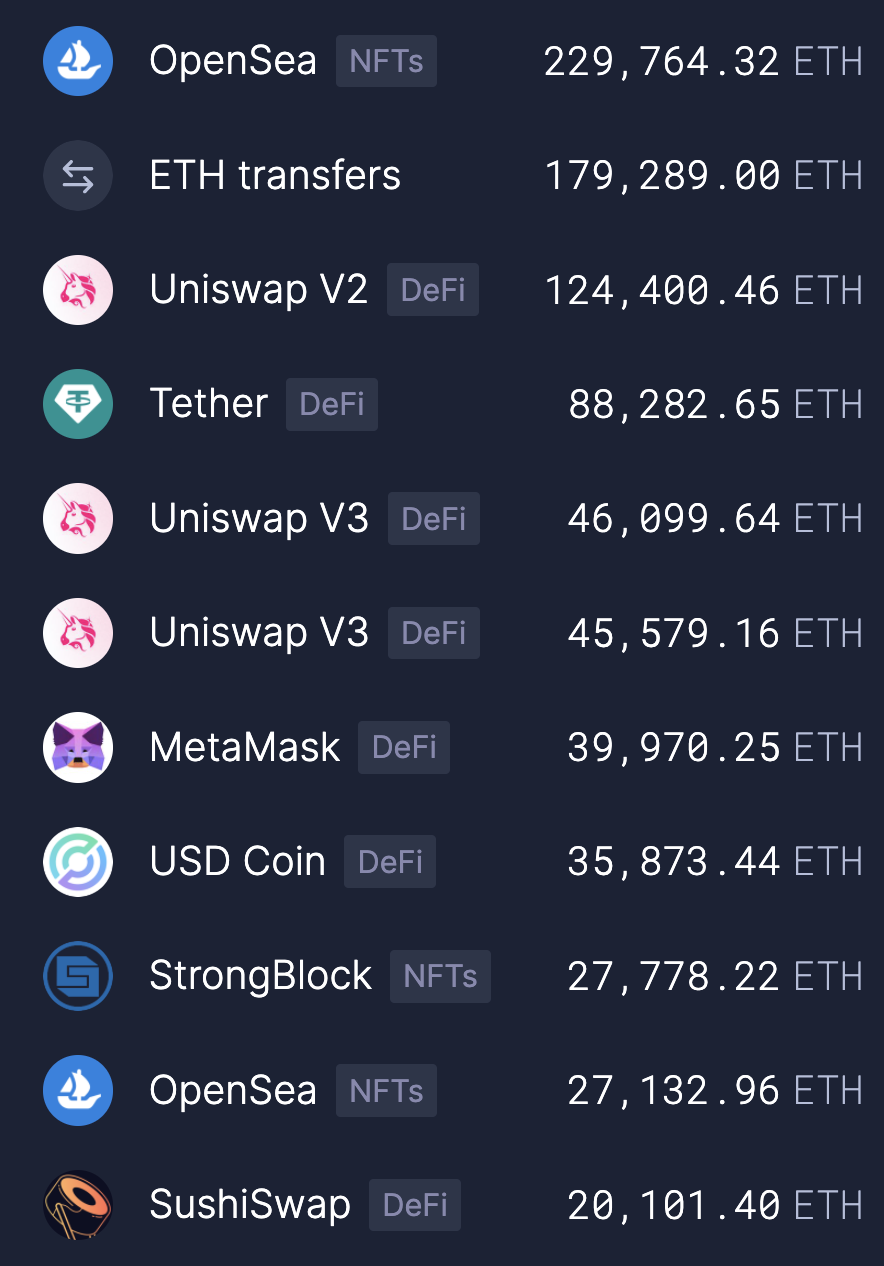 Simple eth transfers have removed another 180,000 eth from circulation, while the decentralized exchange Uniswap has burned a combined 220,000 eth.
Tokens also contribute to this reduction in supply which can act as some sort of a buyback, with the USDt and USDc stablecoins burning a combined 120,000 eth.

Then there's MetaMask, the browser wallet that does both swaps and simple transactions, with it burning only 40,000. Suggesting that they're not as dominant as one might have thought because the vast majority of simple transfers are made outside of MetaMask.
StrongBlock, a lesser known node as a service that had an NFT sale recently, is also one of the biggest burner at close to 30,000 eth so far.
This constant burning means that the more there is demand for the ethereum network, the more there is demand for eth itself because the more supply reduces.
So making it an automated dividend in effect and one way to value eth in a more traditional sense.
Companies usually are valued at 10x their yearly revenue or 100x their profits, with this burning being more profit than revenue, which would give eth a market cap of one trillion dollars.
That would translate to 3x from now, or a price of $10,000 per coin, with its high so far being about $5,000.
Because in some sense ethereum's profits are currently $10 billion a year, and if you stake you might get further dividends of sorts at circa 5% a year in eth.
So making this a yield bearing asset, and thus potentially better than gold due to having profits and dividends that are given to asset holders at a rate dependent on network demand.
Such earnings have exceeded expectations as we thought it would be $1 billion per quarter. Instead we're at almost $1 billion per month, a fairly big difference.
In outlook however there is the question of just how much more this can grow considering capacity restrains, which is a developing answer dependent on the speed of rollout and adoption of second layers.
Any growth at a technical level will thus probably be gradual over months and 2-3 years, but even at current capacity eth seems to be undervalued as measured by these burning levels.