"Turned off all ruble pairs. The input and output of the ruble is closed. This is a difficult decision, since we have blocked our brothers in the Russian Federation and Belarus who have now taken to the streets of Russian cities! The cops are packing you, and the troops are shelling our homeland. We have a common enemy. Let's take this regime down together!"
So says Mikhail Chobanyan, the founder of Kuna which claims to be the first public cryptocurrency exchange in CIS countries.
They had a USDt/RUB trading pair with the price of that USDt standing at $1.02. Globally, Tether is at precisely $1. This might look like a small difference, but it's enough for a $1,000 premium on bitcoin's price.
Now, that bitcoin is at a discount of $2,000 on Binance, going for about $42,100 in RUB as pictured above, while its global price is $44,300.
That may be in part because the exchanges that used to focus on the Russian market are now banning the country.
WhiteBIT is another one. They handle $700 million in daily trading volumes, including $20 million in the BTC/RUB trading pair.
"For new users from the Russian Federation, registration was suspended due to the implementation of new verification procedures for sanctions lists," WhiteBIT said.
Bitcoin is at an even bigger discount on WhiteBIT, going for $38,000 as the ruble is cut off from the global system, while its global price at the time of screenshot was $43,500.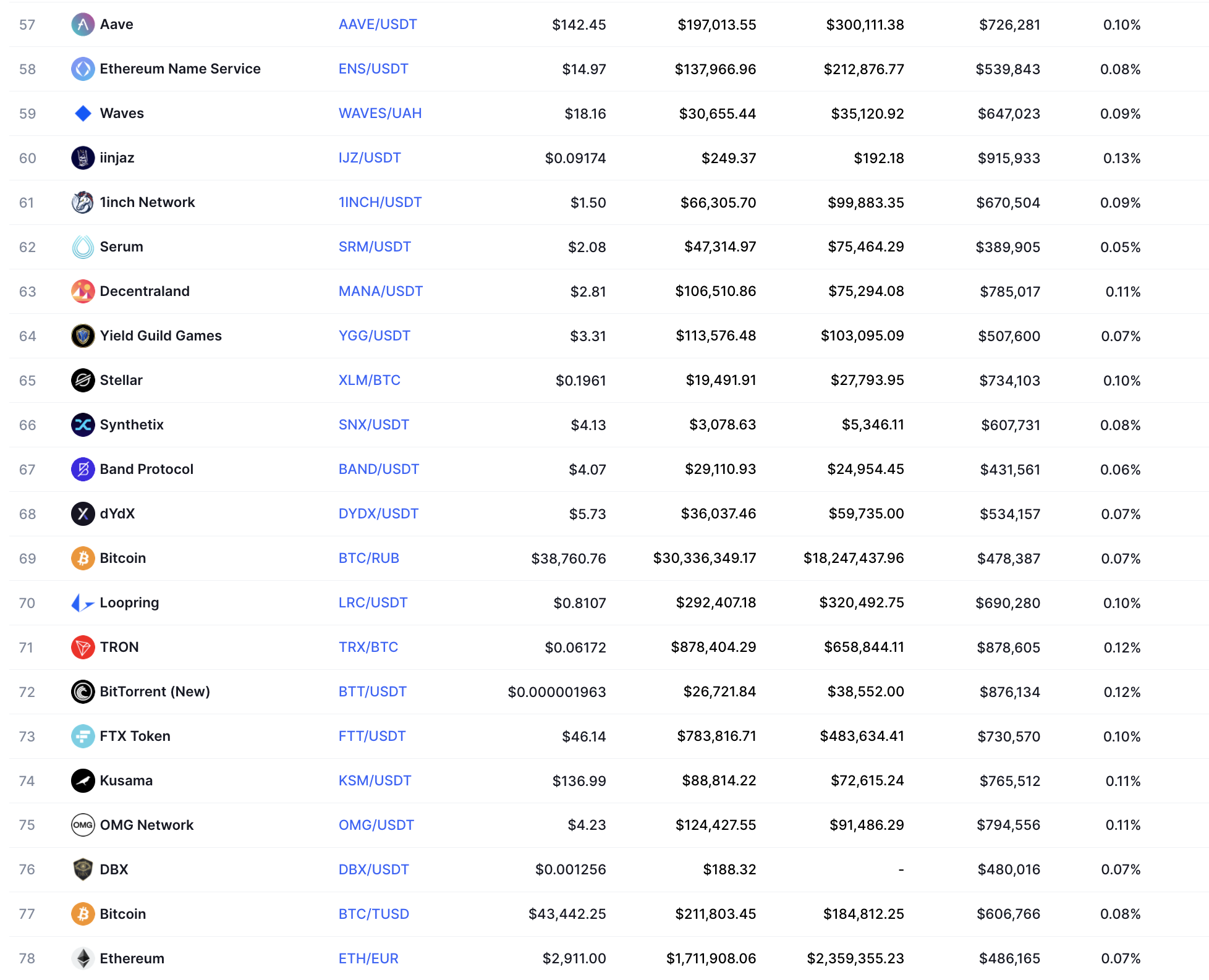 CEX.io has also suspended registrations from Russia, as well as "all deposit and trading activities" of Russians.
Some of the biggest crypto exchanges however are not yet taking the step of banning Russia.
"Crypto is meant to provide greater financial freedom for people across the globe. To unilaterally decide to ban people's access to their crypto would fly in the face of the reason why crypto exists," a spokesperson for Binance said.
While a representative from Coinbase said: "A unilateral and total ban would punish ordinary Russian citizens who are enduring historic currency destabilization as a result of their government's aggression against a democratic neighbor."
The ordinary citizens of Ukraine, however, are enduring an historic bombing of their houses and cities, with families broken up amid wanton destruction.
That's at the behest of the Russian army, which is funded, paid for, and ultimately it is under the command of the Russian people.
They may not have a choice, but it's their country and if they don't have a choice, then no one has a choice but to try and reduce the resources that are available to their army which is bombing civilians in this Europe.
If these exchanges don't do it voluntarily therefore, an executive order by President Joe Biden is probably coming, at which point they'd have no choice unless they like prison.
Bitcoin itself would still remain free because the actions of some exchanges has nothing to do with bitcoin.
The bitcoin network, the nodes, obviously won't and can't ban IPs or deny access and no one is suggesting that. If they were, then it would be about freedom etc.
But exchanges can take action and they may well be forced to if they don't because presumably no one outside of Russia wants to fund the bombing of civilians.