Bitcoin dropped below $39,000 amid a Chinese stock plunge and a strengthening dollar as the currency tries to establish a floor.
It fell to $38,200 while Europe woke up this morning, with it somewhat recovering during US opening to $38,700 and above $39,000 as Nasdaq turns green.
That's a strong support level that held last month, with it to be seen whether it's a re-test or there's more to go.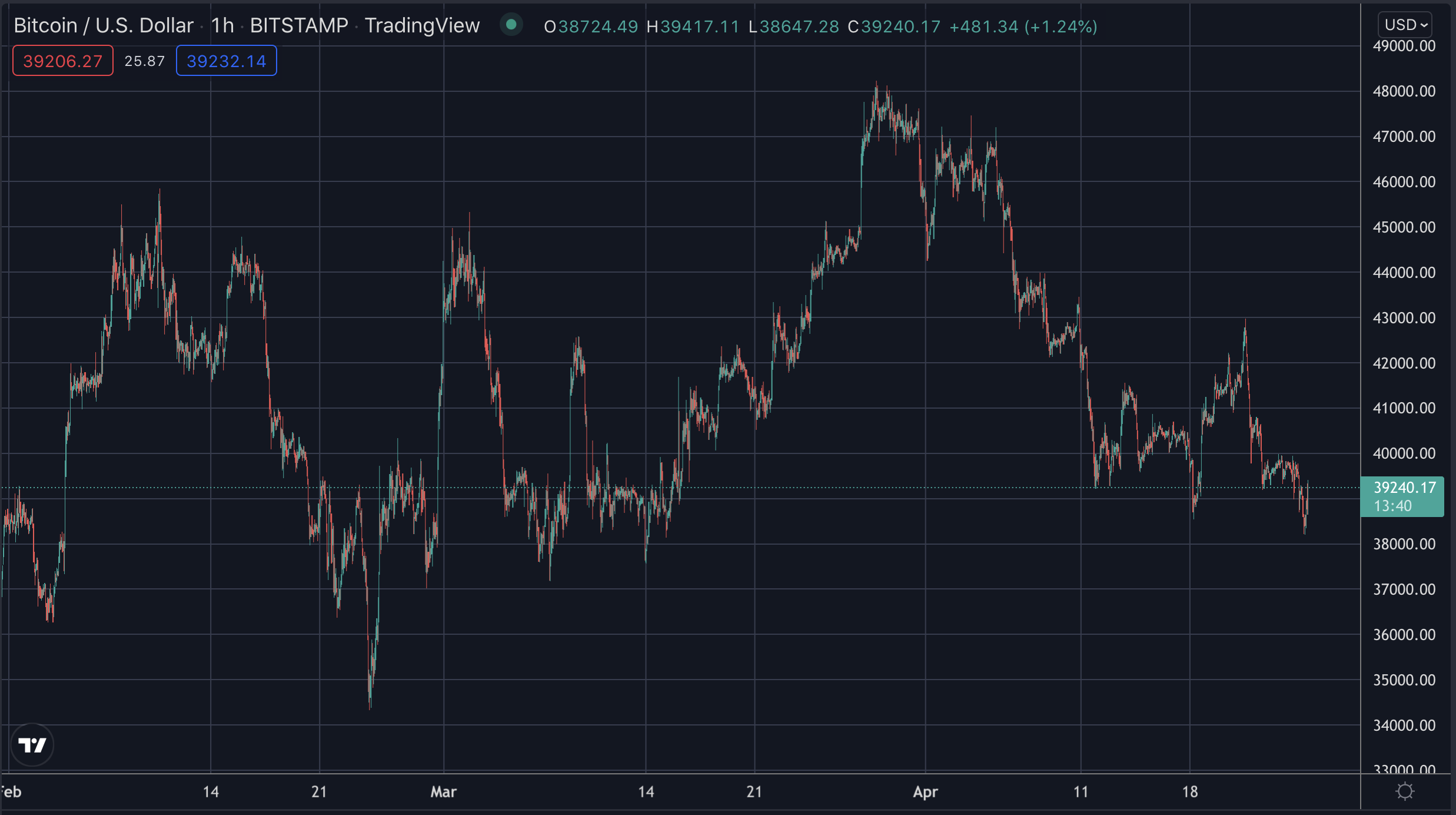 The strengthening dollar is probably one contributor to bitcoin testing support rather than resistance.
The DXY dollar strength index is in the upper bounds with just two more points to go before a new all time high in two decades.
It's now rising sufficiently for a big jump in its value against CNY, up about 4% in the past few days with some speed.
This may be more due to investors fleeing China, but further increases in interest rates are to be expected which will reduce the dollar's supply.
Just how fast Fed chair Jerome Powell goes is the big question with some indicating he may be open to a 0.5% increase in two weeks.
That's while consumer inflation is estimated to have peaked, potentially leaving room for the Fed tightening to slow down, especially if Powell sticks to continuing to target a higher than 2% inflation for some time.
Whether he can, will probably be determined by GDP data. They're not yet out for the first quarter even though we're a month into the second one, with some estimates suggesting growth was at 1.5%.
Something that would be more a return to 2019 levels rather than a new era of pre 2006 growth, which may constrain Fed's ability to increase interest rates quickly.
With DXY at these levels, one may also wonder whether there is such a thing as too much strength, especially if CNY moves towards devaluing significantly.
As a global asset, such intra-fiat movements should cancel out for bitcoin, but the level of crypto adoption in US is probably at the most advanced stages, which can potentially cause disbalance.
Yet mining costs in theory should put a floor on bitcoin's price, and that floor may be around these levels as the overall cost to mine a bitcoin is probably around $40,000 following its new global hashrate levels.