One of the poorest country in the world makes the loudest noise in joining El Salvador to declare bitcoin as legal tender.
"The adoption of bitcoin as an official currency represents a decisive step towards opening up new opportunities for our country," said Faustin Archange, the President of the Central African Republic (CFA), upon signing the law.
We currently have access to the bill only in French, but it is confirmed the bill considers bitcoin to be on par with their national fiat currency.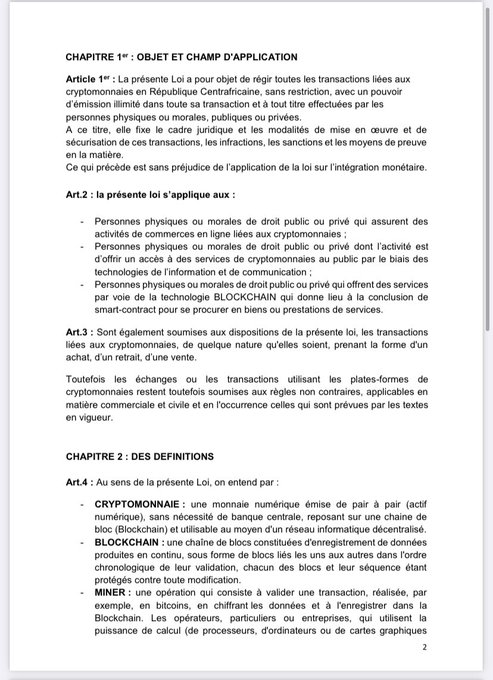 They currently use CFA francs as their national currency, this being a regional currency managed by a central bank in Cameroon, CFA's neighbor.
The currency is pegged to the euro, so monetary policy in this country is set in Brussels, at the European Central Bank.
That's to ensure trust and stability in the fiat money used within this nation which has a GDP of just $2.4 billion for a population of close to 5 million.
As a comparison, this country is more than 10 times poorer than Moldova, the poorest nation in Europe, but seems to be a democracy.
Internet penetration there is thought to be at just 11%, making a lot of this more symbolic, but not for their upper and upper middle classes.

In addition, this second adoption of bitcoin as legal tender makes it clear there's some sort of new thinking going on regarding monetary policy specifically where it concerns nations using the currency of a bigger trading block.
Dollarization was all the rage in the 90s, with Europe having its equivalent in the euro. Dollarization has stagnated and may even be entering a decline, but euro's adoption is growing as countries near the EU see efficiencies and other benefits in just using the euro.
CFA will keep using that euro pegged franc, but as they don't print their own money and as they don't have a monetary policy as such, they have no cost at all from adopting bitcoin and may have some benefits in digitizing their almost non existent infrastructure.
This has led the US Congress to pass S. 3666, Accountability for Cryptocurrency in El Salvador Act, which requires the Department of State to devise, implement, and report to the Congress on a plan to mitigate any potential risk to the U.S. financial system from El Salvador's action and similar actions by other countries.
Those risks are probably minimal for now, but a trend is clearly afoot as bitcoin starts being adopted in countries which do not have their fiat money, giving rise to potentially a new global monetary order where national fiat currencies are complemented with the global digital gold.