Optimism has announced a 5% (of the total supply) airdrop as it launches the OP token with a total supply of 4.3 billion.
"Starting today, Optimism embarks on its journey into the Optimism Collective," the project said as it revealed that a user to them is someone that transacted almost a year ago.
The rest would have needed to use the second layer (L2) in more than four unique weeks, to have made a donation to an unrelated project, or to have transacted on eth every month while having eth locked in L2s which they consider to be "priced out of eth."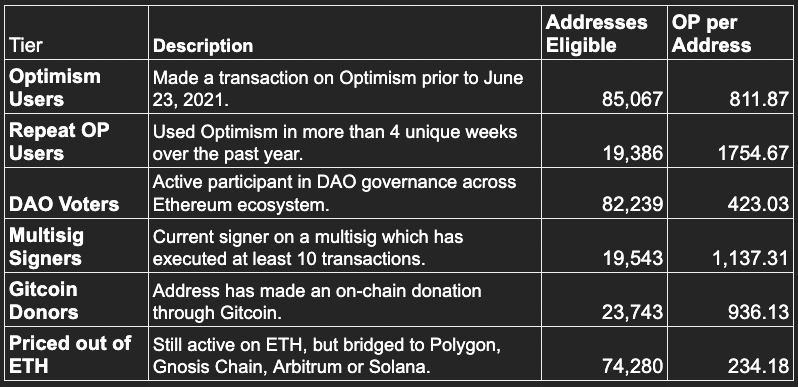 These extremely stringent requirements are softened by the project stating there will be more airdrops.
14% of the total supply, or circa 600 million tokens, will be given to users with 9% still left, or about 400 million.
Anyone that transacted after a year ago therefore, will have to wait and see whether this project decides to reward its casual users.

There are some $700 million worth of 230,000 eth currently in Optimism, compared to just ◊20,000 in June 2021 when no one even knew it existed as second layers came to attention only after Arbitrum attracted a billion in assets a couple of months after that June 2021.
Raising the question as to what exactly did the project try to achieve with this airdrop. The general aim presumably would be to bootstrap, attract liquidity, and also genuinely reward users so that they feel good about your project.
On the other hand you want to keep out airdrop farmers, but it shouldn't be too hard to check whether an eth address is genuine considering it's all public, and you don't want to punish users more than farmers as it has clearly been done here.
In  addition, the first two criteria are sort of the same as they basically fall into extremely loyal users in as far as only those would have known this project existed a year ago and ordinary loyal users are covered by the second criteria.
While the priced out of eth in some ways doesn't make much sense unless again one wants to completely ignore the vast majority which doesn't make an eth transaction every single month unless they're defi traders.
Making this the Obsessed Airdrop and in usage, a fairly rare species especially when onchain fees northed $300.
For other airdrops, we'd suggest less obsession with farmers and more focus into turning casuals into loyals, or even turning new users into casuals as that's where growth will come from.
Pricing Optimism
The token as you might expect is for the usual governance with two governance houses here, one being that of the token holders.
In theory its value should come from fees as that's the only revenue for the project, with its nature being one that requires very high transaction volumes and very low fees.
Currently Optimism charges 35 cent per transaction, totaling $70,000 a day. That's fairly decent, but it amounts to $25 million a year.
We'll ignore the costs, here being the on-chain fee they have to pay to eth miners and soon stakers, currently about $2 per (usually for L2s) 1,000 transactions. So that would be an income of $348 rather than $350 for 1,000 transactions.
We time this $25 million by ten and then we have to time it by 0.05 which gives us $12 million, or about ten cent per token.
There's no data currently on how much is circulating, but this 5% airdrop amounts to probably 150 million tokens considering some won't claim, and if we limit it to just circulating, then about a dollar per token.
You have to account for some speculation. The current revenue is penny stock, but that can change quickly if they somehow launch yield farming with that 9%, or protocol improvements lead to greater adoption.
On the other hand you have to account for competition, the apparent lack of focus on growth going by the criteria for this distribution, and by wider market factors.
Still, 10 cent to 50 cent is probably a good hodl regardless of bull or bear either as a speculative investment in regards to the chances of succeeding in the second layers race or just for diversifying.
Anything above is probably temporary, though knowing these things it probably will hit $1 if we have done our napkin maths correctly, and then it depends what their strategy is with that 9% but depending on hype factors, eventually it should give way to the base.
Where the overall chances of success are concerned, the top would be 25% considering there are four prominent L2s, while realistically we'd give it 5%. So the valuation top from our calculations is 55 cent per token.