"Fuck Dutch auctions" is how Yuga Labs began their mint of Otherdeed. "We're sorry," is how they ended as one of the biggest NFT mint in history gave almost as much to eth holders as to Yuga Labs.
16.8 million ape tokens were raised, worth $250 million, but 55,831.91 eth was burned in fees in a gift to eth holders. That's partly some say due to the unoptimized smart contract, and partly because the simple design courted a bidding war.
"The contract had nearly zero gas optimizations," says Will Papper, Co-founder of SyndicateDAO, before detailing a number of measures that could have been taken.
In addition, the auction model was 55,000 Otherdeeds for a flat price of 305 ape coins ($4,500), leaving just the network fee as a determinant of who gets in.
So fees went nuts, 2.6 eth, and even 5 eth ($14,000) was paid in a frenzy that was over within about one hour.
"It seems abundantly clear that ApeCoin will need to migrate to its own chain in order to properly scale," Yuga Labs said.
"This pattern of mint → bump limit → mint → bump limit will continue until NFT supply is exhausted," they said the day prior.
So what did they expect. Not only was there a flat price to differentiate no one, but the two mints limit per address was increased as the mint went on, which effectively increased pressure on the network as well, with this ending not only when supply was exhausted, but when Etherscan reportedly crashed.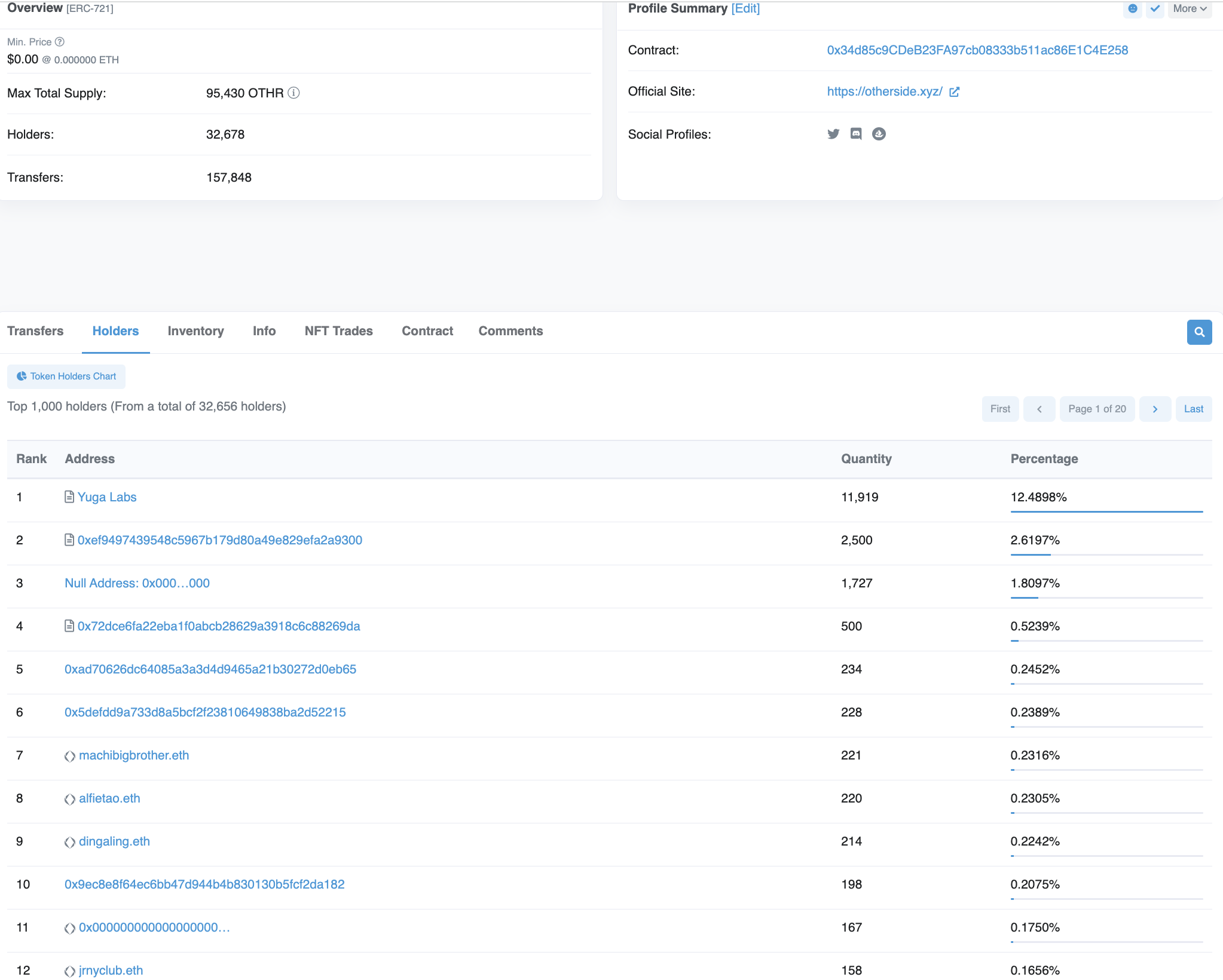 Etherscan data shows numerous holders of 20 Otherside NFTs, some 10x the 2 limit, with there being close to 100,000 OTHRs, rather than 55,000.
Making this mint a success in as far as they more than sold out, but was it priced right at just $5,000 per token?
That's one question the Dutch Auction tires to answer whereby prices start at infinity, here maybe one billion per NFT, then comes down gradually until supply is exhausted.
It has its own problems, especially if you want the token to be as distributed as possible because the Dutch Auction could over-price them, with no good solution beyond keep on experimenting.
A zero fee chain would probably not provide a solution either as the size of the fee can still be used as a differentiator to come first in a bribe of sorts.
Having it uncapped is probably the only solution within a period of a week if you are going to use a flat price, but that may conflict with other aims, such as scarcity.
Yet fees is just one consideration here in a fairly complex web where you have Ape NFTs, a now publicly traded ape coin airdropped to them, and a new OTHR NFT bought with apes.
Those apes will be sold presumably to fund the building of this Otherside metaverse or game as it may be with almost nothing known about it.
So ape coin is a net loser here, at least in the short term, regardless of auction designs. However, they may eventually get an ape universe, where ape coin is used as a currency, but that's not easy to pull off with it unclear what holds the apes' value until then.
Where the Ape NFTs are concerned, it is also unclear what role they play in this Otherside, if any, and most crucially it is unclear how effective treasury management will be.
Yuga raised quite a bit in eth for the Ape NFTs mint and then through selling Ape NFTs. They also raised $450 million in fiat recently, and now $250 million in tokens.
That might sound like a lot, but it is fairly easy to squander, with plenty of risks here that things like Otherside are hyped beyond disappointment once it actually gets out.
Hype that gets your foot in, but to turn that into an actual viable business requires something more concrete.
What that something is, remains to be seen, but the base isn't part of the equation, in our view anyway. Not least because if they can't pull it off on eth, they probably can't pull it off anywhere.
Because if it wasn't for eth, those apes would have probably kept staying as jpegs, rather than layering now with two major tokens where the complaint is that there was too much demand.
We might therefore put some of their remarks down to just the heat of the moment, but hopefully it isn't a sign of arrogance that portends to getting lost in the wilderness as what is effectively just a project deludes itself into thinking they can build a whole crypto universe, new blockchain, rather than just a corner within a fairly big ecosystem with many moving parts which they most likely can not afford to fund.
Plenty of projects tried, including Cryptokitties. For Apes to not follow them, more humbleness and at least an understanding of the grand complexities would be necessary as frankly currently no one knows even whether there will be Apes in just two years.
At the moment, that sounds like a laughable statement, but odds are very skewed towards failure until proven otherwise, and signs of arrogance at such an early stage are rarely a good indication.