"UK GDP growth is expected to slow sharply over the first half of the forecast period… [in] the largest contraction since comparable records began in 1964."
Just as Andrew Bailey, the governor of the Bank of England was uttering those words, the market opening in US turned towards more red. To increase its speed:
"The Monetary Policy Committee (MPC) has asked Bank staff to work on a strategy for UK government bond sales… this will allow the Committee to make a decision at a subsequent meeting on whether to commence sales.
I should reiterate that no decision on whether to commence sales has yet been made."
Who would buy them? The pain was not enough however. A hike of interest rates to 1% from 0 in just months, a sword of Damocles with mass sales of bonds that might bankrupt the government, and:
"Most members of the Committee judge that some degree of further tightening in monetary policy might still be appropriate in the coming months."
By some form of tightening they mean a more than doubling of interest rates in just a year. Making it hikes hikes hikes without a pause, the economy be damned. Or as they put it:
"The projections are conditioned on a market-implied path for Bank Rate that rises to around 2½% by mid-2023."
But there's more. This central committee apparently thinks that stuff like 5% growth or even 3.8% is for China, not Europe and USA.
They claim the economy can not handle good growth as it would spur inflation. It should be torpedoed instead so that growth averages just 0.6%. In other words: continue the sclerosis.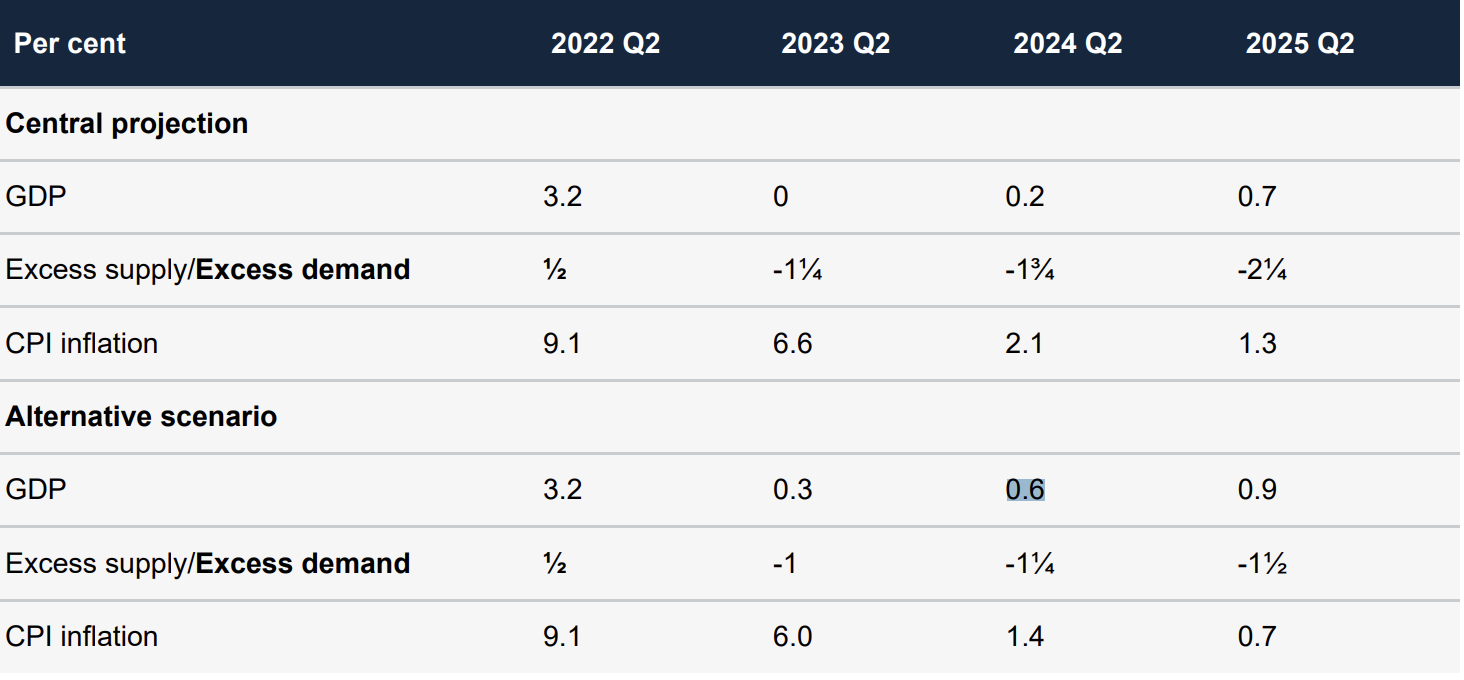 "Growth forecasts have been downgraded, inflation expectations have been upgraded and interest rates are still going up."
So says Roger Lee, head of UK equity strategy at Investec. But that equation is anti-maths. A burning of money won't make gas cheaper, Boris Johnson taking on Opec would. Crashing the economy and increasing unemployment to 5.5%, as the Bank of England plans, may return inflation to 0.7% in three years, but it may return riots as well.
Wages are finally rising after five decades of stagnation, but that market based method of dealing with inflation and a tight employment market is not good for Mr Bailey, the former chair of FCA and now BoE governor.
Instead, the solution to everything is him crashing the economy so that the money printer is back on in three years and the economy is back to sclerotic growth, just like the good old times that gave us Brexit and Trump.
Proper growth is just not for us, according to these men. It's for them to decide just how much gas should cost or how much your wages rise, and if the market is so strong that all have a job, it's for them to fire some.
That they have their own interests, including to make a lot of money on the debt they gave away for free, is of course not a consideration.
They're just technocrats orchestrating a crash and engineering a return to sclerotic growth, while Boris Johnson and Rishi Sunak utter nothing.