In announcing the first 0.50% rate hike in years, the chair of the Federal Reserve Banks Jerome Powell was not satisfied.
A further 0.50% increase in interest rates will be made in each of the upcoming two meetings, he said, as the central bank now takes firm charge of the economy.
President Joe Biden has said nothing. Literally zero. Is it good that interest rates are rising and so quickly, or is it not? Does he have an opinion? Should he have an opinion?
He'd probably say that the independence of the central bank is sacrosanct, yadayda. But the decisions of the central bank affect the public far more than any decision Biden has or can make, short of war and peace. And so what he thinks matters because the decisions of the central bank need to take into account how they affect the public which ultimately is and has to be in charge.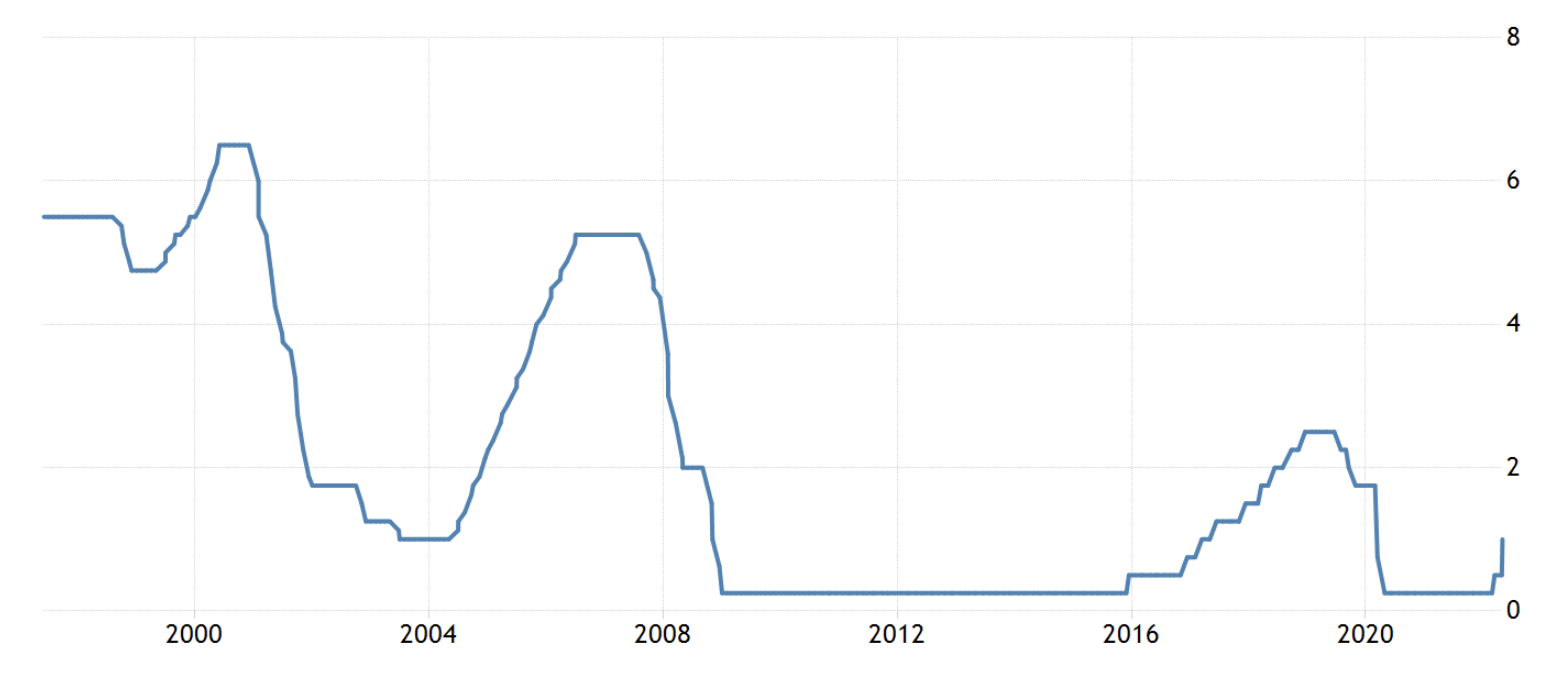 A 0.5% hike has not been seen since the year 2000 when the economy was having proper growth for many years.
Current interest rates, even after this hike, are still low compared to the prior than 2008 era, but growth has been sclerotic too.
For the first time we are seeing some decent growth. Yet it is fragile growth. For the first quarter, the final results may still turn better than a contraction, but anemic growth so quickly should send alarm bells.
That should have made Fed stop and think. Not least because it is only now when we start to get some proper inflation data, an inflation rate that has been artificial so far.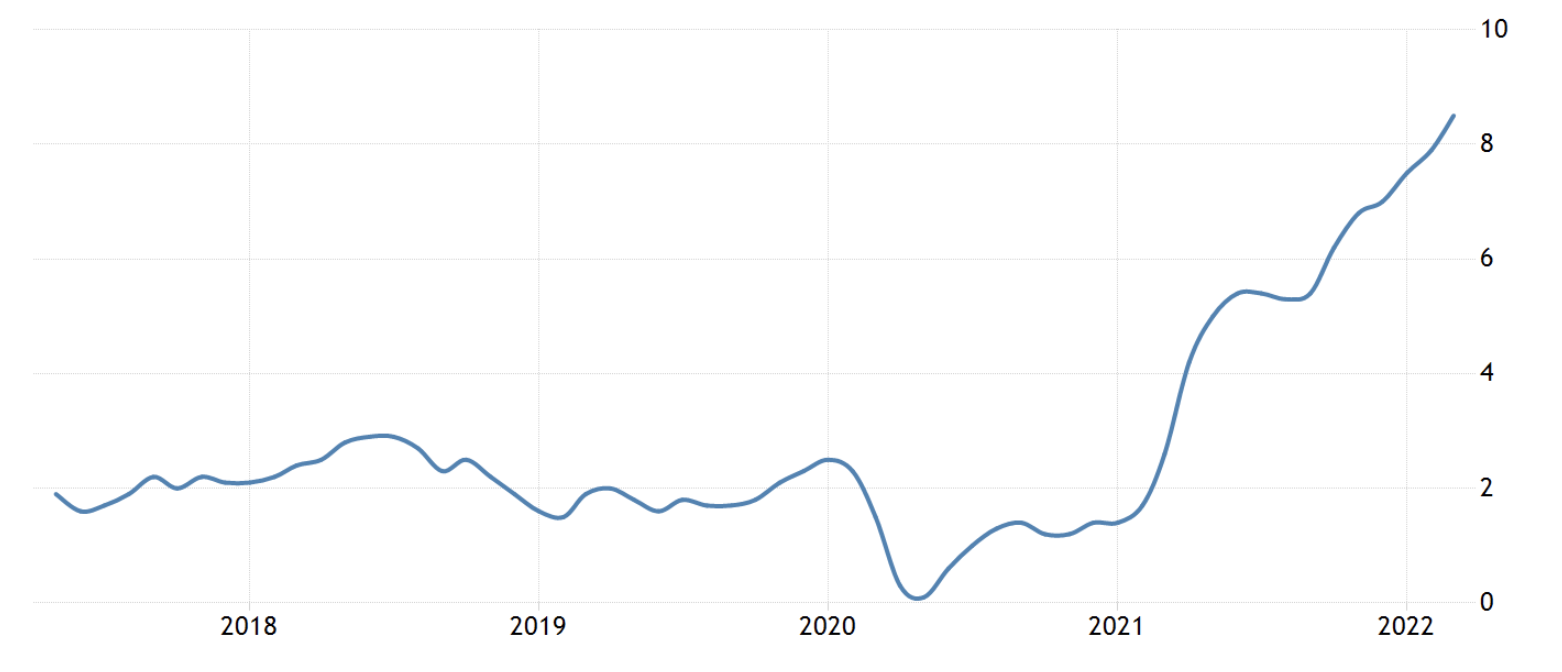 Inflation so far has been measured against the depression in 2020-21. So we have it up to 4% in April 2021, but that's 4% higher than in April 2020 when the global economy was shut down.
Like this we go all the way to now, when April 2022 inflation is measured against April 2021. In March 2023, inflation will have to rise by more than 8% for it to show a higher than zero percent figure.
So is inflation high, or is the data just a mess? The latter far more than the former, which may explain why the 'cost of living' crisis seems to exist only on TV, except where oil and gas is concerned.
For oil and gas, that's a political issue, not one for the Fed. The Russian president Vladimir Putin was in Dubai just before he launched his war and probably secured treacherous collaboration to fabricate a spike in oil and gas prices. Where was Biden?
Besides oil and gas however, wages are rising, and so people feel richer, with inflation not really felt on the ground except for Russia and Ukraine related goods because a lot of the inflation figures are artificial, counting for used cars and the like, one off goods.
And yet that's what's being used to justify these historic jumps, with more to be expected when arguably they've already gone far too fast.
A target of 2% interest rates is maybe justified, but in 2024 not immediately because what exactly is the hurry?
Why should there be a doubling of interest rates in the next few months when inflation is expected to come down and the economy is orchestrated to slow?
It should be the opposite, a holding off to see the effects, rather than the central bank acting as if they can see the future.
A central bank that has crashed the economy again and again due to spiking rates too fast, sinking the debtors into default.
The debtors now being governments themselves. Governments which, while the central bank moves to spike their costs, appear to have no strategy on how to deal with the reduction in income.
While the central bank seemingly doesn't stop to think on how others are affected at all. Only now are people receiving higher mortgage statements. In a few months it will feel like a doubling, from $400 to $800.
No time at all to be accustomed and adjust, giving a shock instead with predictable results. Which is the point when Biden needs to move in: now, before the damage is done.
Because the central bank is not independent. It has its own interests, including how to make money for its shareholders which are the commercial banks.
There has to be some political accountability and input. Families have to be protected from self caused shocks that sink them due to no faults of their own, but Fed's fault.
Hikes have to go far more slowly to allow proper growth to take root. Otherwise there will be a political cost to pay because crashing the economy is not necessary. To the contrary, it has to be avoided at any cost as the public can not bear any more sclerotic growth.