Bitcoin is holding a mini rally of sorts after dipping below $30,000 following a rise to $32,000.
The fall was probably due to EU banning Russian oil. The slight rise now might be due to OPEC finally agreeing to boost production.
The oil producing and exporting cartel (OPEC) has agreed to increase its output by 50% from 432,000 barrels a day to 648,000 barrels.
This finally puts it above pre-2020 levels and may go some way to address a shortfall due to Russia's output falling by one million barrels a day.
Some are considering kicking out Russia from the cartel as it is unable to increase production, making it a less relevant player.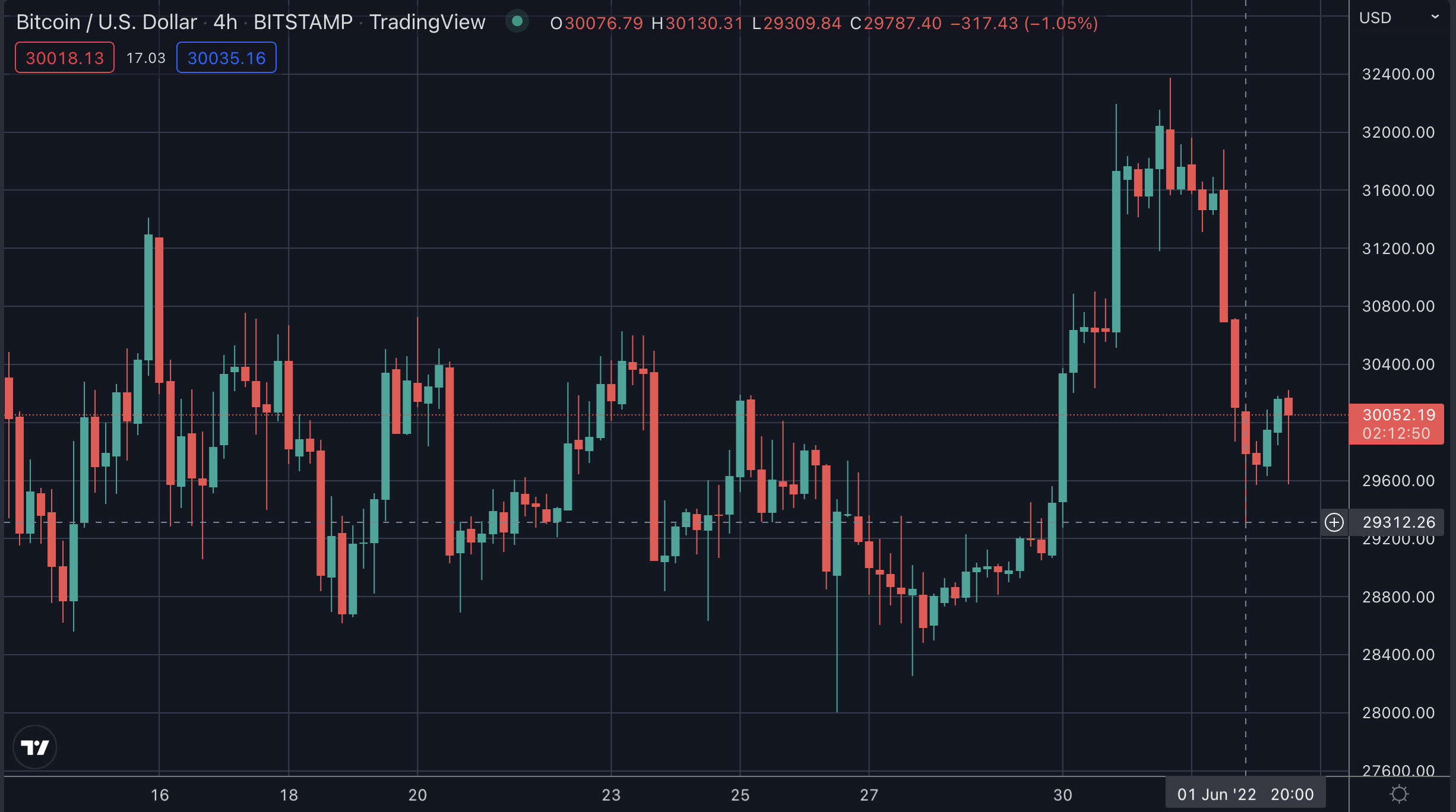 After a recovery to $32,000, bitcoin seems to have felt an EU decision to ban some 90% of Russian oil imports.
That's presumably because markets thought this would raise oil prices, putting some short term pressures on bitcoin miners who would have to sell more of their bitcoin production to cover the higher costs.
The decision of OPEC means oil will fall, with it down from $123 to $116, but still close to the all time high levels of $130.
A fall in oil prices reduces such mining costs and so miners may add less bitcoin to price setting markets, and so where this very limited aspect is concerned, price should rise or fall less than otherwise.
There are many other factors as well of course, with it not very clear just how much of an effect this OPEC decision will have as it remains to be seen whether they will meet their target.
Saudi Arabia however can on its own flood the market, with Joe Biden, the US president, speculated to visit Saudi Crown Prince Mohammed bin Salman soon.
The problem may now be gas with Russia cutting off 1% of Germany's gas supplies because Shell refused to pay in rubbles.
Russia has also cut off 5% of Netherland's supplies, in addition to cutting off all of Bulgaria's gas supplies.
For Bulgaria, there are suggestions it is working out better as they're now getting cheaper gas from Azerbaijan. Russia apparently was overcharging them.
Qatar is the big gas producer and we think they'll do anything for Europe, but where markets are concerned, not much seems to be moving on this front as gas is back to $8.92, up another 2.6%, from about $3 in early spring.
A significant part of bitcoin mining, we estimate about 25%, is through gas powered stations, and so some relief in gas prices may lower the pressure on bitcoin's price.
The focus for now however has been on oil, and finally there's some movement there. Gas will probably follow as Europe is looking at making some significant investments to increase its production.