The last valid ethereum Proof of Work (PoW) block to ever be mined had only one transaction and one contract interaction.
Block 15537393, mined at 06:42:42 AM UTC, had a fee of 1.3 eth ($2,000) to mine a VanityBlocks NFT.
The last block NFT has what looks like very colorful cat eyes looking curiously from the deep space full of stars.
The cat of Alice in the Wonderland? A clear portrayal of the leap into the unknown. An historic moment visualized.
The NFT has received a bid of 10 eth on OpenSea by Lossy Eth, who has collected some 300 NFTs since he joined in October last year, at the very peak of prices.
And with this image, the Proof of Work network is said goodby, after seven years of some of the best times in hobby rigs and dormitories across the world, as well as in the waterfalls across mainly China.
No more kids boasting of their flashy lights in mini rows of cool GPUs. No more pictures on Reddit or Facebook asking to rate muh rig.
Just a last picture on PoW, for the seven years that had the devs hours before Devcon presentations battling bitcoin devs spamming the network to a near halt.
No more vote defeat on ProgW to then have the community rise up against it. No more shy Nvidia or AMD, timid to say crypto in their press releases while we were partying with their gear.
And the fortunes made and the people raised, now look at a time that will never come once more, not for eth.
Just a picture, as we await the one for PoS, which too had a similar happening: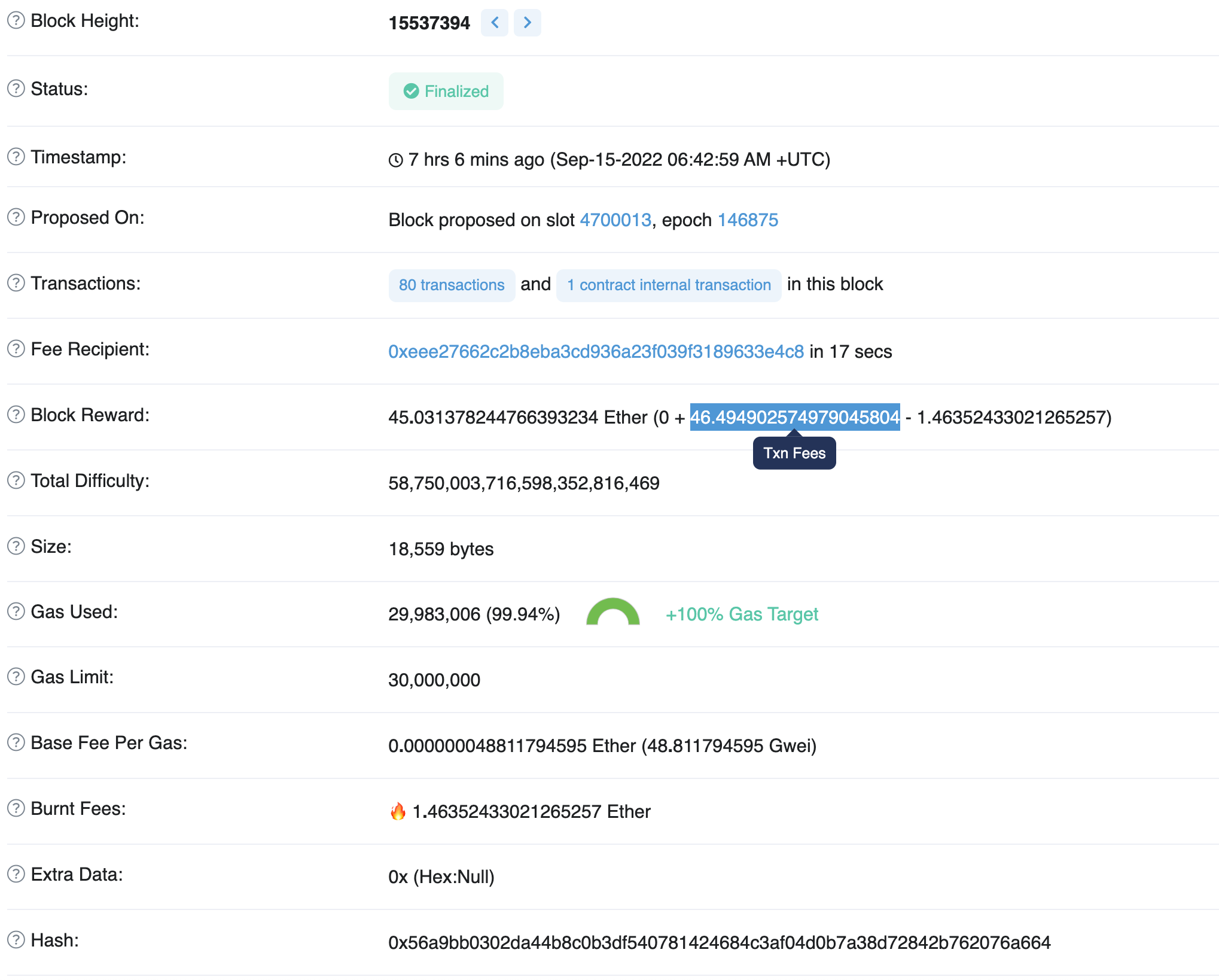 46 eth in fees was paid in a desperate and successful attempt to get into the very first ethereum Proof of Stake (PoS) block.
Most of that fee, 36 eth worth $60,000, was paid by thetransition.eth. This seems to be an NFT collection marking the transition to Proof of Stake.
It's by Chiru Labs, which is "building for the metaverse." There isn't just one picture for this one, but 100, and all of them were mined on that first block.
The pictures are all in their pre-reveal stage with a panda CGI, so the transition will be… NFT-ed? visualized? Panda cat-ed?
That's a first, actually, that an historic moment in crypto is visualized, with eth so entering new frontiers.