Ethereum miners have not run for the exit despite being replaced in providing security and in receiving rewards.
Blockchain based estimates of their eth holdings, in fact, indicate that nothing has quite happened, at least as far as this parameter is concerned.
Miners instead have been accumulating after relentless selling from a July 2020 peak of 1.2 million eth to a low of 735,000 eth in May 2021.
Since then, they have gradually increased their holdings to around 950,000 eth, with it staying stable at those levels.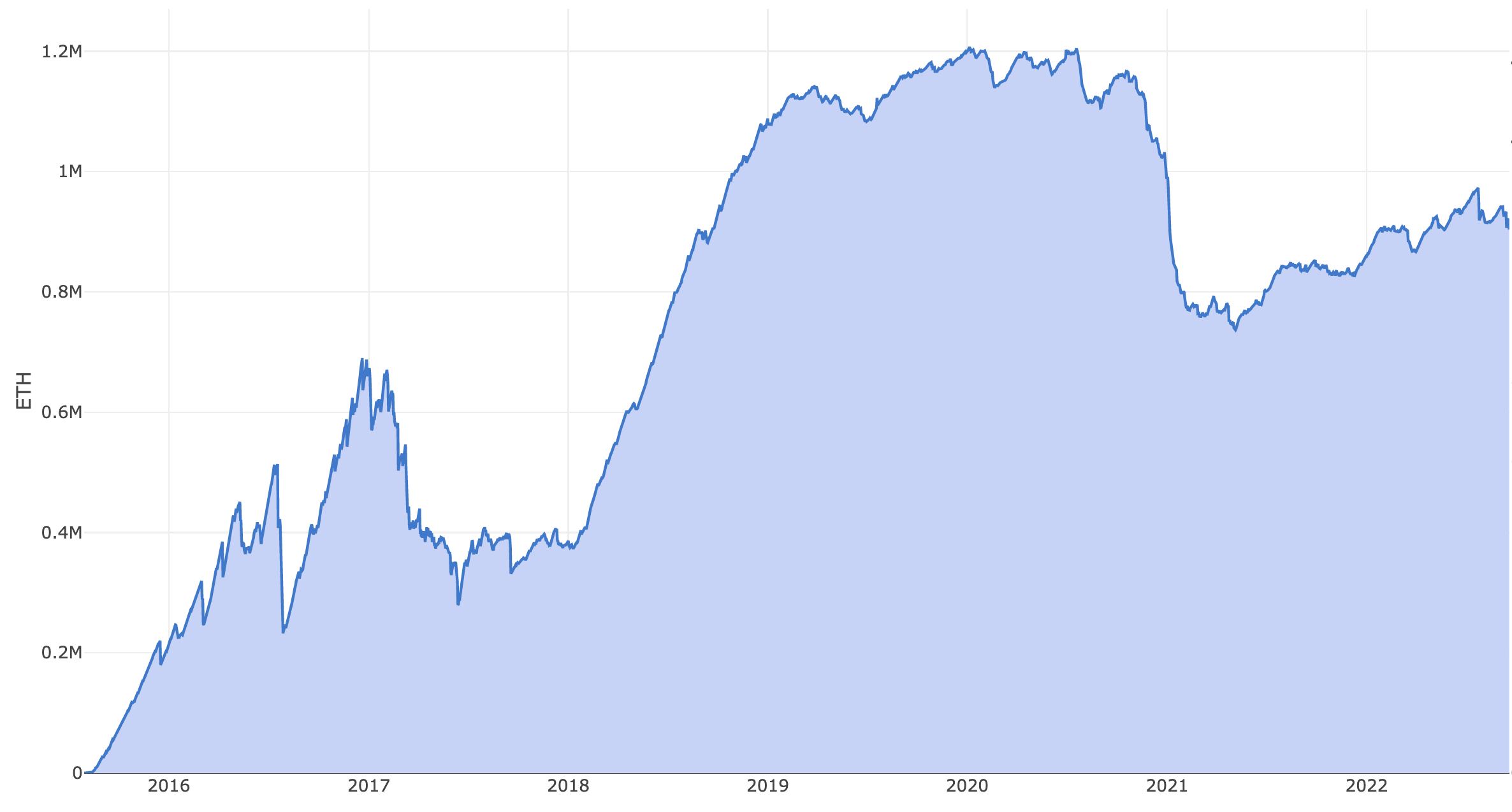 The tranquility of miners' actions may well show the highly consensual nature of this upgrade to full Proof of Stake, which has been years in the making.
Rather than rage quit or fume at it, miners are adapting with some now providing staking services.
Others may well stake themselves or keep holding the rewards they've gotten, for some maybe over years.
So much so that some even speculate the ethW fork was some sort of a ruse by miners to 'official opposition' with the aim of sabotaging any real fork attempts.
That's pure speculation, with blind greed potentially another explanation for the aloof EthereumPoW fork.
Yet that no miner/s of talent thought to lead a proper attempt may well indicate that miners just accept the change.
They collectively have about 900,000 eth currently, so they maintain a pretty big stake in the success of the network.
That may well indicate that the vast majority of them will stay on, and it may even indicate that this one million eth is part of the market now.
Rather than a cost, and waves of miners accumulating and selling, these holdings are 'frozen' in as far as they can no longer increase from the network itself, unless they stake obviously.
The view that miners will now just keep selling these eth may thus be simplistic. Though sweet in its simplicity as you can just assume operations go on as normal with circa 13,000 eth brought to the market a day, leading to the full consummation of these holdings in three months, by Christmas day.
Yet miners no longer have a cost. They might have debt, and maybe some of that needs to be paid through eth rather than fiat, but they no longer have energy costs, or employees to pay, and they have a lot of deprecating GPUs which they can sell to raise revenue, rather than their eth.
Instead of sell pressure from miners therefore that goes on until they no longer have any eth, it may well be more that they have now become ordinary holders, faced with the same decisions as all holders.
In which case this entire sum becomes simply part of the market, instead of a cost on the market as has been the case previously.
It may well be too soon to say however, but from all angles it looks like this upgrade has gone very smoothly as although a lot could have gone wrong, pretty much nothing has gone wrong and more so, a lot seems to have gone more right than one would expect.
The long timeline for this upgrade, which everyone new it was coming for years, may be one reason for it.
Even the 'workers' that have been 'fired,' therefore, have seemingly not been lost to eth.