Europe is moving to put a price cap on Russian oil amid protests in Moscow against the war while rumors are now circulating Russia's president Vladimir Putin has ordered the mobilization of one million young men, and some women.
Nova Gazet.Europe claims an unnamed source in the presidential administration stated the blanked out paragraph contained the real number that were to mobilize.
It changed a few times, the source says, but they settled on one million with summons already being issued across the country, including in Moscow and St Petersburg, while men can not leave numerous regions in Russia with checks now in airports too.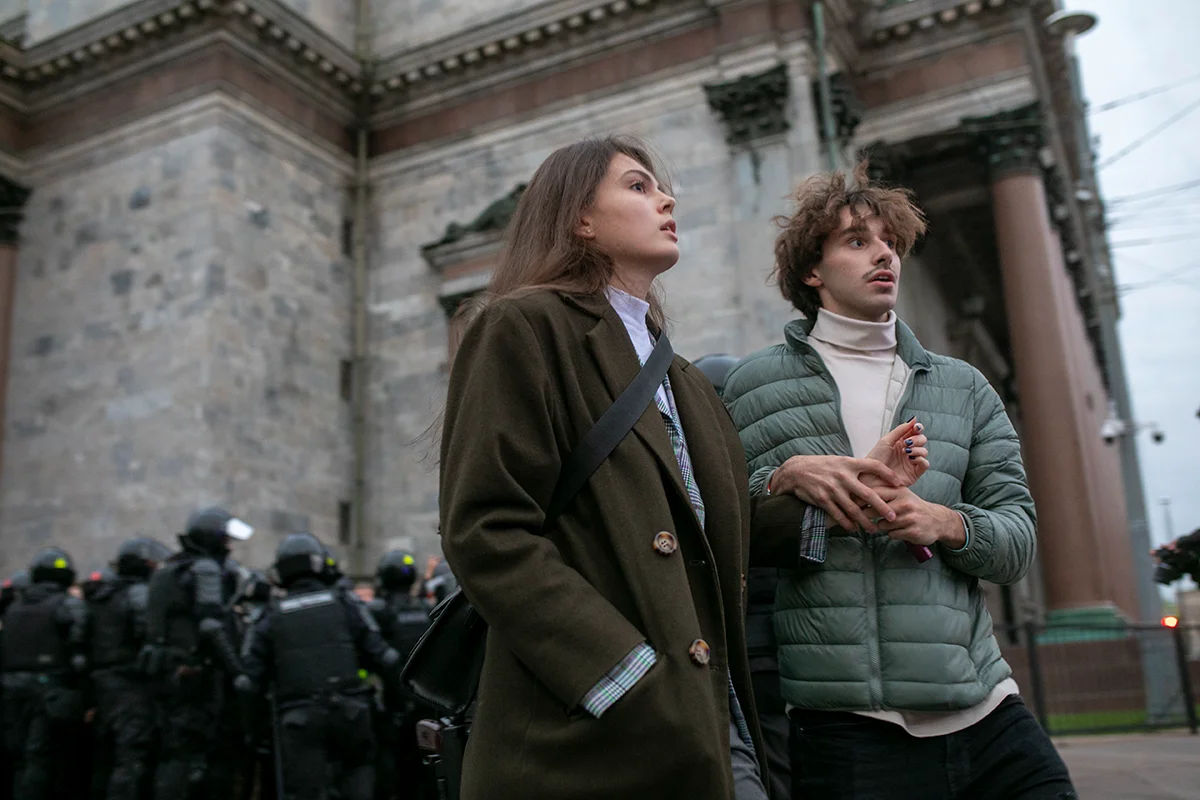 A reign of terror has gripped the young in Russia with both Estonia and Finland closing the border while long queues are shown in the border with Georgia.
A young woman is rumored to have died in yesterday's protests, her breasts out, in a most symbolic unintentional declaration that liberty is dead in this country.
For Russia is now a total police state. Peaceful mostly young men and women lock arms while the robocop police picks them up one by one. Dozen of riot policemen stand in front of two busses, inside mostly young men and women. A new arrival shouts "fascists."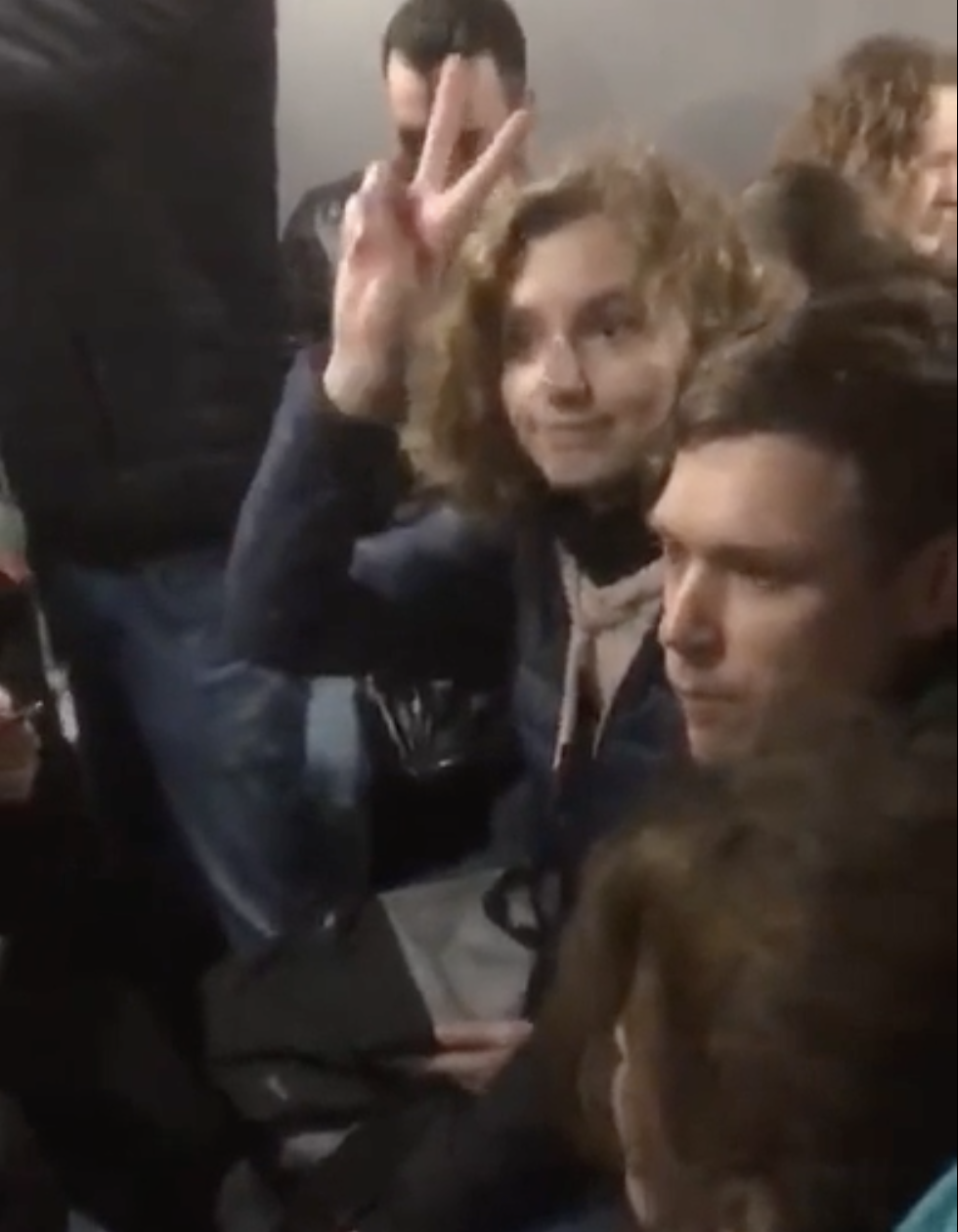 A generation that thought we'd never see war in our time, is now being taken away, by force, to hell on earth.
And although all actors, they all spectate, we spectate, like lamb to slaughter, helpless under the boot of the state.
Willingly or not, they'll fight for the thug and the windows killer, and they'll wear the thug's uniform, to impose upon others, by gun, the dictatorship they suffer.
Russia seeks "to promote a multilateral order in contrast to the 'rules-led' system," Sergey Lavrov, the 72 year old Foreign Minister for life of Russia, said in an interview with Newsweek.
"In contrast to the 'rules-led' system." A world with no rules, thus, where the dictator can freely decide to throw countries outside of windows, and not just his own people.
This is what these young men and women are forced to kill for. The overturning of democracy, of the rule of law, and of the Enlightenment itself.
Europe thus is moving towards the final sanctions. Oil is still flowing, and rather than cutting it off, a price-cap has been proposed on Russian oil.
That's to be decided in two weeks at the Prague Castle, where the defense of Europe, as well as energy and other matters, are to be discussed both within the EU and within the gathering of all Europe's leaders.
It will be the first gathering of its kind, a forum for continental Europe, Turkey, and the United Kingdom, to coordinate on shared matters.
All three have supported Ukraine, with calls now increasing for the fortification of the eastern front so that the line is held there.
For, a million Russian soldiers on Poland's border would be alarming. Ukraine can hopefully hold them off however, with the Russian troops even more demoralized as they know they're the baddies.
Ukraine's symbol is a white cross, while Russia's is a black Z. That tells you all you need to know which is on the good side, and which is on the evil side.
Yet it is the battlefield that ultimately decides, and before then we'll get the winter, giving Russia time to mobilize like it's 1941, the last time the old sent the young to die.
For decades books asked how it happened, and how it was allowed. It's no longer books asking.
An entire United Nations organization, and a never again slogan, kept that question a distant one.
The answer though is that we've allowed rhetorical attacks on liberalism for too long, without a retort as we assumed 'it is known.'
Yet, it is clear that those books of liberalism need to be opened, digested, and turned into sentences, so that the people of today do know them again.
For too long Putin has been allowed to rhetorically attack democracy as a system itself, to the point it is 'known' the 90s were terrible, even though they followed the starvation due to the dictatorship of Putin's predecessors.
Democracy is chaos, they claim, and this rounding up of young men is stability and prosperity in the devil's head.
Lavrov dares take the podium to tell us openly that he is against the rules based system. That he is the rule, thus, that the centuries of advancement in human intellect, the Renaissance and the Enlightenment, that ancient Greece or the republic of Rome, where they slayed the tyrants, are inferior to the great intellect of this mortal of no accomplishment.
For too long we have hesitated to claim that our way is actually superior, opting to allow the prosperity to speak for itself.
Yet, the only thing that was wrong is fools who thought to breach these principles, and the only one standing that is breaching these principles is Putin.
So this generation has to re-fight the battles of our ancestors, and since liberalism is clearly superior, we'll have god on our side.
Economically though, both Europe and America were fine with an isolated Russia some decades ago. More than fine, they were booming.
Save for some temporary re-adjustments, they're both in a good position to boom again, especially Europe, and cruel as it may be, the uppening of weapons manufacturing in the continent may well boom it more, as well as in US.
The cap on oil prices should also in theory be beneficial for assets as it may lower energy costs.
In addition it may well be just right, because it is very unclear why we have allowed a supply cartel for so long, without responding with a demand cartel of our own.
They can't sell it all to China and China is on the demand side anyway. Plus, US is an exporter now and with fracking starting in UK, they'll become one too, soon.
The many desertions in Russia, where three enlistment centers were set on fire just this Wednesday, may lead to more demand for bitcoin as their financial system is becoming isolated, so they need to take their savings somehow.
The head of VTB, Andrey Kostin, is telling banks there to be prepared for a complete cut off from the global financial system, to move from the dollar to bilateral settlement in Yuan or other national fiat currencies.
The inefficiency of that is obvious, as is Russia's potential ability to control the bilateral exchange rate, and it might not be easily available to the private sector.
Crypto wouldn't scale there, however, and China has kind of banned it. But, it should work well for individuals and maybe small businesses.
Actual protesting in Russia has also gone underground as all these sudden fires show, and as the complete ineffectiveness of open protests indicates. For skilled men and women in those circumstances, obviously crypto would be useful, but just how much tech skill they have, is unknown.
Russia is thus leaving, after three decades. Not the continent, but the rule of law and the global commerce that comes from it.
So long, no one can say as its descent is a tragedy for many with this once democratic nation, now a police state, stealing the young.