Bitcoin is suddenly up by about 7%, rising overnight from $19,000 to above $20,000, with other cryptos likewise increasing.
The move comes amid some significant volatility in foreign exchange markets, raising the prospects that at least some may well be using bitcoin as a hedge of sorts.
The pound has grabbed most attention in tumbling to almost dollar parity, though it has somewhat recovered with the new chancellor Kwasi Kwarteng to meet bank representatives.
Bonds however remain at spiked levels, above 4% for UK's 10 year Gilt, as the central bank moves to sell the hundreds of billions in bonds they bought during the pandemic.
This applies to US bonds as well with 10 year Treasuries rising above 3.8%, up from 0.79% just last year.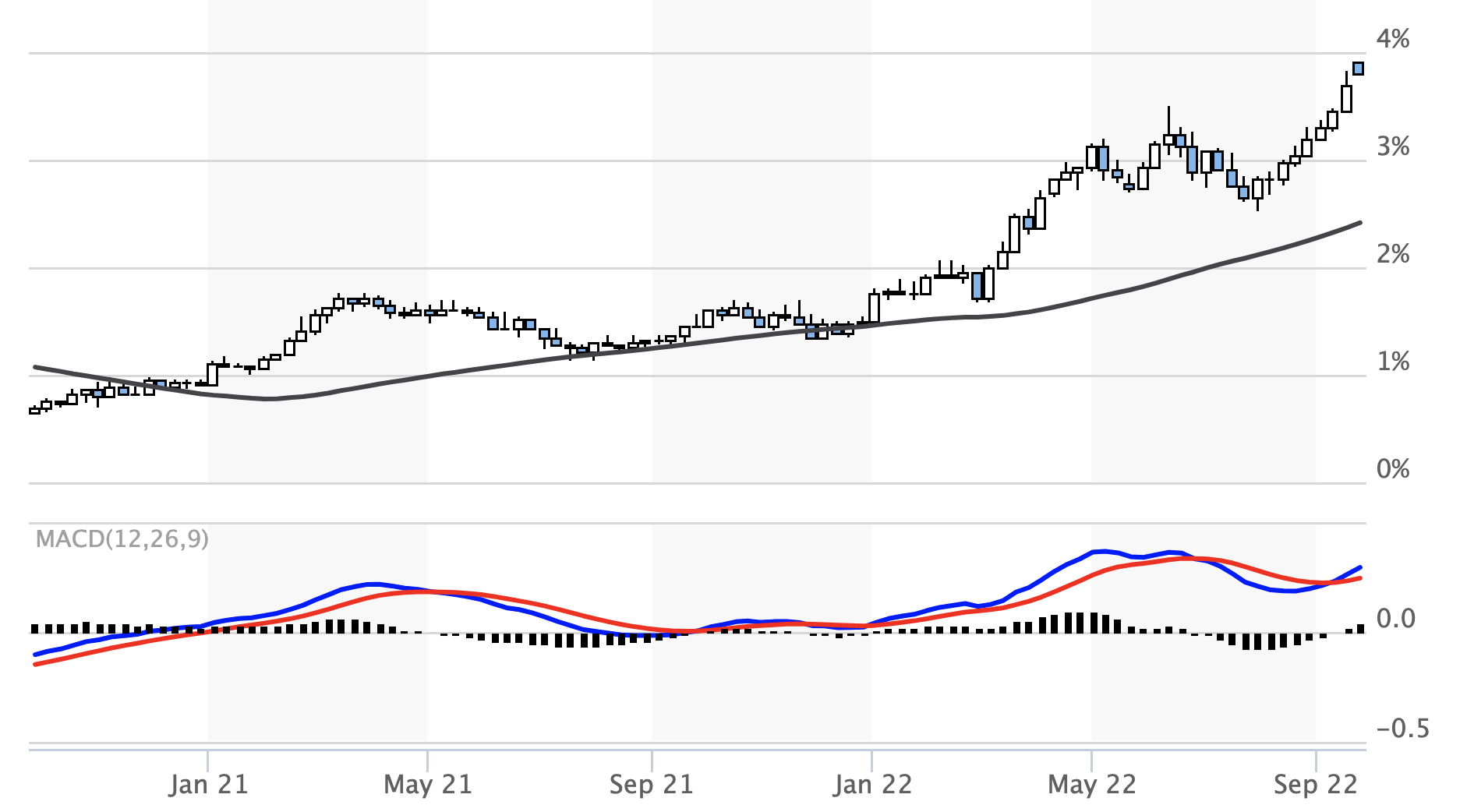 There's a liquidity crunch in the US bond market as Fed unloads the trillions they bought in bonds in 2020-21.
"The biggest financial bubble in the history of bubbles, that of sovereign bonds, continues to deflate," says Peter Boockvar, chief investment officer at Bleakley Advisory Group.
The dollar nonetheless continues to rise with the Bank of Japan spending $21 billion to prop up the Yen last week.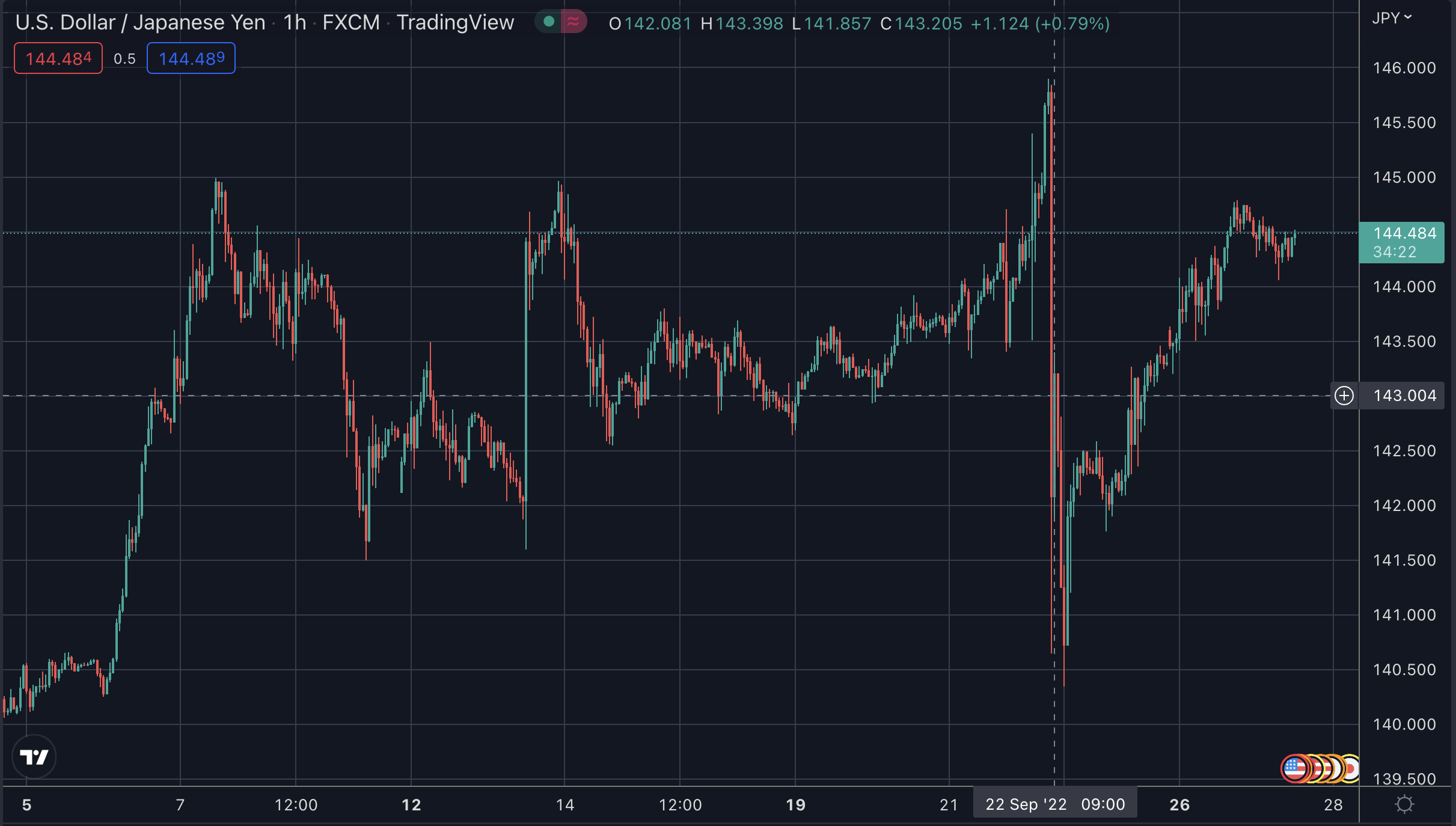 That succeeded briefly in bringing JPY to 140 per dollar, but it is now up to 144 again from 100 at the beginning of last year, a 44% fall.
Inflation has also picked up in Japan to 3%, while interest rates remain at -0.1%, one of the few – if not only – central bank to still be in negative territory.
Meanwhile the Indian Rupee (INR) has plunged to a new low of 81.44 per dollar, though they seem to be doing better than most as it was at 74 in 2020, with this currency seeing a continuous devaluation since 8 in the 80s.
Nonetheless the recent moves were enough for traders to speculate the Indian central bank (RBI) has intervened, with one trader stating "the supply of dollars by the RBI is getting easily absorbed."
In China, sentiment is even worse with debunked rumors circulating The Bank of East Asia in Shanghai was seeing a bank run. Apparently, it was just a meeting of wealth managers instead.
That shows the edgy atmosphere in the world's second biggest economy where the property market has collapsed, and so speculation has increased about the stability of their banks.
Chinese banks have grown to become the biggest in the world, with their top 4 also being the top 4 globally, managing $19 trillion in total assets, close to twice that of US' biggest banks at $11 trillion.
CNY has also fallen beyond 7, its lowest since 2008, though whether it is facing resistance at these levels is to be seen.
A Global Currency Hedge?
Stocks interestingly enough are up in Europe, in Shanghai, and futures indicate up in USA too.
One reason may well be just that volatility has moved from stocks to bonds and forex, but there's clearly global demand to hedge currencies falling against the dollar.
Stocks could potentially be one way, especially if it's exporting companies, or importing for US, but bitcoin curiously has been somewhat stable recently even while stocks kept falling.
One reason may well be that the British, European, Japanese, and even the Indians may have looked at bitcoin as potentially one way to keep purchasing power in USD.
In theory, the relative value of national fiat currencies shouldn't matter to bitcoin, because if the dollar up means it is more expensive for Europeans and cheaper for Americans, or vice versa, then it should cancel out.
In practice, it is difficult currently to estimate the practical level of adoption in developed economies. It used to be the case and there's still signs that America is two years ahead in bitcoin adoption compared to Europe, but a change in that presumably can most speedily be shown by the price.
In addition if you want to hedge against a rising dollar, you can just buy dollars, which if you're British means you're kind of shorting the pound.
If however you want a more global hedge of all currencies, while trying to be neutral on up or down for specific pairs, then bitcoin might be useful.
But that's only if you take into account bitcoin or crypto specific factors which may make the currency move due to other reasons than the value of national fiat money.
In November 2021, for example, you would have needed to pay attention to whether bitcoin had risen too much already to continue being a hedge.
Now, has it fallen enough to once again become a hedge? That's to be determined by the market, but considering the significant volatility in fiat money, there are grounds to at least speculate that at the very least bitcoin may be acting as a dollar substitute in places where the dollar is not easily accessible.
That includes countries like India, but also their neighbor, where the dollar long bet is limited to circa $50,000 per individual.
Then one can also consider the potential increase in bitcoin's appeal both for imports and exports in light of the volatility in national fiat.
Would a South African business for example prefer their fiat money or bitcoin in the current environment?
That's obviously a very small part of commerce related international payments, but it exists and we know it because this paper for example accepts crypto payments for subscriptions and people do actually pay in crypto for such subscriptions.
We have not come across any estimate of just how much of bitcoin's usage is for pure commerce, and we include in that remittance or international value movements.
Bitcoin however so far has tended to find a floor throughout the years, and that floor has tended to be higher each time it found it. In the absence of concrete data one can thus assume that maybe 80% of that floor price is due to raw usage.
Amid fiat volatility, that usage may increase, and so you have the basis for a hedge of sorts or at least another instrument in the trading toolbox.
Which suggests the 'high risk' categorization may give way to the 'alternative asset' aspect especially as there are very few such assets, and none that are as global and as digitally transferable as bitcoin.
If confidence in bonds is shaken further, then one can at least argue that confidence in bitcoin should increase, because national fiat is backed by the government and high bond yields indicates to some extent less confidence in the government's ability to repay those bonds, at least without devaluing their money.
In China it is worse with maybe completely out there, but still speculation about banks. And if you want to be outside of the banking system as well as national fiat, while having the convenience of transferring through your app phone, stocks can be one option if you can access them and pick the right companies, gold can be an option if you don't care about transfers or payments, but bitcoin is one option too and at least in some cases it may be a better option.
The Powell Card
Finally, the question is whether we're at a new trend or the end of a trend. For fiat volatility, arguably Fed's chair Jerome Powell decides as all these other central banks need some breathing room to catch up.
If he pauses, that volatility may decrease. If he keeps on, it may get worse, unless these other central banks get aggressive with the risks to their economy that entails.
For bonds, it's not too easy to see any reprieve because even a pause in interest rates might not be sufficient if Fed keeps selling all them bonds.
Pausing the latter would be a big policy change, and so we may continue to see pressure on the bonds market.
That's for developed economies where arguably risk still remains low. In other economies, this change to debt actually meaning debt may uncover hidden risks.
The biggest is China of course which began growing significantly after the 2008 new policy, with an end to that maybe amounting to a structural change.
So giving room to bitcoin to once again play a role in global markets, but whether that will be the case and to what extent does remain to be seen.