Bitcoin is hardly moving even as Nasdaq saw a fall of 3.4%, with Dow down 2% while European stocks fell 2.25%.
Bitcoin until recently responded to such moves, but a macro narrative change may be changing bitcoin's behavior too.
The recent stocks fall may be due to corporate media, at least in UK and left-leaning ones globally, changing the narrative from a 'cost of living' crisis to an 'economic crisis.'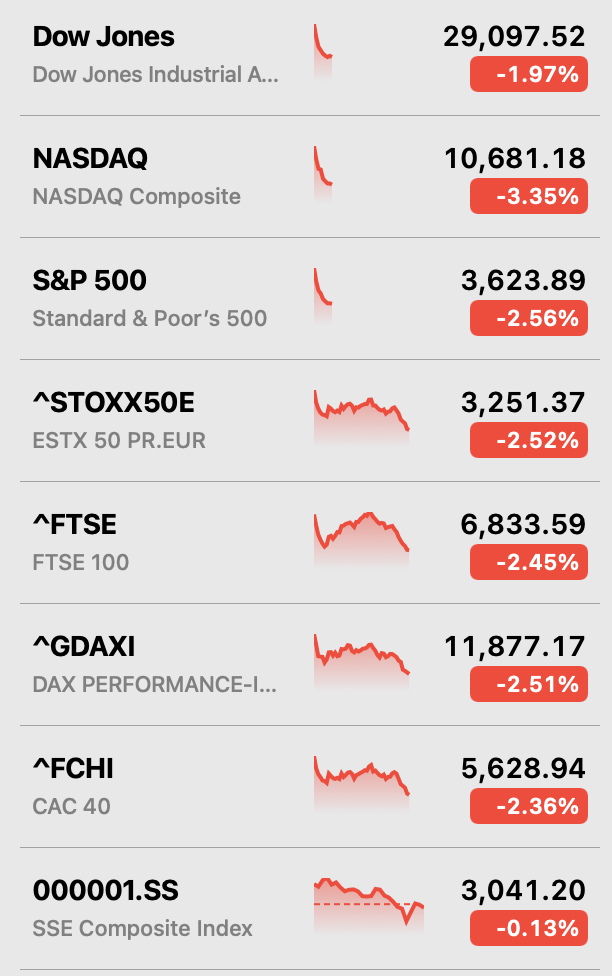 The BBC in particular is front and center telling the public it got all scary in the bond market for a minute because pension funds, due to a 'technicality,' had to keep selling bonds even as there were no longer buyers in the bond market, risking a cascade, or 'short squeeze' style event.
That's why the Bank of England had to intervene, they claim, even though bond yields were up and up and a liquidity crunch had developed in bond markets for now weeks, especially in US.
The pound has also been falling for months, with it down from $1.4 last year to $1.1 prior to the mini-budget.
But that mini-budget made market moves all political football, and so the 30% crash in bonds now suddenly matters to public media which so far was focused on how the ordinary people are going to deal with the 'cost of living.'
The crisis hikes of 0.75% by Fed or the interest rate hikes by the Bank of England had zero role to play in the previous narrative where all this was as good as not happening.
Now however anchors are all in 'urgh' to politicians who suddenly are all to blame for central banks having to raise interest rates.
And now markets, which apparently are a 'mysterious' thing out there that the public apparently thinks has nothing to do with them, well these markets now apparently matter.
Your mortgage rates will go up, you know people have pensions in stocks, and there is now an economic crisis because the new chancellor Kwasi Kwarteng gave $2 billion (pocket money) in tax cuts to people earning above $150,000, the professional class and those richer.
This mini budget was greeted by Joe Biden himself of course, the US president, who said that "trickle down economics does not work."
UK was growing somewhat decently when it had such trickle down economics however, and for the past 14 years it has seen zero growth in as far as UK's GDP only now has reached again 2008 levels.
Something has to be done about the stagnation, but what UK is doing has managed to get all Democrat leaning big hitters, including Larry Summers who served under both Bill Clinton and Barrack Obama.
There are risks of 'contagion,' he went on TV to say, talking about markets rather than this trickle down maybe spilling over to US.
New York Times however is probably worried about the latter, with this paper which almost never pays attention to markets so taking it upon themself to basically shout 'urgh,' or this is the worst budget in history, maybe ever.
Leaving aside who is right and it is very proper to have this debate, though preferably with a lot less exaggeration, the media that is generally more concerned with who is eating what at the court palace and with who, is finally talking about markets and finance.
Previously they were more concerned about the ordinary people, the less fortunate the better, shouting how can the government just not give all these sick and feeble people billions and billions.
Now that it has, how dare the government let people keep a bit more of what they earn, and/or how dare it stand in front of the Bank of England's plans to crash the economy.
So out with randos in the town center, and in with the nature of money itself: bonds, the pound, not stocks yet but someone should tell them they have crashed too.
That is a narrative change and where bitcoin is concerned, it may well make the asset more appealing because for the past three months it has been 'outside' fiat money in sidewaying instead of falling, and now appears to not care about stocks either.
The latter may well be due to a potential rise in demand keeping it from falling, or since companies like Apple are now falling due to growth concerns, it may well be that bitcoin went through all these concerns already and these companies are 'laggards' in falling.
The wider public however might be paying attention only now, and since retail still dominates in bitcoin in ownership, some of that public may well hedge when they hear of pension related problems in bonds, gov money, money.
The situation is nonetheless complicated and despite the political angle as well as the exaggerations that come with politics, this debate is overdue as the public does need to have a say in the tradeoffs central banks are making between inflation and growth.
The Brits, due to their ferocious democracy, are finally so putting it all on the table while previously the only concern was don't blame Biden for anything even as stocks crashed and Powell made clear his intentions to basically crash the economy.
And so we are witnessing a public decision on just what is the best way forward, in particular whether central banks are right or otherwise that good growth is not for us.
That makes all this one of the most important moment in 14 years economically speaking, with bitcoin seemingly not playing because it will benefit either way, with it not yet knowing which way it is going.
While stocks are maybe just reacting to some of the media exaggeration, even though some put it down to growth concerns which in UK would have been very real had the government not had a say.
Now though, the dice has been rolled and although some pressure on bonds would have naturally been expected, this all may translate into sustainable growth which eventually may take care of those bonds as it isn't too clear whether there is any other way out.
Nor is it clear the public would accept the claim that good growth is not for us, when China has been growing at crazy rates and even America has been growing above 2%, while Europe has stagnated arguably for no good reason except it bore the brunt of the adventures and troubles of the past two decades.