The Ukrainian Army has liberated a village at the very northern outskirts of Kherson, Dudchany, which sits on the river Dnieper.
An information blackout order has been issued on Ukraine as they seemingly try to move again in or around Kherson, making it all a fog of sorts but Ukraine is moving.
In the process they have regained the initiative and the narrative, which until recently was in Moscow where the Russian dictator Vladimir Putin declared "subjectivity will only grow."
"It is this force that will determine the future geopolitical reality," Putin said, with no one apparently advising him that you don't have to admit it, that you didn't have to admit you're literally following Hitler's underlying base "philosophy" of Romanticism where truth or objectivity doesn't matter, only the 'will' of the dictator.
Objectivity however has a way of imposing itself. And thus whatever make belief Putin was propagating, was responded by Ukraine on the ground in the battle/s where subjectivity is of no help to Russia, and objectivity is a very great help to Ukraine.
They liberated an occupied town in Luhansk, showing with the power of reality and even truth that it isn't actually Russian.
That returns the matter to a grinding on localized conflict with Russia still occupying an area the size of four Belgiums, plus Crimea.
Ukraine is huge, like France and Germany combined. To liberate it all, won't happen in a day or month, but Ukraine currently clearly has superiority with combined arms, and so it is moving a lot faster than some thought they would.
So bringing what may be a public offer by Putin through Elon Musk, the CEO of Tesla and SpaceX.
We don't know it so. There's no indication that Musk is acting as an interlocutor, but Musk bizarrely tweeted an offer to Putin to come to Twitter Spaces last year, the tweet below sounds like straight from the Kremlin, and for Musk himself to come up with it seems a bit uncontextual. Musk said:
Ukraine-Russia Peace:

– Redo elections of annexed regions under UN supervision. Russia leaves if that is will of the people.

– Crimea formally part of Russia, as it has been since 1783 (until Khrushchev's mistake).

– Water supply to Crimea assured.

– Ukraine remains neutral.

— Elon Musk (@elonmusk) October 3, 2022
"Ukraine-Russia Peace:
– Redo elections of annexed regions under UN supervision. Russia leaves if that is will of the people.
– Crimea formally part of Russia, as it has been since 1783 (until Khrushchev's mistake).
– Water supply to Crimea assured.
– Ukraine remains neutral."
Define neutral. Ukraine offered Russia to not join Nato while joining EU, the Finland option. That wasn't accepted. The rejection of that offer led to the conclusion that this wasn't about Nato or Russia being threatened, but about the "subjectivity will grow" dictator wanting Berlin back. And so we are where we are.
Crimea is a very complicated matter. Wars have been fought over it for centuries, and its annexation by Russia in 2014 disturbed a peace of decades, for no good reason since Russia had a port there with the consent of Ukraine.
Redo "elections." Or "the will of the people" as Musk said in another tweet. Which is great. There was the Scottish referendum, there was the Brexit referendum, great tools to solve matters peacefully.
As such, such referendums maybe should have been held prior to these areas being invaded. They're tools of peace, not war. There's no "will of the people" in war, only armies and battles.
Not least because millions of those "people" have been displaced, tens of thousands killed, plenty 'replaced,' and on and on.
In addition, what exactly guarantees that Russia would leave if the referendum went against it?
Plus, if Russia is so in favor of the will of the people, why don't they hold referendums in Chechnya and Dagestan?
And finally there was a referendum in Ukraine in the 90s, at a time of peace, and the vast majority in all regions, including the ones occupied, voted to be part of an independent Ukraine.
Subjectivity thus, where a tool of peace is abused as a tool of war, does not work because there is such a thing as objectivity, and words have meaning because what is right or true moves men, not what is subjective.
As tools of war were used by Russia both in Crimea and the other four regions, not tools of peace, then the battlefield decides.
"Russia is doing partial mobilization. They go to full war mobilization if Crimea is at risk. Death on both sides will be devastating," Musk said.
In short, the enemy is mighty and thus we must kneel. And where do we stop kneeling? In Warsaw, in Berlin, or in Alaska?
Why not stop right here, and give the dictator choices to make, we only responses. For unlike his people within his borders that have no defenses, or say, and suffer once again a reign of terror where protesters get taken by robocops one by one, dissenters get offed or imprisoned, outside of Russia's borders there are defenses and there are responses.
Because although what happens in Russia is the business of Russians, what happens outside its borders is the business of everyone.
In addition, it is appeasement that previously led to millions, and tens of millions of deaths. That can not be risked again, appeasement can not be risked again, therefore he is stoped right at the internationally recognized borders of Ukraine.
It is worth saying that maybe Musk's tongue is not being puppeted by Putin in this specific case, that maybe he chose to controversy in war and peace matters to just distract from his Tesla stock crashing while all stocks enjoyed a day of green yesterday. Yet, that would be even worse so we choose the former.
Saudi-Russia Flirtations?
The Arab producing nations have come across as a bit lukewarm to Europe's needs in a time of energy 'diplomacy.'
So much so plenty are shocked in the west that at a time when oil prices are so high, they're considering cutting production instead of increasing it.
There were talks before of course that with America leaving the region, Russia would be left dictating, but does that suggest that Europe should enter the region, or what does it suggest exactly?
In addition US president Joe Biden and the Saudi Crown Prince Mohammed bin Salman Al Saud don't get along very well.
America however is an oil exporter. It's Europe that will be hit. Do Saudis take the Russian view that Europe kind of doesn't exist?
Whatever view they take, they should bear in mind that they're dealing with a new generation, and they're being introduced to a new generation.
They should therefore consider that if they cause any opinions to be formed, such opinions may last for decades.
Markets
Fed pivoting, Ukraine winning, Truss tax cutting for massive growth, may well be the broad-brush sentiment of the current market.
Speculative sentiment because Fed has not pivoted yet, Ukraine is winning some battles but there's still a long way to go, and the Truss plan for actual growth is still to go out.
All a lot better than the Russian stock market however which crashed again to near the low, but even that is stabilizing a bit.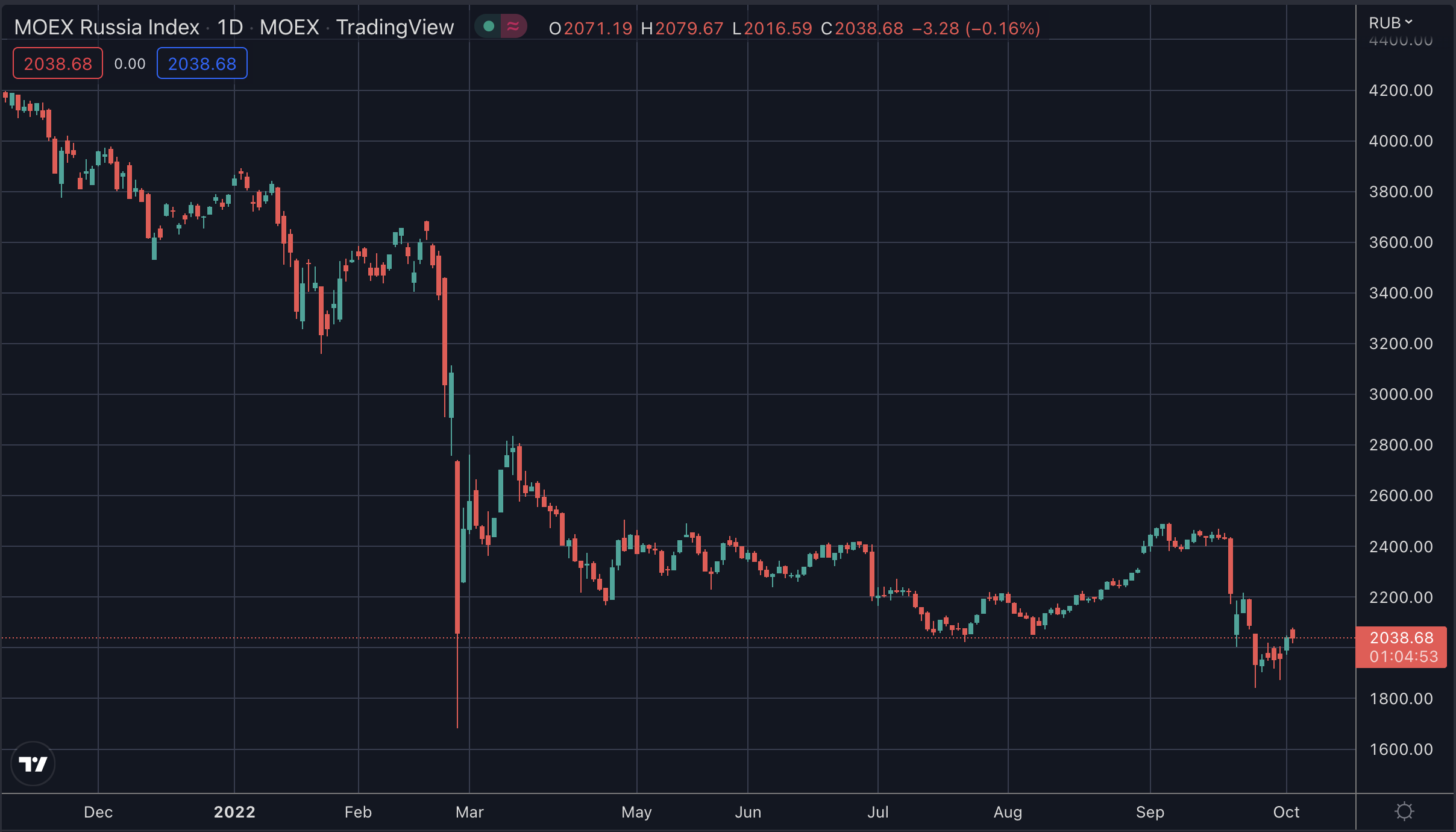 The Russian investors probably don't see any end to the war anytime soon. They're stuck with their dictator who is now using Stalin level oppression, and so they just take it.
Ukraine does have a window however until spring, and chances are not nill that the Russian army maybe even totally collapses in Ukraine.
That would presumably be a market moving event, with some wondering what would Putin do in that situation.
Well, if you don't succeed try again, now with untrained drafted men who lack equipment. And the question would be then as now: what's the end game?
Because Putin clearly could move into these four regions, but can he keep them? For how long?
He can put more resources to it, but the Ukrainian Army has more than a million men and plenty of volunteers. How much resources, 50% of his entire youth? And for what?
Ukraine never even attacked. Without that objective base, subjectivism can only take you so far.
Putin of course would like it others to think that he would turn a self-defence weapon into one of aggression, nukes. In which case he'd lose even China because its neutrality would be unmaintainable as Europe may, and maybe even must, threaten sanctions if it doesn't cut relations with Russia in that situation.
The economy be damned when it comes to nukes, obviously.
Former US military men have also said that in such circumstances, Russia's BlackSea Fleet would be destroyed, in addition to all Russian troops within Ukraine.
So Putin can just realize instead that he made a mistake in overestimating Russia's capabilities as after two decades in power you may of course forget that this was a rusty country and still is very rusty outside one or two cities.
He was warned, it's not that he wasn't warned, the first time he built up troops near Ukraine's borders, but dictators don't listen to advice of course and so dictators make mistakes.
If however he has concluded that this is actually unwinable, well he can cry for three days as he did over Libya, and move on.
The chances of that may be slim, but what exactly is the exit strategy for Russia if they can't even hold these lands at their borders.
Send more, didn't quite work for US in Iraq. It actually made it all worse. Whose to say that won't be the case here as well, and then what? Keep sending more in a protracted conflict that is unwinnable?
Because the longer this continues, the worse it is going to get for Russia, and their reputation.
It is still the "honeymoon" period. That may be coming to an end as people start realizing this isn't going to end anytime soon unless the Russian army suddenly collapses; the current apolitics in Russia will then give way to chatters as the new reality becomes the old one, and basically any aim that there may have been here doesn't quite apply any longer, does it, since they can't even hold these corners.
Which may well force us to conclude in regards to the title question that the markets are probably keeping only a very peripherical eye, and not quite moving due to this, except in Russia obviously where they are totally affected and completely subject to every movements in the ground.
But, the Russian army in Ukraine may be a bit in disarray, and the battlefield going in the right direction may boost market sentiments and speculation that the macro of the past many months may be changing.