The OPEC oil cartel, accounting for about 40% of global oil production, has taken the surprising step of cutting oil production not by one million as they leaked, but two million barrels a day.
"The decision is technical, not political," United Arab Emirates Minister of Energy Suhail al-Mazroui said ahead of the meeting. "We will not use it as a political organisation."
Oil prices are at $90 a barrel however, their highest since 2014. They were at just $45 for much of 2018-2019, and even lower in 2017.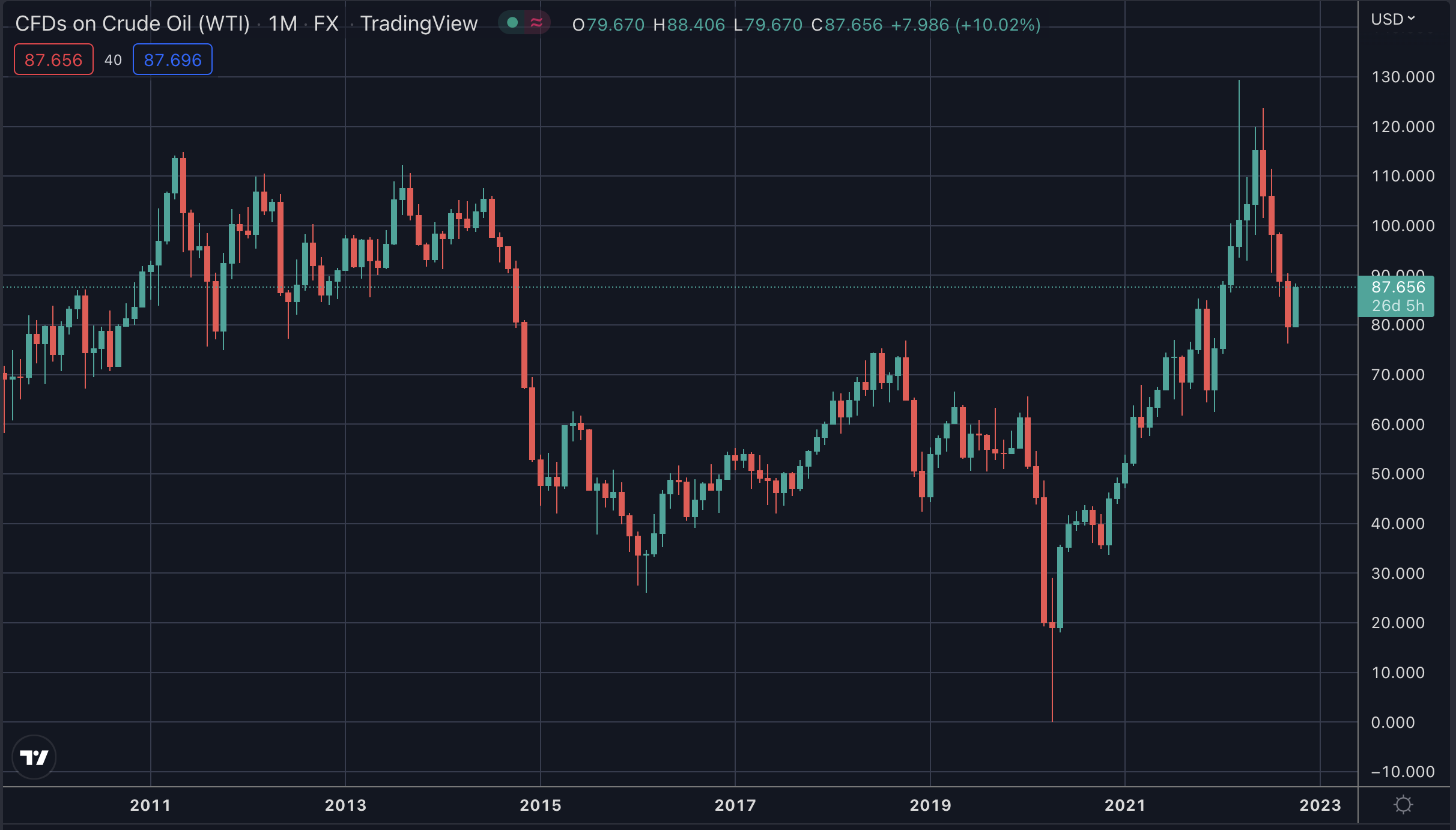 "In light of today's actions, the Biden Administration will consult with Congress on additional tools and authorities to reduce OPEC's control over energy prices," said national security adviser Jake Sullivan.
Many are furious at attempts to further increase these already very high oil prices with Congressman Ro Khanna stating:
"They fleece the American people and strengthen Putin by making drastic production cuts."
This move also comes just weeks before the mid-term elections, with Citi analysts stating:
"Higher oil prices, if driven by sizeable production cuts, would likely irritate the Biden Administration ahead of US mid-term elections."
However, estimates are that this will increase oil prices to just $100, but markets are worried about its effects on inflation and then, most crucially, on interest rates.
Stocks are down today across the board, -1% in Europe and down about 0.5% in both US as well as in China.
China's economy in particular is facing very tough times, and China's approach may well be significant if US and Europe are to meaningfully respond to this market manipulating cartel.
Oil Chess
It has hardly been many months since Russia and Saudi Arabia went head to head on oil prices, with Russia's president Vladimir Putin causing a collapse in oil markets to bring the Saudi crown prince Mohammed bin Salman Al Saud to heel.
As it turned out, the young Al Saud is clearly no Erdogan. While the latter made Putin cry, Saud kneeled.
Now, he is coming across as basically taking Putin's orders when it comes to oil, fearing him presumably.
America however is the biggest oil producer in the world. Biden could meet the US oil barons, and they could do a Putin in flooding the market with taxpayers rolling it all.
That's partially what will be done, though to a smaller scale than flooding, with 10 million barrels to be released from strategic reserves.
The previous president Donald Trump, while Putin was outplaying Sauds, stocked up on all that very cheap oil.
That makes US a bit 'fat' in the commodity, but still the Biden Administration offered the cartel to buy a whooping 200 million barrels of oil, if they didn't go with the move they did go.
Humiliated, or tone deaf? "Desperate," apparently one of these cartel diplomats said, yet can they really win an energy war if we decide to play it?
20s, the Very Different New 70s
There was no such thing as electric cars in the 70s. In this 2020s, Tesla is a bit in trouble because though it was the first and only electric car producer, now it is just one of many. Even Volvo is now electric.
Nor were there videos of actual car like flying jets in the 70s, all electric. Lilium too is just one of many, with air transport likely to take longer to electrify than cars, but it is moving in that direction.
Anywhere between 30% to 40% of energy production is now solar or wind renewables in many western countries. It was between 0 to 10% in the 70s.
This isn't thus the cartel that was in leverage, not least because the United States, unlike in the 70s, is now an oil exporter.
In addition, there's a new generation asking how on earth can we allow a cartel to brazenly manipulate markets, something that usually leads to the cartel getting it very wrong.
And this may well be one of those times. This move, in any other circumstances, might have raised questions on the political angle, but crucially comes at a time when the Federal Reserve Banks have a very, very difficult decision to make.
Things are starting to break in some markets, inflation was sort of coming down, the economy keeps giving mixed signals, but maybe Fed's chair Jerome Powell can be made to stand down, was the thinking.
Then this cartel comes along and says remove the 'inflation coming down' bit from your equation because we'll try to shoot it up.
Enter China?
China has been very concerned about the rise in interest rates, and for very good reasons.
The 15 years of low inflation and low yields in the West has led to money markets seeking returns in China.
The rise of interest rates sucks up all that equity, taking foreign investment out, precipitating further structural problems they already had in development in 2019.
Fed however did not quite have much choice as inflation rose significantly, but it was getting to the point it did have choice until this cartel decided to play with the entire global economy.
One response to it can well be a price cap on all of them, a demand cartel, by Europe and US which arguably would be decisive if China joins as well.
In this matter, the interests of all three are completely aligned. In addition, China has 'played' fairly decently the Russia matter since February. It could have gone many different ways, but they've chosen to stay away as much as possible from being painted with the same brush as Putin.
That de-escalation in some ways, gives some pause to think about the fairly difficult question of China-West relations.
And, the current circumstances may well be an opportunity in that regard, because China may well be smart enough to realize it has to adapt to a US that has the huge ability to turn ship.
Out with some and in with some is always the question at these levels, but it can also be completely limited to the matter at hand. A demand side response to this market interfering cartel that seems oblivious to just what on earth they might be causing.
Not least because China might get the worst of it. Say as we do in regards to the 'about to break' meme-ish phrase now, US can probably handle 4% interest rates. Can China?
Not that China is vital in the matter, but three superpowers completely aligned on an issue is decisive since 80% of the oil demand, if not more, is by them.
What happens if they say 'no' to the cartel? And it's not a political no, it's very technical as a further rise in interest rates moves a bit towards edgy especially for countries outside US and to some extent outside Europe which can hold out due to its continental euro.
That's when it's already not far off from edgy. Making this cartel decision a problem for US, Europe and China, all three superpowers.