Markets seem to have decided that the inflation report was good news in the end, with Nasdaq seeing a 5% move from -3% to now 1.41% in green.
Dow has gone from -2% to +2.29% in one of the biggest uno reverso in Troll Street where maybe they're thinking: everyone thinks it's so bad that it's good.
Bitcoin likewise dived to $18,000, but is now up to $19,000, a 5% move that brings its price back to the four months sideways.
The inflation data came in a bit mixed. Core inflation was a bit up, 6.6% in September year on year over 6.3% in August, but much of it was due to rent prices increasing with the Bureau of Labor Statistics stating:
"The shelter index rose 6.6 percent over the last year, accounting for over 40 percent of the total increase in all items less food and energy."
That's rent, which is becoming more expensive because interest rates are rising and so less people can afford to buy a home with a mortgage and so more people have to rent.
Hiking interest rates therefore will make rent even more expensive which will increase core inflation even more, and presumably Jerome Powell wants to reduce inflation, not increase it himself.
The other good news is the three months long downtrend in headline inflation. This peaked at 9.1% in June, and has fallen almost 1% since to 8.2%.
It should continue to fall because this will no longer be measured over the very low inflation in 2020, but over the decent rate of inflation at 6.2% in October 2021, rising to nearly 7% in November.
That slowdown in inflation may give some room for pause in the politburo committee, but we've been spending months now second guessing Chairman Powell, and so markets may well be resigned to a further crisis hike.
Which may well be exactly what explains Troll Street's green because if everyone now expects hikes and hikes, maybe it's time to not get hikes anymore or not care about them.
It remains however to be seen what oil does. That's up 2% now too, after falling 1%, but oil was at these levels in 2014 as well and we didn't get much inflation then.
To puzzle you more, there was actually no minus inflation at all in 2020 during the huge, massive economic depression: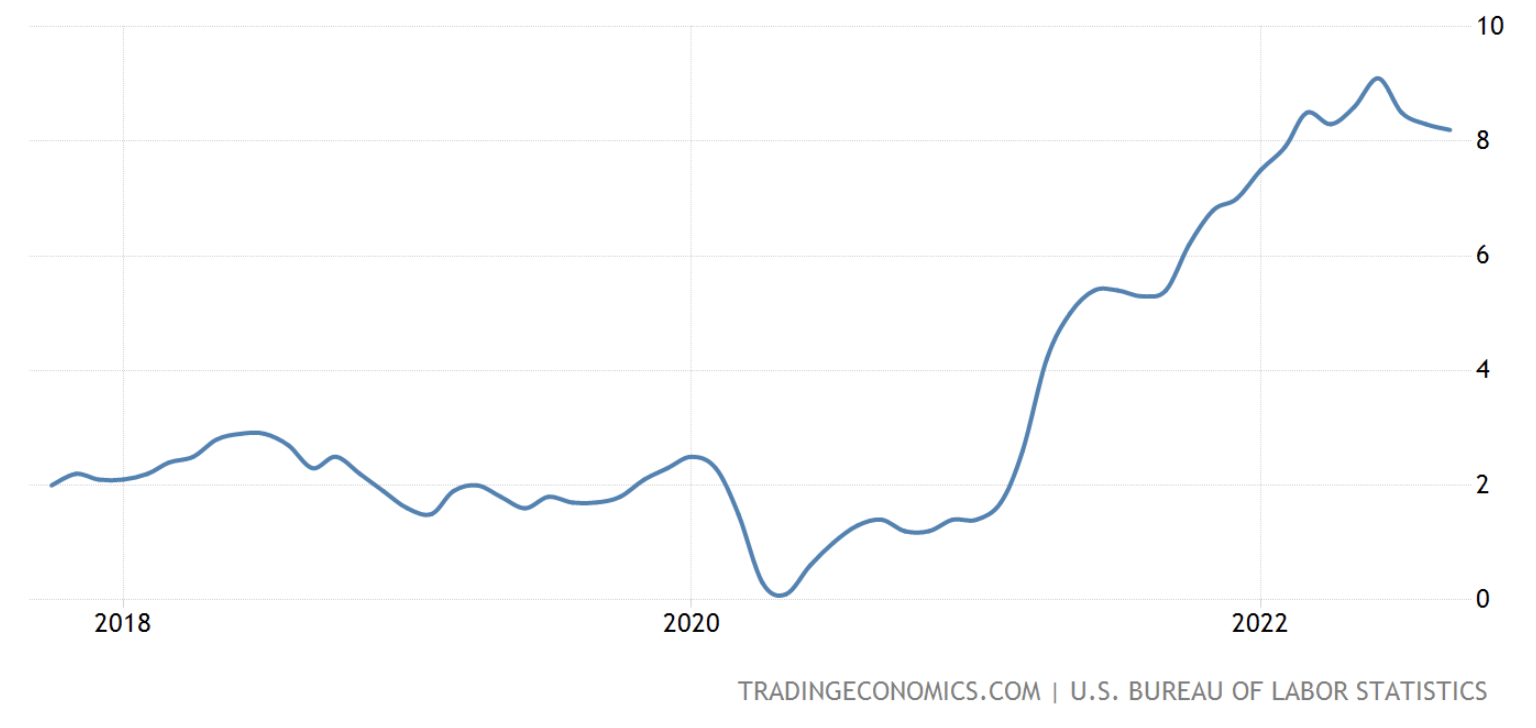 The US economy didn't fall too much, but the Euro economy likewise only saw barely -0.5% in inflation when their economy contracted by 14.6% in Q2 2020.
So either growth has nothing to do with inflation or these numbers are wako pako, and there's some argument for the latter because last year's inflation was measured over the very low 2020 inflation.
There clearly is some inflation however, primarily because we have been seeing pretty good growth, especially in Europe, but there's obviously the risk that Fed is acting on mistaken fundamental presumptions and is at risk of damaging the economy while not necessarily affecting inflation because that's now on a downtrend.
There's no reason to think that downtrend will stop, and there are reasons to think it won't, one of them being freight rates, which have plunged.

This suggests a lot of the supply chain backlogs due to manufacturing shutting down in 2020, have now cleared.
This peaked in December, with it slowly going down until April, but is now getting back to near normal.
The only external pressure on inflation now is oil, potentially, but oil prices are not so high that by themself they can sustain inflation, certainly not at these levels.
There's plenty of data therefore to support the Troll Street green, but one vital data is missing: does Powell care?
Maybe if we all cheer him on then he'll think we're the stupid, and will start second guessing whether it is all really as bad as these kids say.
Not least because everyone now expects 4% and so the worst that can happen is 4%. Leaving room for the upside because maybe it doesn't go to 4%.
Making that matter now a background issue, the most crucial matter being whether the economy has been damaged more than necessary.
We have an A/B test here with Europe going slower on hikes, and that makes all this very political because how dare plebs do science when there's the experts.
Something that could potentially explain some of the things going on in UK in regards to media commentary.
Some clearly think they know it all and there is only one way to do things so how dare Liz Truss try go for growth when everyone should do the same so that not one is open to criticism.
Yet, facts don't care about politics and the market doesn't care anymore about Powell, certainly not bitcoin.
The market now instead may even want him to break all things and get it over with, which would certainly be good for bitcoin because where else are they all going to go to.
But, one trading day doesn't make a trend. Troll street may well keep trolling.