"The administration of the Kherson region has been transferred to the left bank of the Dnieper," Russian collaborator and deputy governor of Kherson Kirill Stremousov said according to Russian state media.
"The banks they opened are closing. The pension office closed. They are transferring their workers and volunteers to the left bank of the Dnipro," said a Ukrainian woman living in Kherson according to WSJ.
Entrance to the city from the left side is now limited with 5,000 'evacuated.' Ukrainians call it forced deportation, while Russia plans 50,000 to 60,000 civilians to be moved out of the city.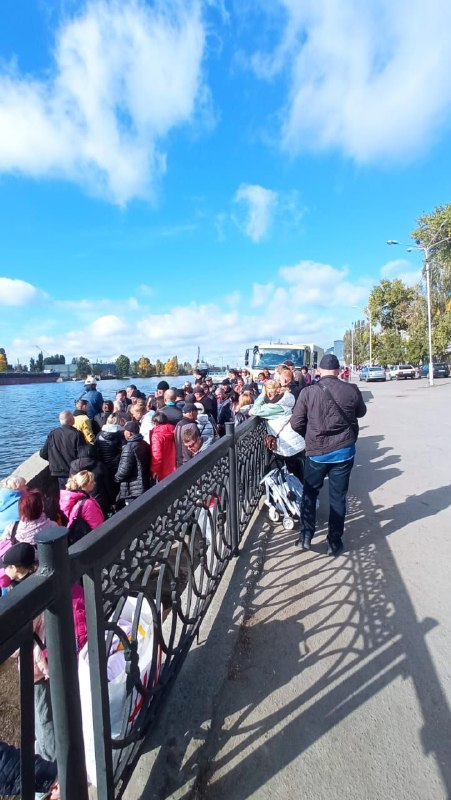 Some speculate soldiers may be mingling with civilians to retreat, while Russians claim they will fight.
There were reports last month of tensions in the Kremlin as Russia's president Vladimir Putin wants to hold the city, but Russia's military professionals are of the view it should be abandoned.
The Ukrainian army has been advancing in Kherson for much of this month, taking a thousand square kilometers before a media blackout was implemented on Saturday.
It is thought there's just one line of defense that needs to fall before Kherson is surrounded.
The Russian army in Kherson therefore is sandwiched between the Ukrainian army and the very cold river, with the city close to being surrounded at any moment.
Following months of preparation that have included the bringing down of many bridges connecting the left and right side, as well as a bridge in Crimea to hit supply chains, the Russian army now has only one route for retreat.
That's the Kakhovka Hydroelectric Power Plant, better known as the Kherson dam.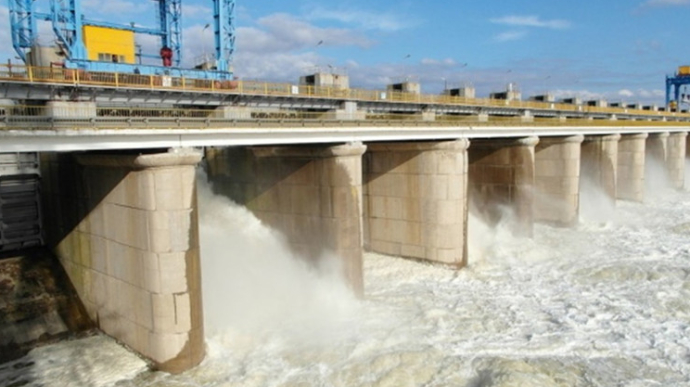 Russians say Ukraine will hit it, but what they probably mean is that they are worried Russian soldiers might be hit by the Ukrainian army while crossing that dam.
If Ukraine wanted to bring it down, they would have done so already. There were open chattery discussions about it in calmer times, and the conclusion seems to have been to allow them for a way to retreat.
To distract from all this, as well as in acknowledgment that Russia's resources are being depleted, the Kremlin has published a martial law decree.
It has three levels. Full martial law in the occupied regions of Donetsk, Luhansk, Zaporozhye and Kherson, which they call a maximum level of response.
That means the military will be in charge of all matters, which presumably it was anyway, and there will be full mobilization, which they applied at the very beginning anyway.
Interestingly Russian state media says there's no mobilization in Kherson, hinting at confusion, but that's from the collaborator with none of these people in the Kherson city anyway.
Then the decree says in Crimea, as well as in the actual Russian cities and regions of Krasnodar Territory, Belgorod, Bryansk, Voronezh, Kursk, Rostov regions and the city of Sevastopol, there's a medium level of response.
Some are calling this an economic martial law, as it provides for " powers to carrying out mobilization measures in the economic sphere," as well as to satisfy the needs of the army.
Then in the Central Federal District and the Southern Federal District of Russia they've introduced a "high alert level regime" which includes "restriction of the movement of vehicles and their inspection," with a level of basic readiness for the rest.
"'Martial law' implementation on the occupied territories by the Russian Federation should be considered only as a pseudo-legalization of looting of Ukrainians' property by another 'regrouping'.
This does not change anything for Ukraine: we continue the liberation and deoccupation of our territories," said Mykhailo Podolya, advisor to Ukraine's president Vlodymyr Zelensky.
More widely missiles continue in civilian areas in wider Ukraine, but neither that nor this mobilization has changed the public's focus on Kherson as that's the battlefield and the battlefield is what decides in the end.
Interestingly Russian state media, again quoting the collaborator, says:
"Today, the Kherson direction, we are not talking about Kherson, the defense line has not moved a centimeter, our troops are holding back attempts to break through… to Novaya Kakhovka."
Kakhovka is on the other side of the river. It has been shelled quite a bit, some say hitting retreating Russian soldiers, some say hitting reinforcements, probably trying to neutralize the area.
Clever Ukraine may of course have ambitions to even take it, no one can rule out any surprises, but a Russian 'source' called Rybar, who entertained with nice big arrows during the last media blackout, has done it again: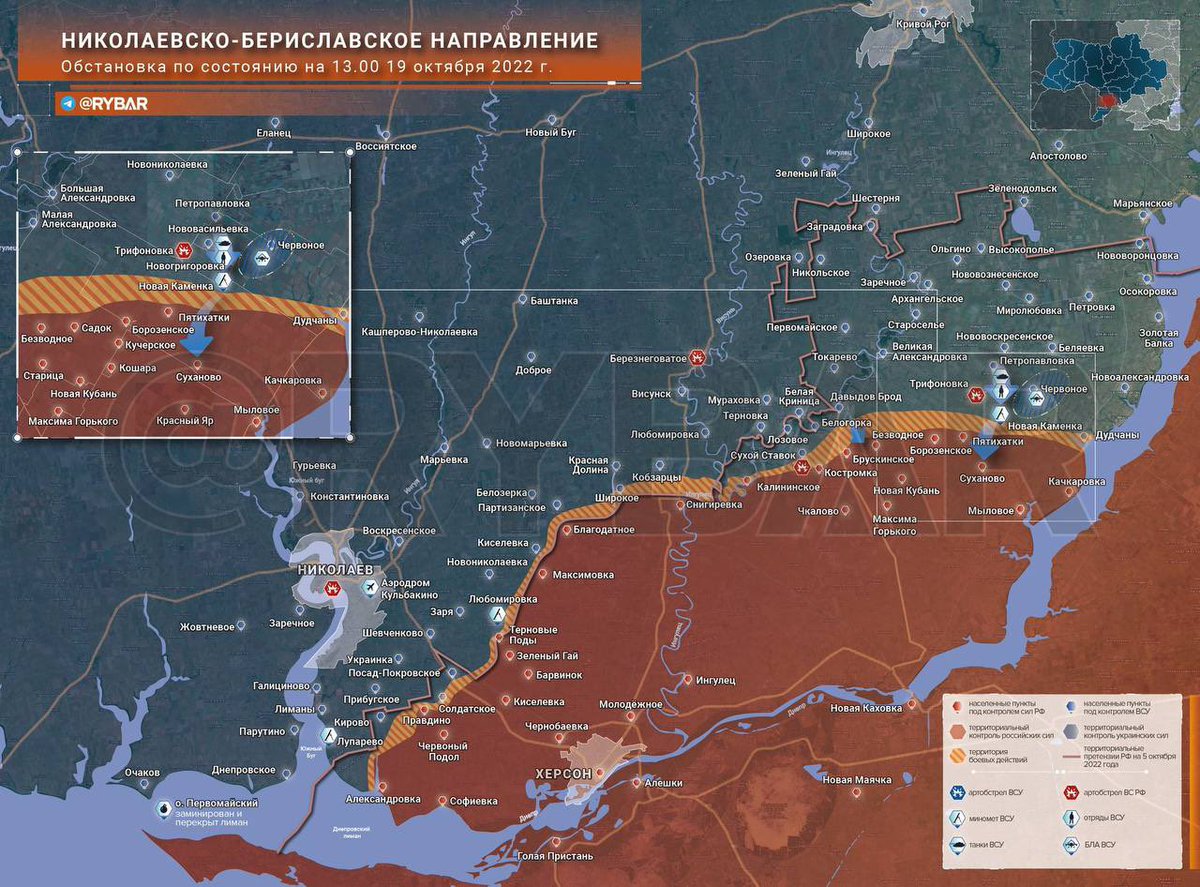 Counteroffensives where those arrows are, were the talk prior to the blackout. The Ukrainian Army had just liberated a village by the river, called Dudchany, Russian forces had retreated to Mylove, and that's when a blackout came down.
Now however some suggest fighting is going on in the entire light yellow line, from the sea to the other end of the river.
The blackout in addition indicates we have no clue what has been taken or not taken, with the collaborator stating they've held attempts to break through to Novaya Kakhovka suggesting they're deep into that red above.
Yet, this is complete speculation, but the Russian army there is clearly in a state of panic, and they appear to think they don't have much time to flee, at least where the wider civilian collaborators are concerned.
Suggestions are that if the Russian army stays, they'll just be picked off gradually, with no easy rout for re-enforcements or supplies. Some even speculate conscripts have been sent to replace the army, which would make it a retreat in disguise.
Politically however retreating won't be an easy decision for Russia, with Podolyak stating:
"Less than a month has passed since the pompous announcement of Kherson annexation and solemn concert on the Red Square, as the self-proclaimed "city administration"…ceremoniously evacuates in anticipation of Ukrainian justice. Reality can hurt if you live in a fictional fantasy world."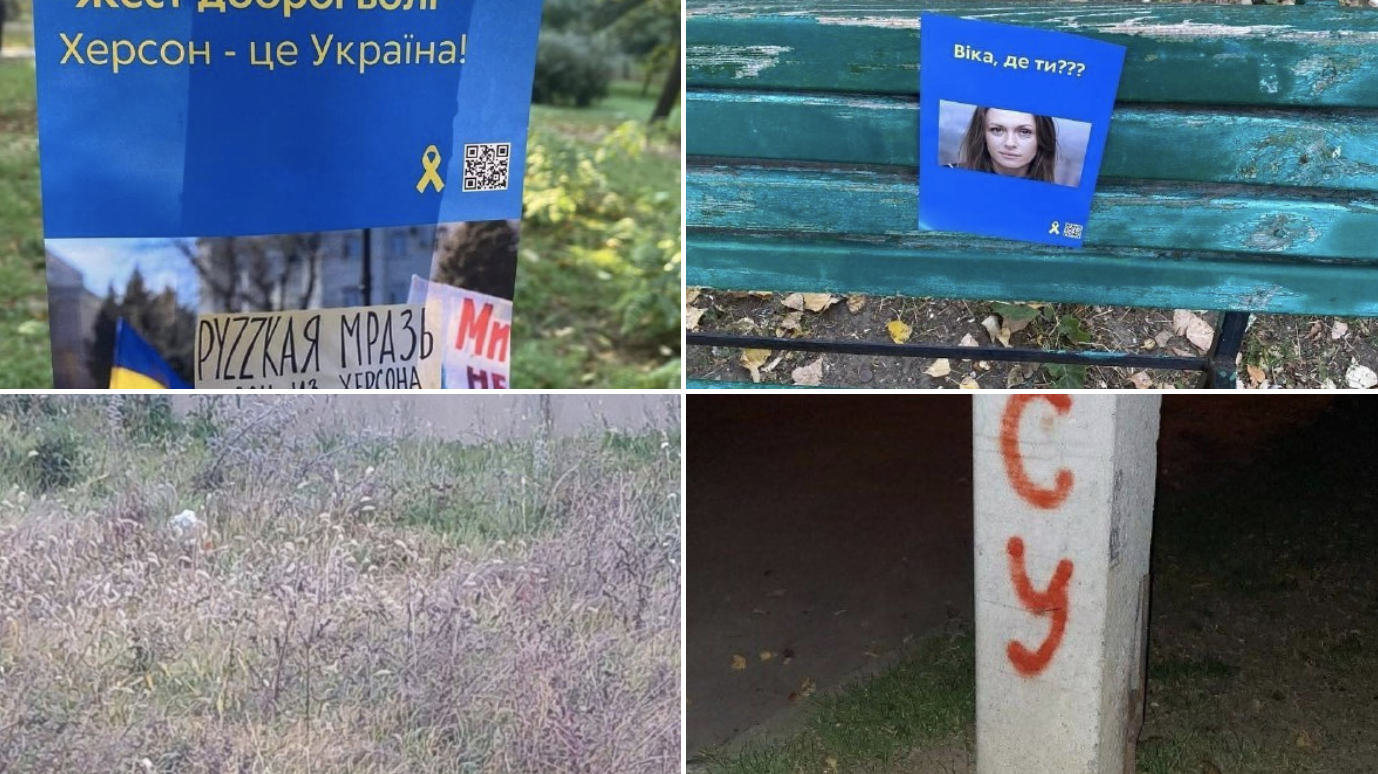 The martial law in the occupied regions may be as a response to potential fears in the Kremlin of an insurgency forming, in addition to security in the Russian border area with Ukraine being volatile as Belgorod has been targeted due to it being a logistics center for the Russian army.
The popularity of the war in Russia is also taking a hit, with Putin's targeting of playgrounds potentially backfiring as the majority of Russians were against the war according to polls taken when it first started this winter.
Considering the stifling atmosphere were even calling it a war is prohibited, that may have changed on the surface but as the self-exile of 700,000 young Russian men clearly shows, they do not think this war is just or even justified.
They all know instead this is an adventure of colonialism, an attempt at country scale systematic theft in effect, while for Ukrainians it is an existential defense of their own land and homes.
The Ukrainians therefore are fighting like lions, with some putting Russian casualties to as much as six for just one Ukrainian.
That may be because unlike the Russians, who are just satisfying orders, the Ukrainians are taking it all very seriously at a basic instinct level.
Because although for Russians this is just a game, in part to keep Putin in charge who was seeing his ratings drop before the war and who may well have thought the war is a way to keep ruling, for Ukrainians this is about their very existence as a people.
While Russians therefore say the battle for Kherson has began, the Ukrainians say nothing. For the matter is serious and has many considerations, and although all are in a suspense of sorts, no one will lose any patience.
Because all the choices and decisions are for the very professional Ukrainian army. It may even take some time, but the Russian army is now sandwiched and faces being driven to the river.