There's a perfect track record of post-midterm U.S. stock gains with S&P 500 rising 19 out of 19 times in the 12-month period after midterm elections at an average of 15% gains.
Who wins doesn't matter. Stocks green ostensibly due to certainty being reached as it becomes clear just what the agenda becomes for the next 24 months.
The race is neck and neck, with 40 million votes already cast through mail-in ballots, its highest level ever.
That may indicate turnout will be high, which is thought to favor Democrats, but betting markets expect Republicans to take the House. Senate remains a toss-up.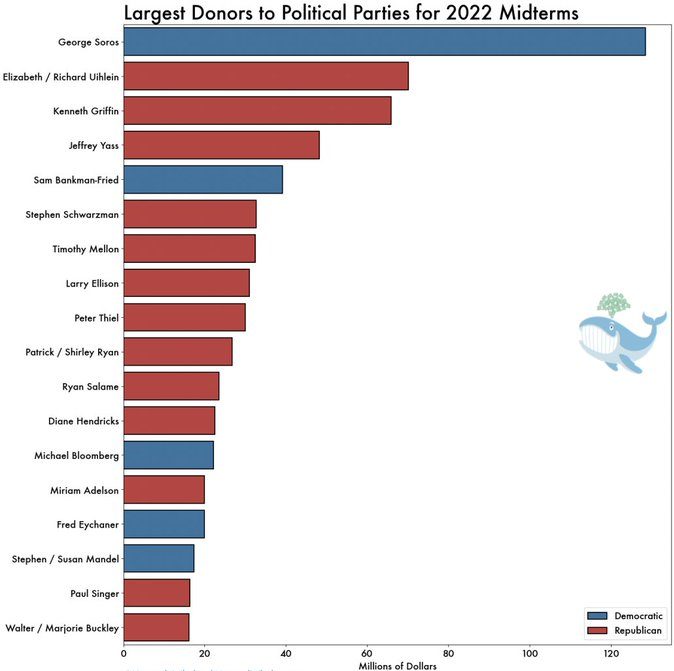 A cryptonian, Sam Bankman-Fried, has for the first time made it to the list of top party donors, with Republicans receiving more this midterm from whales.
Elon Musk supports them too, as does his PayPal mafia colleague Peter Thiel and David Sacks.
"Shared power curbs the worst excesses of both parties, therefore I recommend voting for a Republican Congress, given that the Presidency is Democratic," Musk said.
We all complain about nothing getting done however, so voting just to clog the machine might not be as useful as voting for what you actually want to get done.
Except in the case of Musk what got done was a new 5% tax for the very richest, and for crypto they made it a paid for clause in addition to adding de-anonymization requirements for public blockchain addresses.
Exchanges are going over the top in enforcing those, including non-US exchanges like Uphold which thinks it is any of their business where their customers withdraw to.
This extreme extension of ID requirements has expanded without much debate to the point the centralized crypto industry is far more restrictive than even banking.
Republicans didn't really make any changes when they were in power however, and any positive changes like reforms of the Securities and Exchanges Commission (SEC) are a pipe dream.
Any analysis therefore would have to be broader, and where cryptos are concerned that's on two legs: the economy and the global order.
The two are related where crypto are concerned because we have in mind more the global economy since cryptos are global.
US stocks do affect crypto since that's the most integrated stock market, and so the US economy in particular matters but we suspect bitcoin's spot price is set more by global commerce, and global commerce relies on global order.
Former president Donald Trump attempted some changes to that order in a certain style, which ended up with a devastating 2020 due to, we think, him not being sufficiently astute, witty and sensitive in certain negotiations and attempts at re-arrangement.
Nationalism, what is it good for? That's especially when you consider an economy like USA with president Joe Biden getting top marks on that foreign policy, sufficiently so that some might already think he perhaps deserves a second term to have time to fortify that policy.
On the economy however, a lot depends on how it works out moving forward. Currently, we're starting to come out of a coalescence of events that makes the economic situation difficult for now, but it is anyone's guess whether in the more medium term it will lead to a structurally stronger economy.
Neither party quite has the answer here because you need both more investment in industrial tech, and a faster growing private sector than public spending to re-balance the proportion between the two as it has gone too far towards the public sector to the point that may be the cause of low growth.
It's instead often the case that one party provides one, and the other provides the other, ending up with an ever increasing debt level as either taxes are cut while spending is also cut, or taxes are raised while spending is also raised, so in effect cancelling each other out.
To both adjust private/public and keep focused spending is rather bold, and it's unlikely anything bold will come out of this midterm especially in the current situation as the economic re-adjustment needs to be cleared out first.
Markets therefore don't necessarily care who wins, especially as it is not a presidential election, with green expected either way.
And where this page is concerned, we wouldn't say to vote either Republican or Democrat, but to vote for the candidate they have put forward.