The winter freeze of London streets was not enough to keep away an estimated 5,000 attendants at the tech expo on Thursday and Friday.
More than 100 speakers participated in five stages scattered throughout the exhibition which also featured crypto and blockchain projects.
EOS apparently is still alive, even though it never recovered this bull market to the 2018 highs.
Our reporter was told the community had forked off Block One, the startup that coded the blockchain. Block One had also been sued to return $1 billion.
Overall they sold an estimated $4 billion worth of eth in 2018 with the court case still ongoing.
There are not two EOS-es however, it is still just one EOS. It's just that Block One has been replaced with the EOS Network Foundation.
Stuarts Law had set up a booth. They're a law firm in Cayman Islands that has now expanded to advise on crypto.
They have served about 200 crypto projects, Chris Humphries, the Managing Director, said.
That was mostly for company formation in Cayman Islands where there are no taxes, but some had worked on Security Tokens (STOs).
Venly, a crypto wallet you might have not heard of nonetheless claims 3 million users and $1 billion in assets under management.
They also claim the crypto in their custody is insured, and recently announced they are working with Stripe for crypto transfers.
Deepcoin, which doesn't have a coin of its own, was boasting 175x leverage on crypto on their BitMex like exchange.
This little known exchange also claims more than one million users, but we were told it doesn't need any licensing because it deals with crypto only, no fiat exchange.
Also we were told Sam Bankman-Fried can't happen here because they've recently done a Proof of Reserves, but that's just a snapshot in time. The contents can of course change after the snapshot or at any point.
A new blockchain was on display called Radix. It has just 100 validators, but interestingly they claim they plan to launch sharding in 2024, in just two years. State sharding.
Its founder, Dan Hughes, was asked how he plans to crack sharding when Vitalik Buterin, ethereum's co-founder, couldn't.
He stated that he didn't think Buterin couldn't crack it, he just couldn't maintain backwards compatibility.
The problem, as was pointed out, was connecting these shards which in the design that ethereum's sharding had, it would take too long to move assets from shard A to shard B.
Hughes said his plan was to have three shards. Validators within each of these shards need to first agree on the state of the blockchain, and through this agreement you get atomicity, he claimed.
He also tried to demo a prototype of Twitter running on Radix. That didn't quite work at the expo, but apparently they have also cloned Youtube.
Easy to do. Hard while maintaining decentralization. But, best of luck to Hughes on sharding, although we don't quite expect any results.
There were also some blockchain specific firms. Asked why use a blockchain instead of a database, the main answer was security which can be important for a company like Leonardo that works in defense.
The crypto and blockchain part of the exhibition was fairly populated. You wouldn't know from it that we're in the depth of a bear market, with new projects continuing to try and tokenize like Kodo, which tokenizes real estate.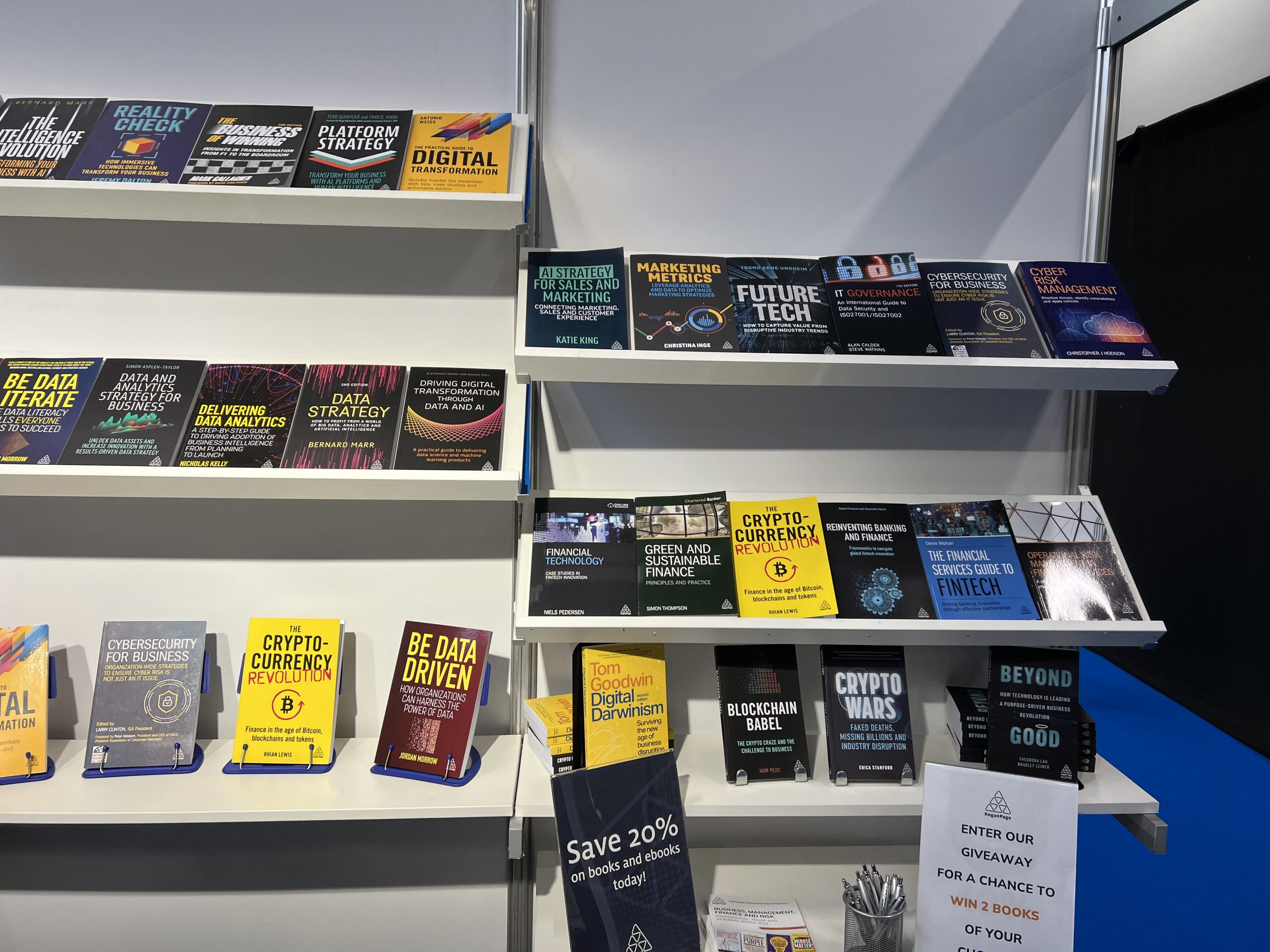 The most interesting takeaway from this exhibition however was the humans.
In particular, a representative from Keeper, which is more password management and was at the Cybersecurity section, said he was glad he was asked about crypto because no one had asked him yet, even though he works on security.
I have crypto, he casually mentioned, and they plan to launch a crypto wallet soon-ish.
Another startup, that is lost somewhere in the many business cards, was trying to get rid of passwords and replace them with fingerprints. That was the example given, although he said they provide other tools too.
They were working with a crypto project which was left unnamed, and see crypto as a potential market after years of providing security for banks. I have crypto, he also said casually.
The reaction was very different at an IoT project. After explaining what all the tools were, the representative was asked if this has anything to do with the blockchain.
No, he said, nothing to do with the blockchain, nothing, I hate the blockchain. His thick Irish accent made his response sound a bit threatening, though it is not too clear whether he was angry with the blockchain or with the fact that he unknowingly was interrupted from eating his lunch.
The blockchain reaction was curios, though he was a salesman with it quite unclear whether that makes it better or worse from a cultural attitudes standpoint.
The crypto reaction however was a lot more interesting because these experts in cyber had crypto, but the public had not quite bothered to ask them about crypto.
Whether we can generalize from that, is up to the reader, not least because the Keeper booth had been quite busy.
As a subject, security and crypto sort of go together, so it would be a natural topic to bring up, but the public has clearly left.
What remains is the 'experts,' or the more informed, the more knowledgable, and dare we say the more intelligent.
The admission was free for the exhibition, so this was the ordinary public rather than suits.
On the other hand, the crypto section was fairly busy. So the public remains interested, just not hyped.
In some ways, that makes this the best of times in crypto. Not least because this quiet productive building period is now much wider in participation than even a few years ago.
There was a time when these experts would have asked what is crypto if that topic had casually been brought up.
Now, they seem to be either… excited is not quite the word, more as if any ordinary topic had been brought up. Yet, they still want to point out that they have crypto. That's probably to let the listener know that they do actually know what crypto is and they even have it.
Making it different from any other ordinary topic as crypto clearly is still a new innovation.
The other reaction however is the thick Irish accent. That's generally probably individuals that have some basic information about crypto or blockchain, but not much else.
That's the '5 minutes occasional crypto section on the news' crowd. That's probably all they know about crypto, just like those working in the crypto industry only know the occasional headline when it comes to satellites or whatever.
The semi-aggressive reaction however, although only vocally, can be a reason for concern for this industry as we don't have to willingly allow this sort of opinion to be formed for them mainly by the mainstream media which tends to be very biased towards crypto.
Although in this case two to one is not a bad outcome. It was enough to disqualify Germany from the World Cup. Yet, the crypto industry does spend a lot on advertising. Some of that should go towards what we can call the crypto image.
We have to combat this bias in the mainstream media because we are past the point where it is just something that is to be expected because they are uninformed.
At this point, they are instead trying to engage in opinion formation, and one way to effectively fight them is by also engaging in opinion formation through advertising.
That's probably the main takeaway from this exchibition. The Security Architect likes crypto, while the salesman hates the blockchain.
In other words, the upper class, upper middle, and maybe even some of the middle, are cryptoing. The rest, maybe 70% of the population, either have been opinion formed or aren't interested.
For crypto to reach through another 20%, more effective communication is needed both to reverse some of the mainstream media conditioning and to answer that very important question: why crypto.
That's a question still asked, a lot, though more internally during the opinion formation stage with the vast majority of the public probably being indifferent rather than thick Irish accent.