Bitcoin ETFs have become the biggest gainers among all exchange traded funds for weekly returns.
The ProShares Bitcoin Strategy ETF (BITO), the first bitcoin futures based ETF with half a billion in assets, has returned the most gains at 14.62% in the past seven days.
The Valkyrie Bitcoin Strategy ETF (BTF) is not far behind with their $62 million of bitcoin futures, rising 14.49%.
VanEck and the Simplify Bitcoin Strategy PLUS Income ETF as well as the Hashdex Bitcoin Futures ETF saw similar gains, up about 14%.
Only an ETF tracking the Turkish economy makes it to the leaderboard for returns outside of bitcoin.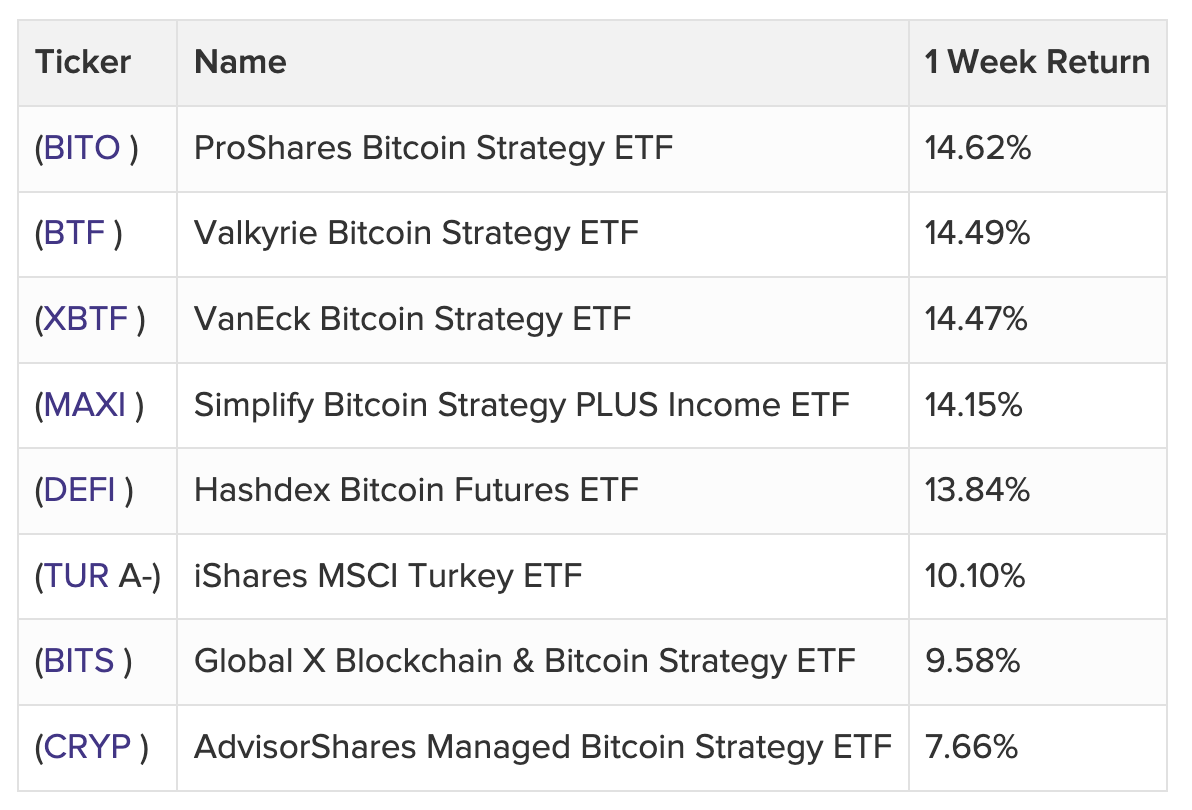 In Europe, the bitcoin spot ETN, BTCE by the ETC group trading in Germany's Xetra, has seen gains of 25% in the past two weeks for their 17,168.817 bitcoin.
There have been stocks that have outperformed bitcoin, but its dominance among ETFs may provide the asset more exposure if and/or once it properly enters a bull market.
That would be a new development as these future based ETFs did not exist for much of the 2019-2021 bull, starting off instead at the very peak in October 2021.
The European ETNs started earlier, holding $2.5 billion in 2020 with just BTCE crossing $1 billion in early 2021.
Likewise the Canadian ETFs started in mid 2020, catching much of the bull, while Americans were given the end of it by their often captured bureaucrats.
This time however these ETFs, though futures based, are available to stock portfolios even during the accumulation phase.
This is the first time bitcoin ETFs top gains in this category as far as we are aware, therefore this sort of exposure may attract more attention among stock investors.