Bitcoin has taken and then given away $23,000 for the past week, with this developing into the biggest resistance line so far, even more so than $20,000.
The crypto now sits just under $23,000, but that it returned after a dip to $22,300 is a relief for many bulls.
Traders were speculating that dip is instead a dive, to perhaps $20,000 or under, but bitcoin made a strong comeback, even touching $24,000.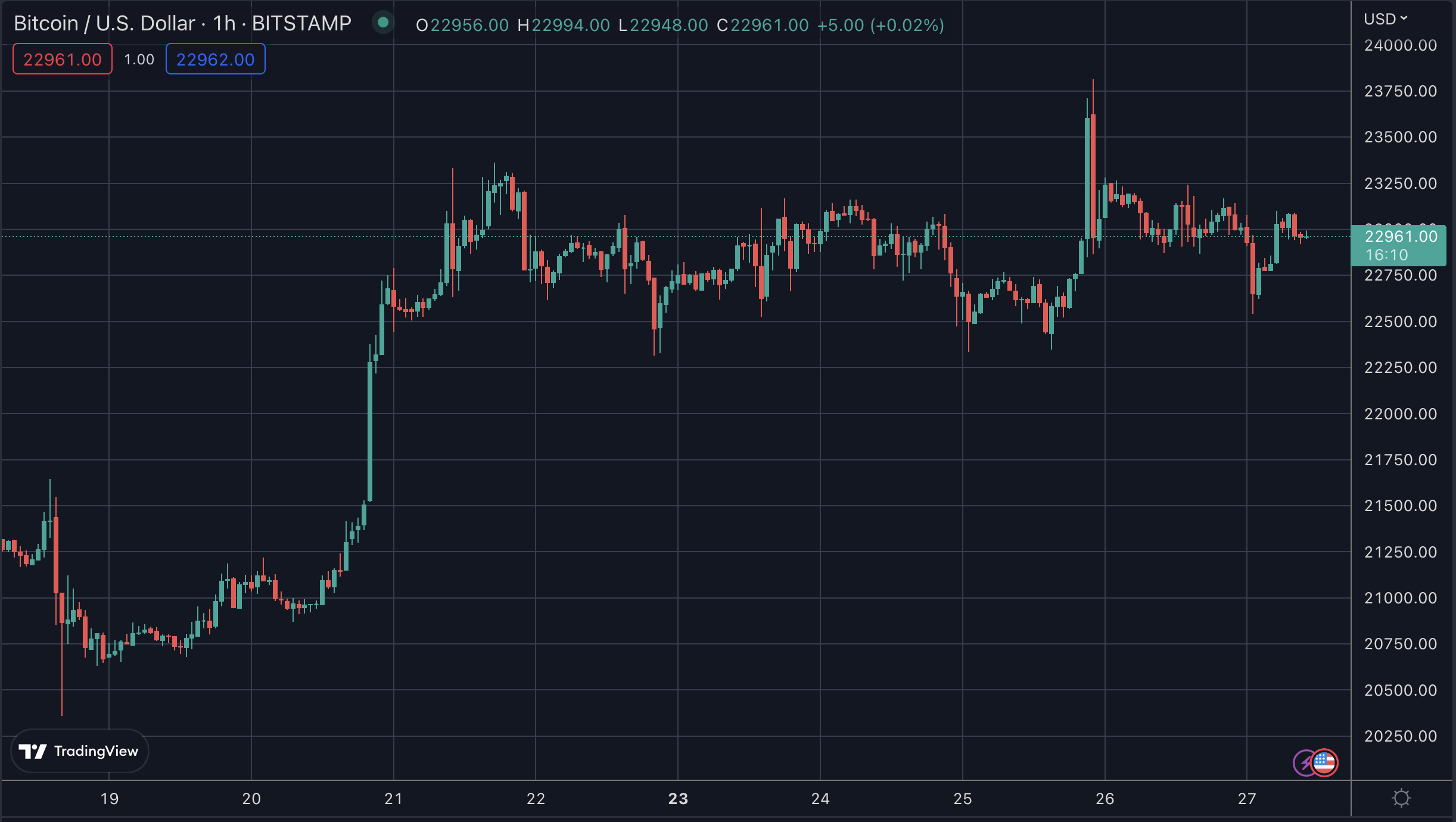 Tesla revealing they have kept holding is maybe one reason, just as is Nasdaq rising by close to 2%.
Growth is also steady at 2.9% quarter on quarter, but has significantly slowed down over last year to just 1% for the fourth quarter, down from 1.9% in Q3.
Nonetheless this has given an overall growth rate of 2.1% for 2022, more in line with pre-2020 growth rates.
The downtrend over last year however might be concerning, although in one way showing much growth over the 5.7% gain in Q4 2021 was always difficult.
If it keeps this rate then we might see good growth in Q1 2023, although tech layoffs have been accelerating and might start spreading to the wider economy.
Jerome Powell therefore and the Federal Reserve Board will have a difficult meeting next week as they decide what further to do with interest rates.
Everyone expects them to increase by another 0.25%, but less predictable is whether they'll hit a pause thereafter or another 0.25%.
Looking forward, there's speculation they might start cutting by autumn. Inflation is now nearing the same level as interest rates while being in a downtrend. Many expect it to cliff off in March. At that point interest rates may be far above inflation, giving Fed no choice but to cut.
These macro factors are feeding into a more bullish sentiment for assets than we've seen so far, with bitcoin being the top asset of the year.
Yet almost everyone expects it to top off at $25,000 where they claim there is unconquerable resistance.
The resistance at $23,000 however may be pre-empting that $25k. Rather than $25,000, it may be here where bulls and bears are fighting for the new territory.
If it clears it therefore, it may head off to maybe $28,000 where the biggest resistance might sideway it for months or dip, maybe until summer if sideway.
This tension at $23,000 in that case would be understandable and since alts haven't started taking their own turns yet, it seems that for now bitcoin still has some show to give.