Disinflation is on. That's according to projections by the Bank of England (BoE) which said "we expect inflation to fall quickly this year."
A quick dive is forecasted that expects inflation to fall to 3% by Q1 2024, and then below the target of 2%, down to near zero as pictured above.
The Bank of England nonetheless still hiked by 50 basis points to 4%, but it pointed out "two members preferred to maintain Bank Rate at 3.5%."
That indicates a debate is now on after Fed's chair Jerome Powell also stated we are in "disinflation."
"It is gratifying to see the disinflationary process now getting under way," Powell said while pointing out it has only began and Fed rates are not yet at a "sufficiently restrictive policy stance."
Markets are looking ahead however with rate cuts clearly on the table if inflation is going to fall to 3% and even below target.
"In the MPC's central projection conditioned on the path of market interest rates, CPI inflation declines to below the 2% target in the medium term, as an increasing degree of economic slack is expected to reduce domestic inflationary pressures alongside continuing weakness in the assumed path of energy price inflation (Chart 1.5).
At the two year horizon, CPI inflation falls to 1.0% and, at the three-year horizon, inflation is projected to be 0.4%," the Bank of England said.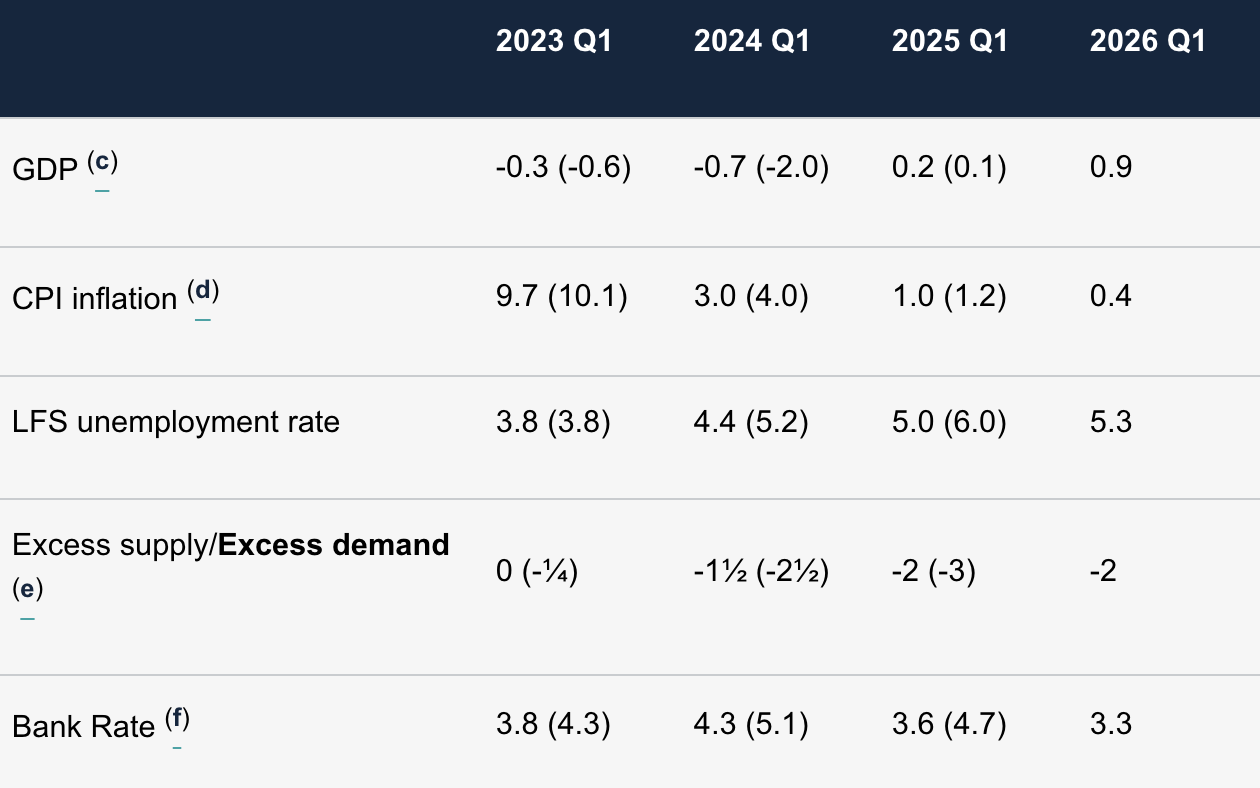 Powell also hinted there may be rate cuts as he said if Fed has overtightened, it has tools available.
"If we feel like we've gone too far, and inflation is coming down faster than we expect, then we have tools that would work on that," Powell said.
However, he also stated that some economic contraction and some increase in unemployment would not be sufficient to cut rates.
BoE also seems to be projecting interest rates of 3.6% with inflation at 1%, and even 3.3% at almost no inflation.
How sustainable that would be politically is not clear as they would effectively intentionally be keeping down growth for no stated reason.
The debate on whether they should hike further may also now intensify after deflation has been acknowledged especially if the downtrend on GDP growth over last year turns into an actual recession.
Markets expect only one more hike from Fed by 0.25%, but Powell suggested there might be a couple more, though at this point markets are seeing these decisions as temporary, and therefore are trying to price in potential rate cuts later this year.