The iShares Core S&P 500 ETF (CSPX) by BlackRock is now a token on ethereum trading on the defi platform Uniswap.
It has the same process as USDc or USDt, but with shares and by an entity that claims to be fully regulated in Europe.
"Permissionless tokenized securities are here thanks to Backed Finance," says Sébastien Derivaux, an Asset-Liability Manager for MakerDao.
Backed Finance launched in early 2021 with a seed round from Gnosis, Semantic Ventures, and Stratos technologies.
They're based in Zug and state they have been approved in Liechtenstein by FMA as of 9 May 2022, as well as in Switzerland by BX Swiss AG as of 23 May 2022.
The token legally is classified as a certificate. For every bCSPX they buy a CSPX share and hold it with a regulated custodian.
The broker and custodian is Maerki Baumann & Co according to their terms, while the tokenizer is Backed Finance.
"Assets in global capital markets can benefit heavily from tokenization," said Adam Levi, Co-founder of Backed.
"Crypto markets run 24/7, settlement can take less than five minutes, and asset transfers are seamless.
Backed is committed to realizing these benefits securely and transparently, and Chainlink Proof of Reserve is a core tool that will help provide our clients with unmatched transparency."
The token part is on the blockchain, so the Proof of Reserves on that aspect is native, with this ETF looking very familiar on the ethereum blockchain.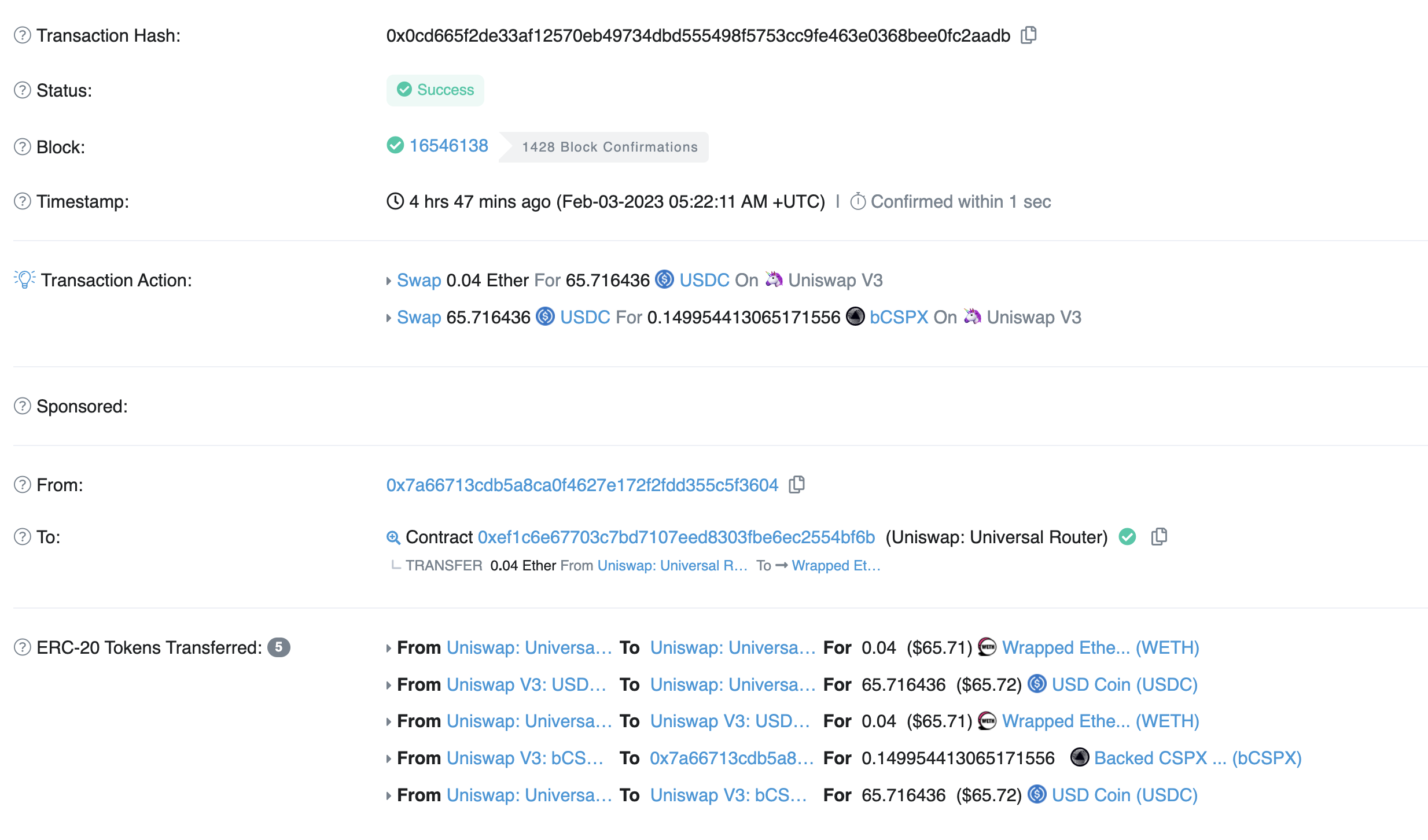 We have a simple swap here from tokenized dollars to the tokenized ETF on Uniswap, showing a familiar sight of what is in effect a bridging of two different markets.
"Users will be able to integrate new assets to their DeFi strategy," Backed says. "Lend Google tokens on Compound, use Apple as collateral for Maker's DAI, include ETFs into a Yearn strategy, and create new DeFi derivatives based on Tesla, among countless other options."
Yet the token is not seeing much usage, partly perhaps because a lot of this integration with wider defi has not quite happened.
Without such integration, investors may wonder why have it in a token form instead of as a share through a broker like their other stocks.
Easier access can be one reason. In addition if you have eth, buying this ETF would be just a click without needing to sign up with a broker.
To mint or redeem the token you have to go through KYC, but otherwise it is freely available on secondary markets like Uniswap. Only 100 have been minted however, with bootstrapping clearly being very difficult.
That might be in part because defi dapps might be worried that although this is regulated in Europe, the US Securities and Exchanges Commission (SEC) might take a different view.
Still, a smart contract is decentralized and there are plenty of defi dapps now, some of which don't care for SEC as they're not based in US.
The issue therefore might be more demand, and that might be in part because Backed is not quite known, relying maybe on word of mouth which is probably no longer a viable strategy now that the crypto market has expanded considerably.
And a more fundamental issue might be that getting funds into the crypto space is fairly easy, but it used to be a lot harder and that may have created a mental firewall of sorts where crypto funds are left in  the crypto space for crypto.
The value proposition for something like USDc is obvious as you want a relatively stable unit of account in crypto finance.
But to illustrate by an example, we did not testrun bCSPX because we don't want to turn our eth into the S&P500 index as it might underperform eth.
You could bring in dollars into the system for just this tokenized ETF, with the ETF itself being very popular as it has $55 billion in assets under management.
But the value proposition here seems to be mostly for hedging strategies for traders or to borrow from the tokenized ETF through collateralization which itself can potentially be part of a wider trading strategy.
In addition it would be interesting to see the uptake for stocks like COIN or MSTR which are more crypto related.
Bonds also are fairly difficult to access even through brokers, so they might attract more interest perhaps even to compete with or be used as a substitute vis-a-vis tokenized dollars.
Making this project interesting with potential use cases especially if you can't access the stock market because you're not in US or Europe.
In addition borrowing through stocks from brokers is not too easy, while through defi it is straight forward. So demand might increase as this is a very new project and has operated mostly during the bear.
It may be however that Backed needs to provide some sort of incentive to properly bootstrap, perhaps through some yield strategy like other defi platforms.
Doing that in a regulated way might not be too easy, but Switzerland is very accommodative and it may be very difficult to compete otherwise.
Out of numerous stock tokenization attempts however, this one seems to be the most professional so far, but whether it will establish trust in this space, which is very difficult, remains to be seen.