500,000 Russian troops are at the edges of Europe near or in Ukraine in what the Institute for the Study of War (ISW) described as an "imminent offensive."
"We do not underestimate our enemy," the Ukrainian Defense Minister Oleksiy Reznikov said las week, advancing the figure of "500,000 Russian soldiers" mobilized by the Kremlin. "Officially, they announced 300,000, but when we see the troops at the borders, according to our assessments it is much more."
ISW says it is not clear whether this refers to all troops Russia has committed to Ukraine, with 326,000 Russian forces currently fighting in Ukraine, or whether it's 500,000 new troops.
There are 150,000 conscripts still at training grounds, bringing it to 476,000, which may be what the minister meant.
A surge in effect. It may be 200,000, or perhaps even 350,000 new troops, expected to go in within 10 days some Ukrainian officials say, but two or three weeks.
Near the end of winter has been Russia's chosen time both for the invasion of Crimea in 2014, and the attempted full scale invasion starting last year.
And considering the intense fighting in Bakhmut, the portal to a claimed underground city of tunnels, these new troops may make it more difficult for the Ukrainian army, though if it is 150,000 – 200,000 it may be manageable.
War is inherently unpredictable however. So attention and preparation has been focusing on this surge for some time.
Some say the next two-three months may decide the war, but this is a very complex war and just how you decide it is not too clear.
Arguably from the Russian end, the best realistic outcome is what they probably could have had without firing a shot.
Rather than aiming for Kyiv, if they had quickly moved into Donbas, the areas they controlled, and kind of made it a semi-official Russian protectorat, then it may well be we wouldn't be talking about Ukraine now.
The decision to launch a full scale invasion instead made it a European matter where the public is concerned, and arguably has made it a matter where Russia can't quite win because the European public – regardless of what politicians might think – won't allow it.
The only way they can win from their perspective is by securing the areas they control and by Ukraine being unable to make a dent for months to the point one can say it is a stalemate in that part.
There's a problem however even in this scenario, and it's a very big problem conceptually. The problem is that Russia has caused a civil war situation even in areas they do control.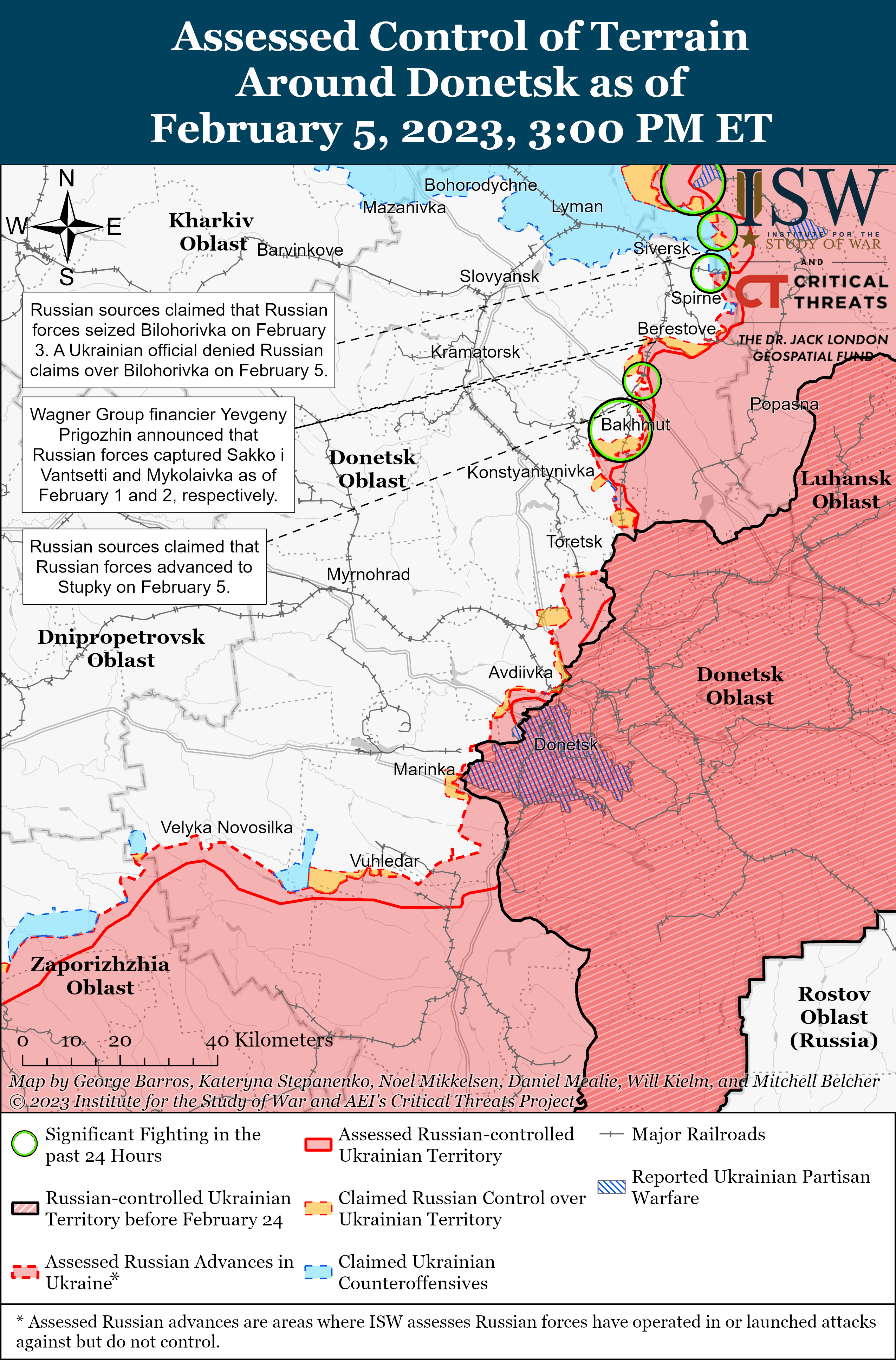 We had our own problems to deal with in 2014, including ISIS and much else, and when Ukrainians pointed out this war has been going on for nearing ten years now, plenty brushed that aside as old history.
But seeing the huge area of partisan resistance, and that's the people, makes it somewhat clear why this war has been going on for so long.
Back in 2014, Russia and Ukraine did reach the Minsk agreement and a ceasefire after Russia sent some little green men to Donetsk and Luhansk, but the people clearly did not agree because fighting continued and peace was not quite reached.
Since that 2014, those little green men and the Ukrainian army were not fighting each other, except holding the trenches, but the fighting kept on as clearly some of the people there decided to fight.
It is an occupation afterall, and in 2014 Russia claimed it was a civil war in those areas, although it was caused by Russian green men.
So, not a real civil war, but regardless of classification, the fact resistance continued by the people for years, and still continues, suggests that even a stalemate is not quite a solution.
Crimea however has largely been peaceful, though some claim problems with minority rights, especially Tartars, but Donetsk, let alone the new areas Russia has occupied, have not been peaceful at all.
That leads to arguably an inescapable conclusion even if we try and look at this in an objective and neutral way. The only way to reach peace may well be for these areas to be liberated. Otherwise even if politicians agree, the people might keep fighting as they have.
The winter surge therefore will probably be followed by the Ukrainian spring and summer offensive when the cavalry can march to take back their own land.
And at this point one can ask would that be followed by another winter surge and another spring offensive?
At some point it would be pointless, which is why conceptually a stalemate somewhere was potentially at least a suggestion, but if the people themself are fighting then that too arguably is pointless from a big picture view. It's obviously not pointless to Ukrainians who are defending themselves and fighting their war for independence, but arguably at some point it would become pointless for Russia.
If they could not pacify Donetsk for nine years, what's nine years more going to change?
Well one angle to this mess, as it is especially from Russia's point of view, is that their president Vladimir Putin probably went into Ukraine in great part to secure popularity and re-election.
He was becoming very unpopular prior to last February with the Russian economy not doing well relatively speaking and people were starting to get bored of him, a sort of non-existent figure.
His action last year made him relevant again, though for wrong reasons, and picking a fight is probably how he thought he'd get back some popularity.
His problem is that times have changed. It doesn't feel like it, but they have. One clear example here is regarding his views on climate change. Even a few months ago, let alone two or three years, holding the view that climate change is irrelevant may have been… not necessarily reasonable but part of a debate. Now, it's no longer something you'd comfortably say publicly, at least in Europe, not least because too many are being taken away by cancer causing pollutants and we all like clean air.
As a gas and oil exporting country, this matter has extra dimensions for Russia, but if sentiment is shifting in their clients to say renewables, then Russia has to deal with the facts, not just preferences.
Apparently they've declared an environmental group, Movement 42, as foreign agents. These are just kids that are saying we shouldn't pollute, and we can afford not to, but unfortunately for them they have a grandpa who is not quite keeping up.
Putin therefore has to decide, and he has not yet, whether to run for re-election in a world very different from 1999 when he took over.
Plenty say it wouldn't change much either way, but new is new and it would be someone new if he does not run.
Handpicked or otherwise, leaders would at least have cover to talk to him, or, well not her anytime soon in Russia.
And such new president would have more room for maneuver. He can for example say Donetsk is not controllable, but we're keeping Crimea, and who knows what Ukraine would say to that.
Putin can not say anything to them because Ukraine can't hear him, rightly arguably considering his actions.
If he does run, he'd be a ghost really of long gone times as Putin is and has become what he is because of George Bush, who not only is no longer in charge, but is very much disliked.
At some point, you don't really rule anymore, you are being ruled by events maybe or whatever made you, but you have no agency as such, you're more a fixture.
Very different from the young Putin who restored the civil service, though made the mistake of doing away with democracy when Poland and much of the former communist block was able to restore the civil service and keep all the good things that increase prosperity, and did so around the same time.
The current Putin instead has gone off to follow the cowboy Bush line of reasoning to its end, when there is no longer a Bush to give Putin justification.
It's like a cartoon where the coyote keeps walking on thin air, thinking they're still on solid ground. But the air has changed, while Putin hasn't.
Still he may run again, keep Russia hostage to long gone times, but one does hope that Ukrainians soon wake up from their nightmare, and the Russian people too.
Where markets are concerned, trade has largely been cut-off with Russia and if it is 150,000 new troops, then it's just a surge rather than a massive new attempt at Kyiv.
A surge would still make it difficult for the Ukrainian army, but it might not change much for markets as there aren't really any sanctions left that can affect prices.
Still markets will probably pay attention to the surge itself once it happens as if it goes very badly, then peace might be closer and if it goes very well then Europe and US would have to do something.
It appears somewhat clear however that there isn't quite a solution to this except Russia getting out as the fighting keeps on even within areas occupied.
The Ukrainians have too big of a prize, the prosperity of Europe, to not fight and therefore Russia might just be wasting time.
They can drag it on obviously, but the real surge in the end may well be politically. What is the Russian elite thinking and does that matter on whether Putin decides to run and will Putin run?
Some of that might be affected by the surge, but rather than Ukraine, Putin now has a big decision to make domestically, including whether he thinks he can actually keep ruling for another five years.