After briefly crossing $24,000, bitcoin has held up for more than two weeks now above the new line of $23,000.
That continues the path so far, with bitcoin pausing after some gains for much of this 2023.
Slowly, it has gained from $16,000 and the big question is of course whether the current pause speaks of more slow rises.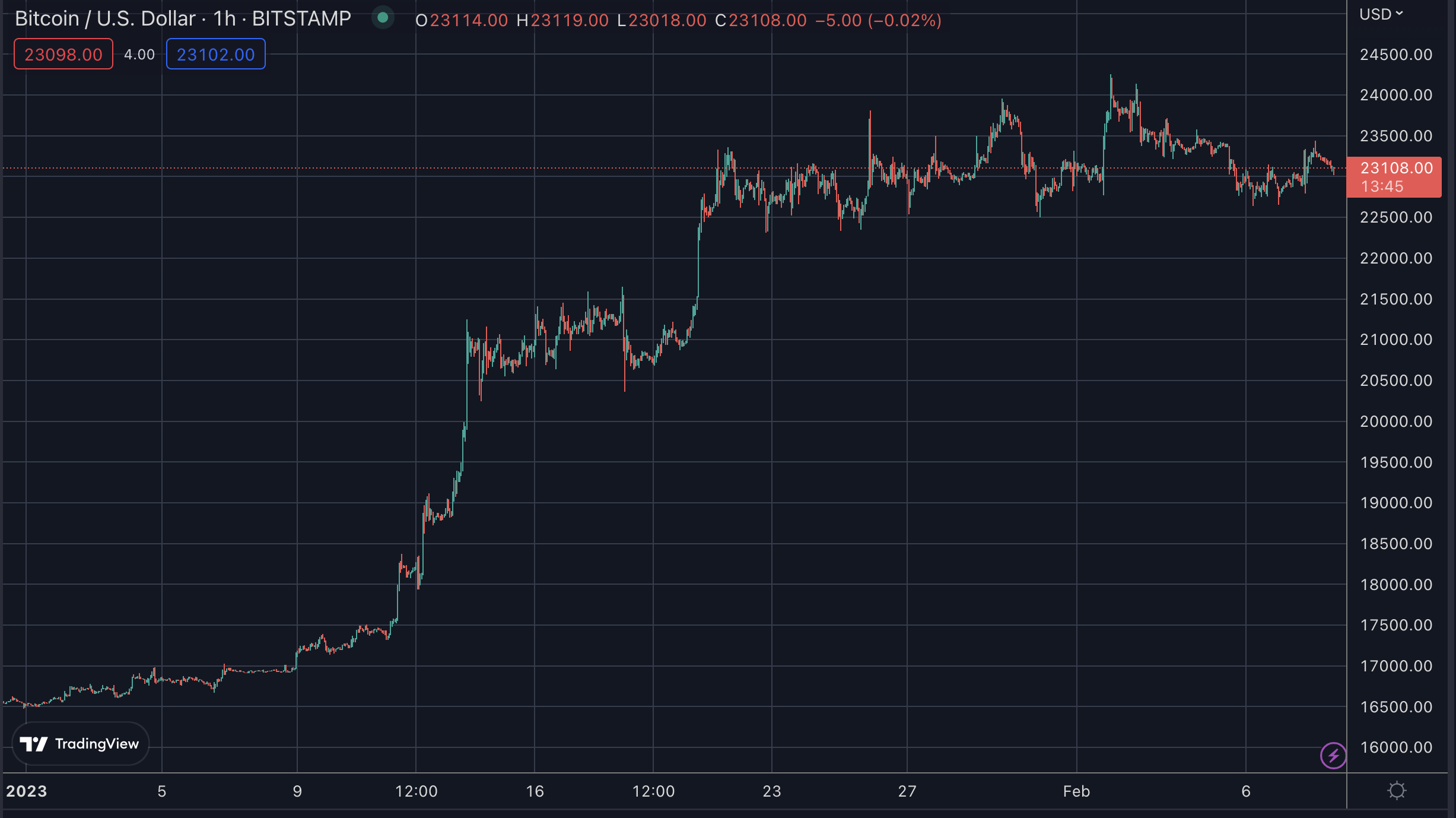 The current sideway at $23,000 is the longest so far since this bull began, probably because the next real resistance is at $28,000.
Some put it at $25,000, but the sideway here may well be the $25,000 sideway and it is taking its time because if it moves up, then bitcoin would have kind of recovered to the more comfortable place.
$28,000 is sort of the equivalent of $6,000 during the last bull. Still down, but not house on fire carnage down as $3,000 was or indeed $15,000.
A recovery to $28,000 and keeping it would be a fairly good signal that bitcoin has strength and it might put the market more at ease.
Building confidence there would be a nice building block for the timid bull who is still probably very scared.
And so it is asking itself: are we really doing this? Well, bears say it might go to $19,000 first, the nice little dip for everyone to take the train.
Yet it hasn't dipped for two weeks with bulls asking themself whether the train waiting is good enough and whether it might actually leave instead of giving a second chance.
That puts the current situation in a standoff. One little spark and the bulls might charge. Likewise, the bears might hit to scare it off.
In our view, anything below $30,000 is a sale, and even $40,000 if you have year end in mind. But whether it dips and you have a better opportunity, we have no clue. We can say however that this does have the potential to zip up ahead, and maybe not see these price levels again – at least for some time.
Because the only thing that might keep the bull timid is just how bad the recession will be and its still to pass.
Q1 data may give a better idea, but the slowdown may have accelerated in growth measured over last year perhaps to even near zero in US.
All the layoffs in good paying jobs in tech will have ripple effects, as will banks no longer quite lending as much.
Much of this should have been priced in during the havoc last year however, but it's what makes the bull timid and may stay that way maybe until September or October when all this should have cleared hopefully.
So the young and brave might go in now, others might keep waiting, but for all it may well be we do have a train now, and when this thing choo choos, it waits for nobody.