Bitcoin has risen above $26,000 for the first time in nine months since the Luna collapse in June sent its price diving from $32,000.
That $32,000 might now be the new resistance in due course after what traders saw as key resistance at $25,000 has been taken.
Bitcoin is trading just under that $25,000 at the time of writing, presumably because the bull remains very cautious and tentative after a year long brutal bear.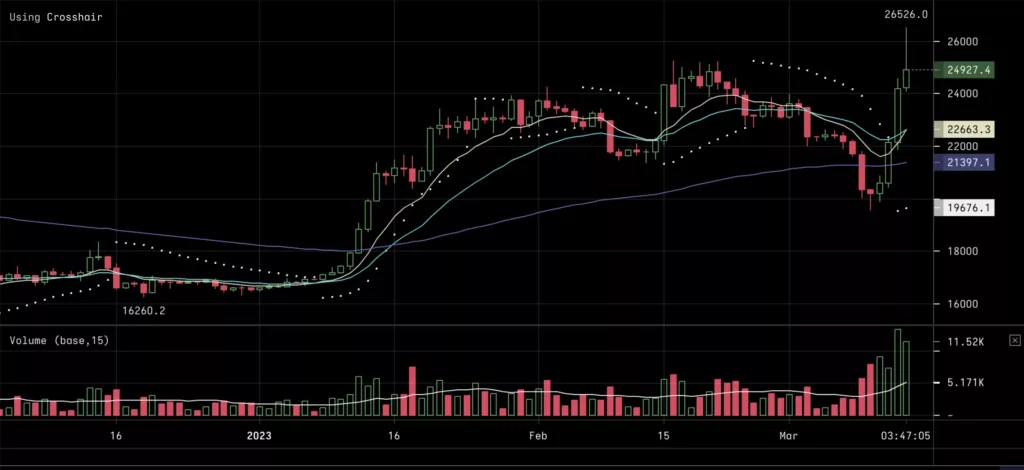 Yet new fire might be added to both bitcoin and cryptos more widely by the collapse of three banks last week: Silvergate Capital, Silicon Valley Bank (SVB), and Signature Bank.
Two of them were seen as crypto focused with Silvergate bought out by Barry Silbert back in 2018 before it went public, while SVB was tech focused.
Tech is having a very bad year, the worst since the DotCom crash in 2000, in part because of preemption as startups have been advised to go into survival mode.
That raises the question of just how many more SVBs are out there, or whether we have seen the end of the contagion as debt becomes expensive.
Regarding the latter, mortgages have not yet even began to begin reflecting the astronomical rise in debt costs, in part because many of them are fixed term.
The gradual renewal of mortgages however might make the transition gradual, potentially smoothing it out and so maybe there won't be any more problems.
Yet fiat is now a bit unsafe. The rich used to use bonds as money, but bonds have now crashed and so they're a bit unsafe too.
Which means crypto is back, basically. It's not a solution to all problems, but clearly it is a solution to one problem: diversification options.
The rich now have to keep some in bonds, hopefully none in banks except what to them are pennies, some in crypto, some in stocks, and some in commodities especially renewable powering commodities as solar and wind are seeing huge growth and are likely to continue to grow, as well as some in what might be developing as a new asset class: NFTs.
That makes crypto one among many, but in competition as the troubles in fiat are clearly benefiting bitcoin and other digital assets because they're outside banking and national governments.
Or we can have another interpretation for this price action. Traders declared $25,000 as resistance and maybe they made sure of that by herd selling it to briefly below $20,000 with that declaration now over and so we cross the resistance.
Next level is $28,000 with bitcoin now at a stage where there's a train around and… well, it might have left one station to maybe not see it again.
Because the crypto mess might have fully cleared at this point, while other messes might have not yet, so crypto is now safe or at least safer.